These Chocolate Chunk Pumpkin Scones Perfect for fall! They're soft in the middle, crispy on the outside, loaded with chocolate chunks, and flavored to perfection with just the right amount of pumpkin flavor!
Easy Gluten Free Scones Recipe
Fall mornings call for these Chocolate Chunk Pumpkin Scones. They are soft and tender with perfectly crispy edges. They're filled with the warm sweetness of pumpkin spice, then added with chocolate chunks for extra sweetness and flavor.
These scones are gluten-free, dairy-free, and paleo-friendly. They're a popular choice for breakfast or brunch, the star of the dessert table, or the perfect snack.
Plus, they're easy to make. Just a quick 10 minutes of prep before popping a pan of these in the oven!
Required raw materials
This pumpkin scone recipe tastes just like the ones you buy at your local bakery, but is super easy and quick to make!
Almond powder: The gluten free flour I chose for this recipe.
baking powder: Baking powder gives the scones a little kick, so they have the perfect light crumb.
spices: We added pumpkin pie spice, cinnamon, and a pinch of sea salt to enhance all the flavor.
Pumpkin puree: you can use it Homemade Pumpkin Puree Or buy a can of pre-made pumpkin puree at the store.
Egg: The eggs help bind the ingredients together so the scones can hold their shape.
coconut oil: Coconut oil adds moisture to the dough.
Sweetener: You can use pure maple syrup or raw honey to naturally sweeten the scones.
Vanilla extract: Adds depth of flavor and a hint of warm sweetness.
Chocolate Chunks: I used Enjoy Life chocolate chunks, but feel free to use any kind of chocolate chunks you like.
Chocolate Drizzle: Our chocolate drizzle topping is made with the same Enjoy Life chocolate chips plus a little coconut oil to make it drizzly.
How to Make Pumpkin Scones
This delicious pumpkin muffin recipe is much simpler than it tastes! Quick prep in just 10 minutes!
Make the dough: In a bowl, stir together almond flour, baking powder, pumpkin pie spice, salt, and cinnamon. Once blended, add pumpkin puree, eggs, coconut oil, maple syrup, honey, vanilla extract, and chocolate chunks. Mix until a soft dough forms.
Cut out the dough: Use your hands to form dough into a ball, place in lined baking sheet, and flatten into a disk about 1-inch thick. Use a pizza cutter or knife to cut the dough into 8 wedges, then gently separate the wedges so they form a circle.
bake Cool: Bake the scones at 350°F for 35-40 minutes, depending on how soft you like the center of your scones. Once the scones are cooked to your liking, cool them completely.
Add drizzle and serve: In a double boiler or microwave, melt the chocolate chunks and drizzle with coconut oil until smooth. Stir to make sure everything is well combined, then drizzle over the tops of the cooled scones.
What is a good flour substitute for scones?
I love using almond flour for this gluten-free scone recipe. It's high in protein, has a mild flavor, and creates the perfect scone texture!
What keeps scones from rising?
There are a few factors that can cause scones to become too dense:
The leavening agent has expired. Before you start baking, check to make sure you are using fresh baking powder. If it's expired, then it won't give the dough the lift it needs.
The dough is overmixed. Overmixing the dough will quickly become too thick. For best results, mix only until completely combined.
Does pumpkin contain gluten?
No! Whether you make your own pumpkin puree or use canned pumpkin puree from the grocery store, it doesn't contain any gluten. Just pumpkin!
Tips and Notes for Pumpkin Scones
Check your pumpkin. If you use canned pumpkin, make sure you use pumpkin puree and not pumpkin pie filling. They are not the same thing.
Measure the flour carefully. For best results, pour the flour into a measuring cup and smooth it out gently with your fingers. This prevents it from becoming too crowded, which can cause the scones to dry out.
Line a baking sheet. Lining the baking sheet will prevent the bottom of the scone from burning on the pan.
Separate wedges before baking. After cutting the dough into 8 wedges, gently move the wedges out slightly, leaving space between them. This prevents them from baking each other!
Adjust baking time as needed. I like a soft center so I tend to cook on the lower end of the recommended baking time. If you prefer crispier edges, feel free to increase the time as needed. Be sure to keep a close eye on the scones to avoid burning them!
If the dough seems too wet, Slice the scones with a wet knife and bake for 20 minutes, then slice again and separate the scones. Bake for another 20-25 minutes until cooked to your liking.
Variety
Use another baking sheet. Try swapping the chocolate chunks for chocolate chips or other baking chips, such as butterscotch or white chocolate.
Add nuts. Use a handful of chopped pecans or walnuts to give your scones a nutty crunch.
Add dried fruits. Use a handful of dried cranberries to make Pumpkin Cranberry Scones.
Try another ingredient. Skip the chocolate drizzle and try adding powdered sugar or drizzle maple glaze.
Food recommendations
These gluten-free scones are a delicious breakfast or snack, but also make a delicious dessert!
If you're enjoying these scones for breakfast, here are some of my favorite pairings:
How to store
Leftover scones can be stored in an airtight container in the refrigerator for up to 3 days, or in the freezer for up to 3 months.
To enjoy again, thaw scones at room temperature (if frozen) and enjoy!
More Pumpkin Recipes You'll Love
Pin this recipe to save for later!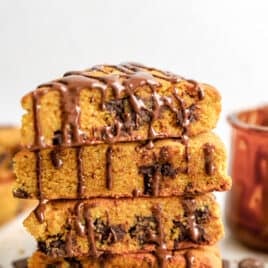 Dry ingredients:
2 1/2

cup

Almond powder

1

teaspoon

baking powder

1/2

teaspoon

pumpkin pie spice

1/4

teaspoon

sea ​​salt

1/2

teaspoon

Cinnamon

1/2

cup

self made pumpkin puree

or canned pumpkin

1

Egg

2

spoon

coconut oil

3

spoon

Pure maple syrup or raw honey

1

teaspoon

organic vanilla extract

1/3

cup

Enjoy life's giant chocolate bar
Chocolate Drizzle:
1/4

cup

Enjoy life chocolate bar

1

teaspoon

coconut oil
Preheat oven to 350°F and line a baking sheet with parchment paper.

In a bowl, stir almond flour, baking powder, pumpkin pie spice, salt, and cinnamon until well combined.

Add the pumpkin puree, eggs, coconut oil, maple syrup or honey, vanilla extract and chocolate chunks and mix until a soft dough forms.

Use your hands to form dough into a ball and place on lined baking sheet. Gently press the dough into a disk about 1 inch thick.

Using a pizza cutter or knife, cut into 8 pieces. Gently separate, but form a circle.

Bake for 35-40 minutes. I like a soft center and take it out after 35 minutes, but if you like your scones a little crispier, bake them for an additional 5-10 minutes, watching carefully so they don't burn.

Transfer to cooling rack to cool.

Using the double boiler method or microwave, melt chocolate and coconut oil in a small mixing bowl. Stir to ensure the chocolate and oil are thoroughly mixed.

Once the scones have cooled, drizzle with chocolate and eat!

Store leftovers in an airtight container for up to three days, or in the refrigerator for up to three months!
If the dough is too wet, slice with a wet knife. Bake for 20 minutes. Slice and separate the scones again. Bake for another 20-25 minutes, until the outside is firm.
Serve: 1Scones with chocolate drizzleCalories: 280kilocaloriescarbohydrate: 26Gprotein: 5Gfat: 19GSaturated fat: 10Gcholesterol: 31milligramssodium: 194milligramsfiber: 3Gsugar: 19G