this Rustic Tomato and Vegetable Soup yes A hearty, mouth-watering, and super easy weeknight dinner! It's packed with vegetables, beans, and spices, making for the perfect comfort soup. Enjoy the recipe as-is or customize it with whatever vegetables you have on hand. It only takes 15 minutes to prepare!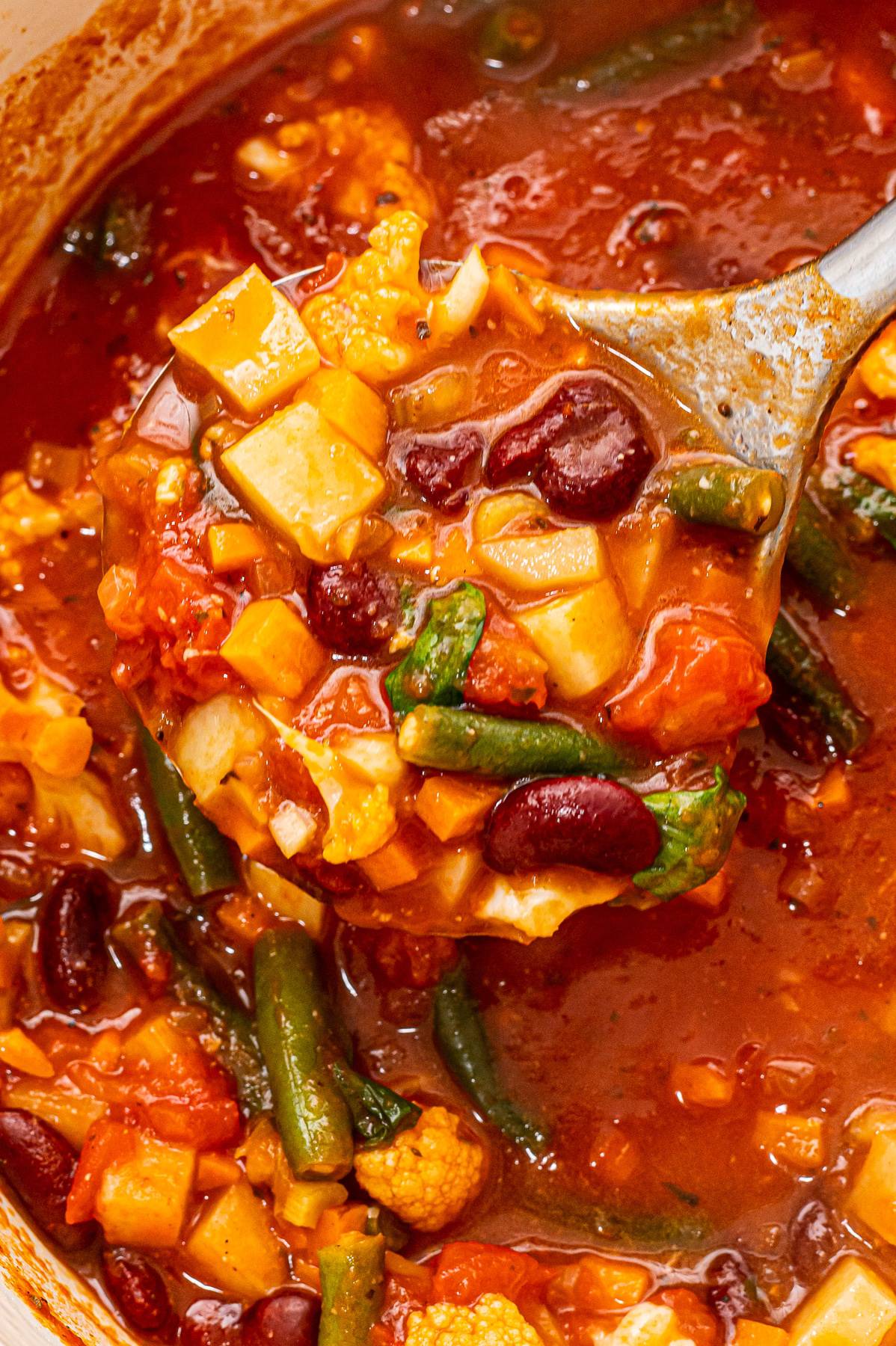 Easy Vegetable Soup Recipe
When the weather starts to get colder, there's absolutely nothing better than homemade soup. This Rustic Tomato and Vegetable Soup is just the recipe you're looking for! It's perfect when you're craving a classic tomato soup, but want something a little heartier.
This tomato soup is packed with vegetables, beans, and Italian spices. It's like a cross between tomato soup and minestrone…and it's so good!
This homemade tomato and vegetable soup is delicious, hearty, comforting, vegetarian, and can easily be made into a Whole30 or Paleo-friendly soup. Plus, you can use whatever veggies you have on hand!
Required raw materials
This vegetable soup recipe is packed with good-for-you ingredients! Use the ingredients listed or customize with any vegetables you have in the fridge.
Scroll to the recipe card below for ingredient amounts!
Oil: You'll use extra virgin olive oil to sauté the aromatics before adding the other ingredients.
Fragrance: Our aromatics are a classic combination of garlic, onion, carrot and celery.
seasoning: We use sea salt, black pepper, dried oregano, dried basil, garlic powder, onion powder, and optional red pepper flakes to give the soup the perfect flavor.
tomato: Tomato paste adds a tangy taste, while a can of diced tomatoes adds texture and sweet tomato flavor.
broth: You can use chicken broth or use vegetable broth to make this vegetarian soup.
vegetable: I used a combination of green beans, potatoes, cauliflower florets, and spinach.
Kidney beans: Beans are optional, but they're a great way to make this soup heartier with plant-based protein.
cheese: A sprinkle of Parmesan cheese gives the soup the perfect salty flavor.
How to Make Tomato and Vegetable Soup
This easy vegetable soup takes only 15 minutes to prepare!
Sauté the spices: Heat the oil in a Dutch oven over medium heat and add the onion and garlic. Cook until softened, then add carrots and celery. Continue to cook until tender.
Add seasonings and tomatoes: Add all the seasonings, then the tomato paste and diced tomatoes, and cook for a few minutes.
Add stock, beans and vegetables: Pour in the stock. Bring to a boil and add the green beans, potatoes, cauliflower and beans. Cook until the vegetables are completely cooked.
Finish and serve: Add the spinach and cook until cooked through, then sprinkle with Parmesan cheese and serve hot.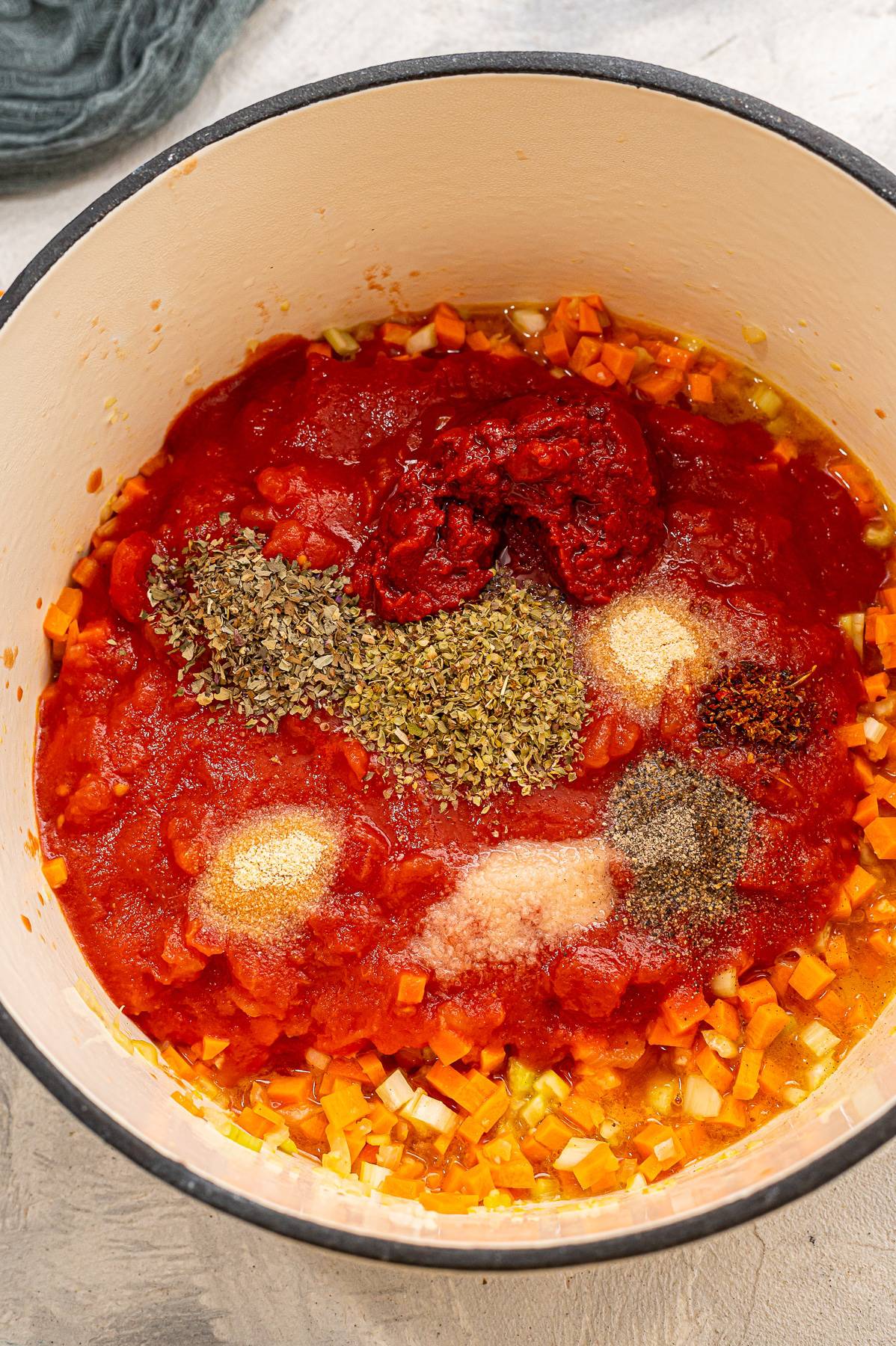 What vegetables are suitable for tomato soup?
Pretty much anything you have on hand! This is one of my favorite things about this soup. It's so customizable! I finish this soup with a delicious combination of green beans, russet potatoes, cauliflower, and spinach, but you can also use zucchini, kale, eggplant, bell peppers, kale, fresh tomatoes, you name it.
How to make vegetable soup more flavorful?
This homemade vegetable soup is already packed with flavor thanks to chicken or vegetable stock and seasonings!
If you're looking for a little extra flavor, feel free to add a little of each seasoning or add a little extra Parmesan cheese.
Tips and Notes
Fry the spices well. Sautéed onions, garlic, celery and carrots provide the flavor base of the entire soup. Give them enough time to soften before adding other ingredients.
Cook until vegetables are cooked through. The best way to tell if vegetables are cooked is to check the potatoes with a fork. If it pierces the potato easily, then it's OK! If there is any resistance, give the vegetables a little more time.
If you find that too much fluid is being absorbed As the vegetables cook, feel free to add more stock.
For Whole30 or Paleo Tomato Vegetable Soup, Just omit the beans and cheese.
Make beef and tomato soup. Browning some ground beef with spices makes the soup richer.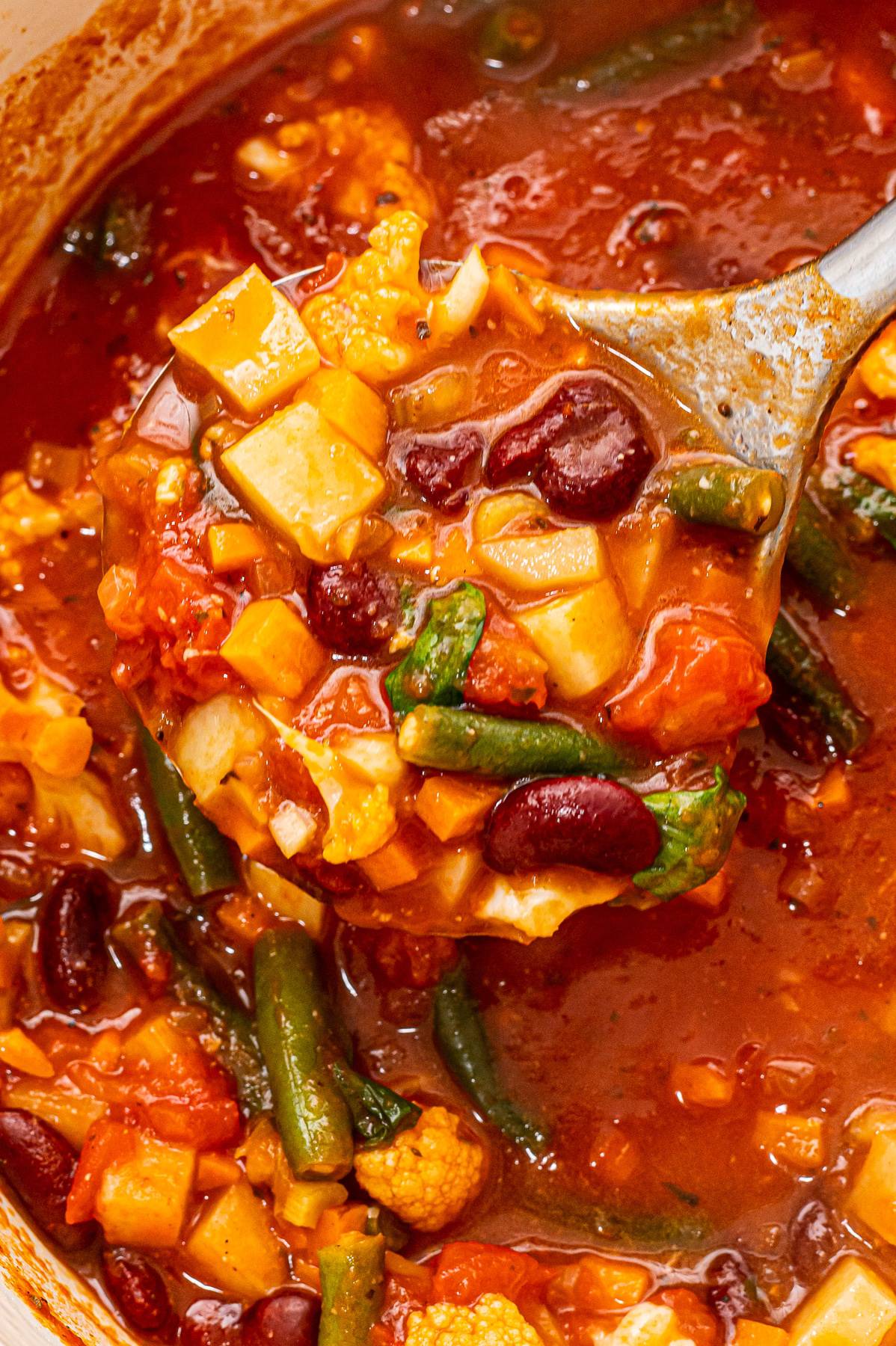 Food recommendations
This kidney bean soup is filling in just one bowl, so no side dishes are needed! However, a light salad or even a large piece of crusty bread are great options.
If you are looking for Side dishes There are many more, here are some of my favorite recipes:
How to store
Leftover homemade vegetable soup can be stored in an airtight container in the refrigerator for up to 3 days.
Expert Tips!
Let the soup cool completely before storing it in the refrigerator or freezer.
Can this soup be frozen?
Yes! One of my favorite things about making soup is that it freezes so easily!
freeze your soup, let cool completely to room temperature, then transfer uncovered to the refrigerator to complete cooling. Once completely cooled, place in the refrigerator in a freezable container and store for up to 3 months.
When you are ready to serve againthaw completely in the refrigerator overnight, then reheat on the stove until warmed through.
for faster defrost, place the container in a bowl of warm water. Once the soup drains easily from the container, place in a pot with 1/4-1/2 cup water, cover, and cook over medium to medium-low heat until heated through. Stir frequently and be sure to bring the contents to a boil to ensure they are fully reheated.
More Soup Recipes You'll Love
Watch the video here:
---
---
Pin this recipe to save for later!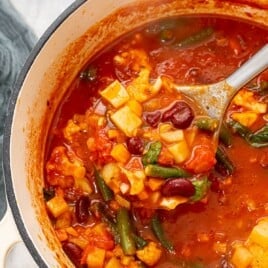 1

spoon

Extra virgin olive oil

1

onion

dice

2

clove

garlic

minced

3

radish

finely dice

2

celery stick

finely dice

1-1/2

teaspoon

fine sea salt

½

teaspoon

black pepper powder

2

teaspoon

dried oregano

1

teaspoon

dried basil

1/2

teaspoon

garlic powder

1/2

teaspoon

onion powder

pinch

red pepper flakes

Elective

1/4

cup

ketchup

1

28 oz.Is organic diced tomatoes okay?

3

cup

Chicken or vegetable stock

more as needed

2

cup

Dice green beans

About 1″ piece

1

large russet potato

Peel and dice

2

cup

Cauliflower florets diced

1

15 oz can kidney beans, drained (optional)

A handful of baby spinach

parmesan cheese

Decoration (optional)
Heat oil in Dutch oven over medium heat. Once hot, add onion and garlic and cook for 3 minutes, until starting to soften.

Add the carrots and celery and cook over medium heat for 8-10 minutes, until tender and fragrant, stirring occasionally.

Add salt, pepper, oregano, basil, garlic powder, onion powder, red pepper flakes, tomato paste, and diced tomatoes and cook until fragrant, 1-2 minutes.

Add to broth. Bring to a boil then reduce heat. Add the green beans, potatoes, cauliflower and kidney beans and simmer for 25 minutes, or until the vegetables are cooked through.

Add spinach and cook until cooked through. Add more broth to get desired soup consistency.

Taste and adjust seasoning. Serve warm, sprinkled with some Parmesan cheese, if desired.
Serve: 1bowlCalories: 88kilocaloriescarbohydrate: 15.9Gprotein: 4.2Gfat: 2.2GSaturated fat: 0.3Gsodium: 233milligramsfiber: 5Gsugar: 8G