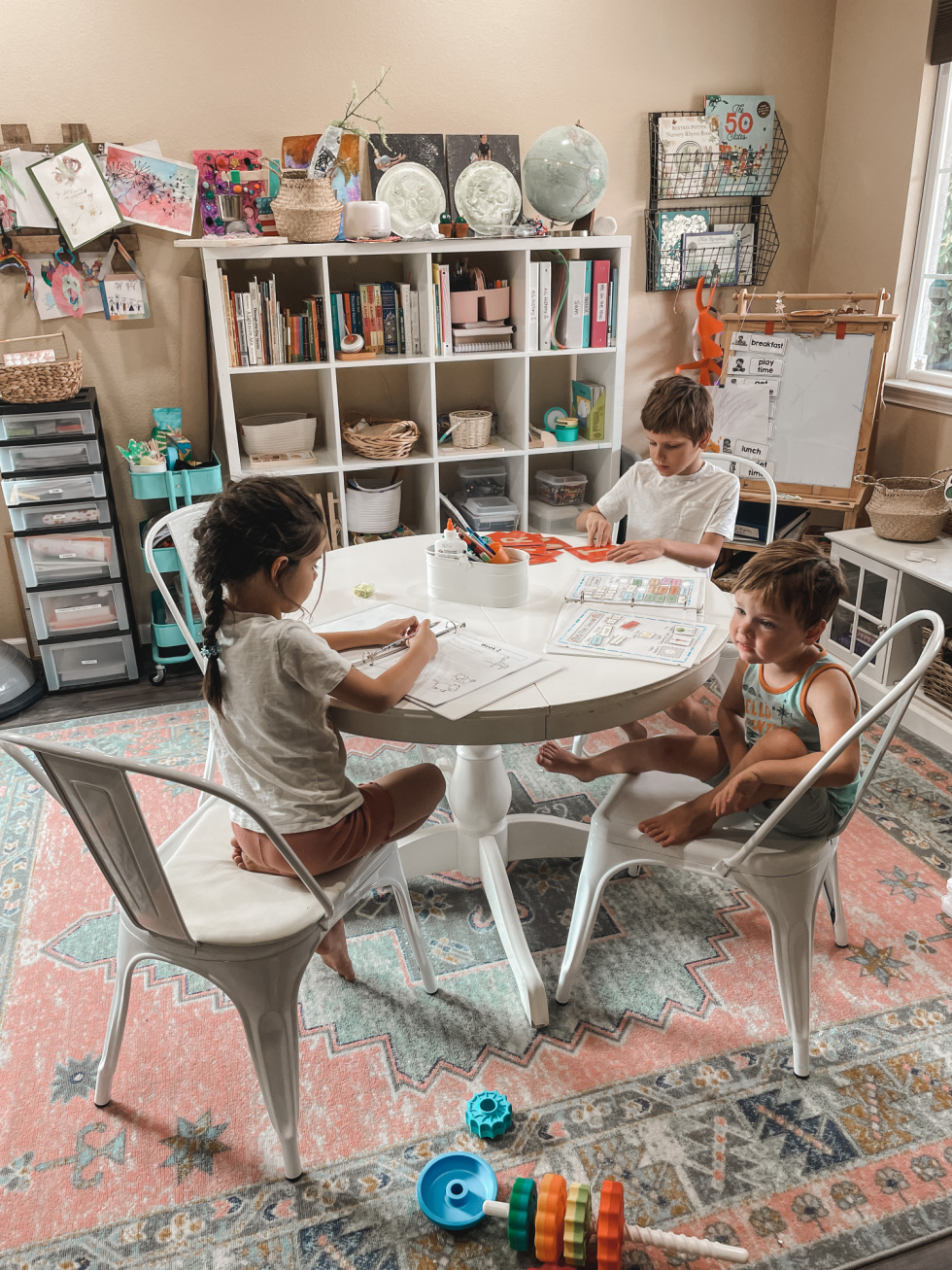 small rug || Table: IKEA || Chair: Industrial West || Blackboard/Whiteboard Easel || White Cube: IKEA || similar carts
I remember when I was researching "homeschooling" in the early days – when it was just an idea, something that intrigued me but scared me (I think it's still the case lol), and I thought about it again and again is to define your "why". Why are you homeschooling? Because it's going to be hard. You will have days to question your sanity and reasoning and want to throw in the towel and just send your kids to school. It's those moments when you need to get back to your "why" to bring you down. Your "why" needs to be strong enough to fight all the madness that is going to happen to you (it will). so. Today I want to share my "why".
Why we are homeschooling
Really, if I'm being honest, there are many reasons for this. They all come back to "unity", but I think the easiest way to share our reasons is in a list format. Who doesn't love a good list, especially one full of good things, right? 🙂 Without further ado, here is my list:
I love having my kids come home with me.
strengthen their relationship with each other.
It gives us freedom.
A flexible schedule that fits our lifestyle perfectly.
I meet each child's individual needs on a daily basis (these are changing every day!).
I can meet my kids exactly and give them the precious 1:1 time and attention they desperately need and deserve!
We can focus on each child and teach them the best method based on their needs and progress!
It fosters independence and curiosity.
We can teach life skills.
They are able to learn what they are interested in, we don't need to simply follow what the state wants them to learn on a timetable.
To protect their childhood and miracles!
BTW: Our huge push to homeschool is because of our unique situation with Sam who has nonverbal autism. The placement offered by the school district was simply not suitable for us. We know it never will. So, for him, seeing him where he is, giving him the gift of time, slow learning and real life skills, and inclusion! It was so wonderful for him and for us.
More resources:
Call of the Wild + Free : The first homeschooling book I read and it changed my life. Super powerful stuff!
for the children : Dive into the Charlotte Mason method and share many great tips! Read really good books, minimise "bullshit" (unconscious children's books), shorten lessons to keep the miracle alive and learning fun (and the attention span continues!), and spend a lot of time outdoors and free play. Yes, Amen!
Awakening Miracle : Great practical tips and inspiring information about homeschooling and really cherishing time together.
brave learner : Another great book to inspire some motivation!
I want you to know that if homeschooling is a pain in the ass too, then you can do it. You were made for this, Mom! ! !
xo
Read more about what Katie does