Lead generation tools are critical to businesses to capture your audience's interest and contact data. Finding the set of right ones can significantly help you scale faster, connect with vital contacts, and discern potential opportunities.
Additionally, it also helps you streamline your marketing and lead generation approach and focus on delivering what customers need. And the high-end lead generation tools can help you expand your customer base, maximize sales and improve the overall business performance.
To help you out, here is a round of some of the best lead generation tools to leverage that can help you take your lead generation game to the next level.
Top Lead Generation Tools For Your Business
Lead generation tools help you connect to targeted leads and engage them to drive conversions. Finding good leads takes more than just getting prospects to visit your website. It is also about garnering their information so you can communicate with them effectively and convert casual traffic into loyal customers. 
And that's where lead generation tools come in handy.
Let's explore some of the top-performing lead generation tools that can enhance your overall sales, prospecting, and marketing efforts.
All-in-One CRM Tools
Marketing automation solutions offer an automated system to manage and organize your customers' data in a single location with the use of databases, minimizing the chance of errors.
Here is a top-performing marketing automation tool that can simplify processes:
BenchmarkONE
BenchmarkONE is a powerful marketing automation tool that is specifically designed for small business teams. The tool lets you access the sales and marketing dashboard to organize your sales deals and keep track of your performance and email nurturing. It allows you to manage your prospective clients effectively.
It also has a landing page builder that lets you create essential pages for promotional campaigns and efficiently convert website visitors to leads. 
Additionally, you can also leverage the popup tools to add popups to your site, helping visitors download pieces of valuable content or sign up for your newsletters. 
All in all, BenchmarkONE helps you enhance your marketing and sales efforts significantly while producing desired results.
Email Finder Tools
Email finder tools allow you to discover the prospects and lead contact information and helps you get in touch with them. It enables marketers to improve their sales prospecting efforts and make the process easier and dependable by ensuring relevant and accurate information.
Here are some of the tools that can effectively help you find the right contacts' email addresses:
UpLead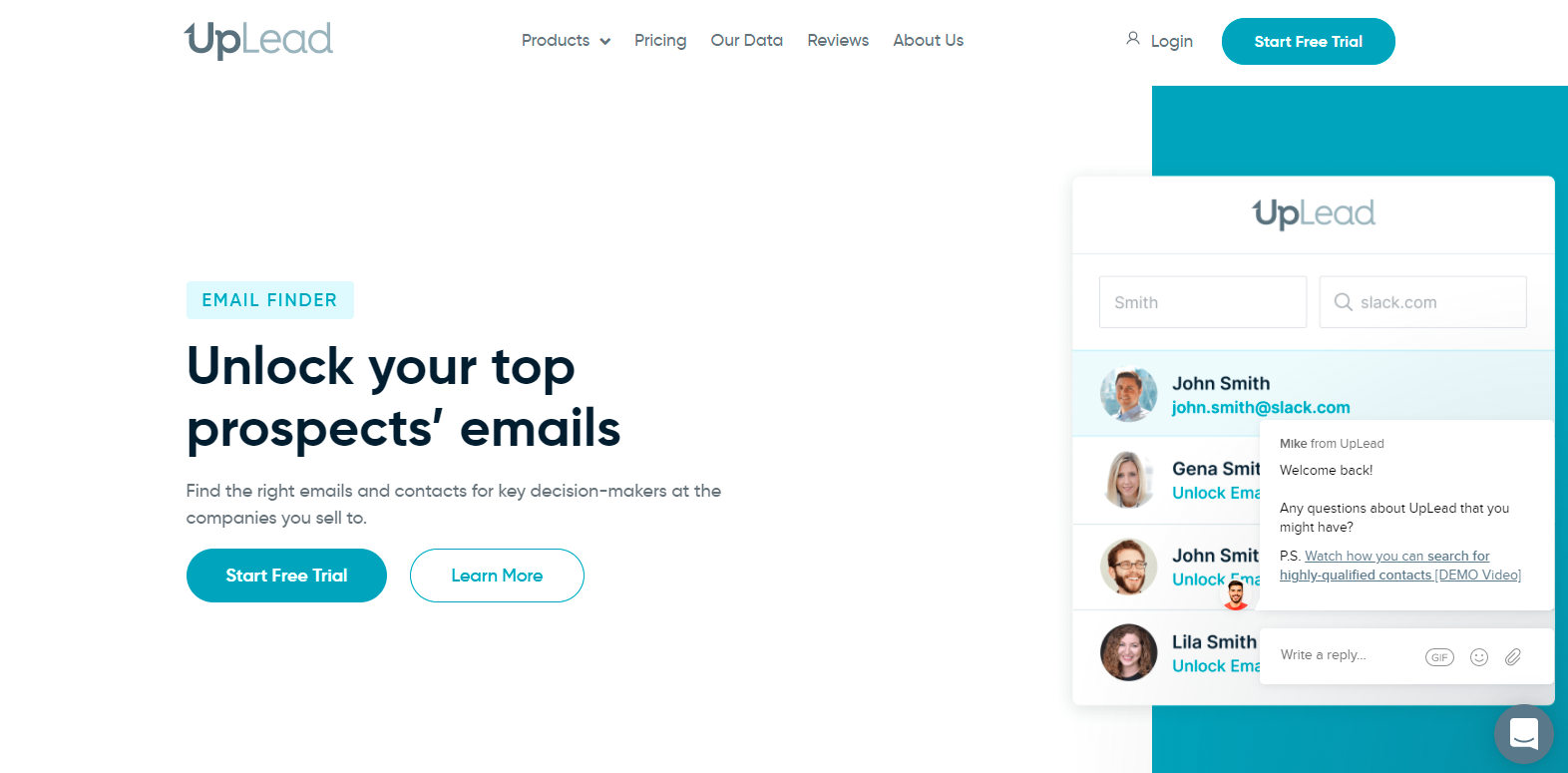 UpLead facilitates B2B marketers and helps them take their B2B lead generation efforts to the next level. This feature-rich platform provides accurate B2B contact information from its comprehensive database. You can access your lead's phone numbers, email addresses, and much more while ensuring truthful data and insights. 
Furthermore, UpLead helps you find the targeted leads email addresses and has an email verification tool that validates all the email-related data in real-time, which enables you to connect to quality leads and close more deals.
Voila Norbert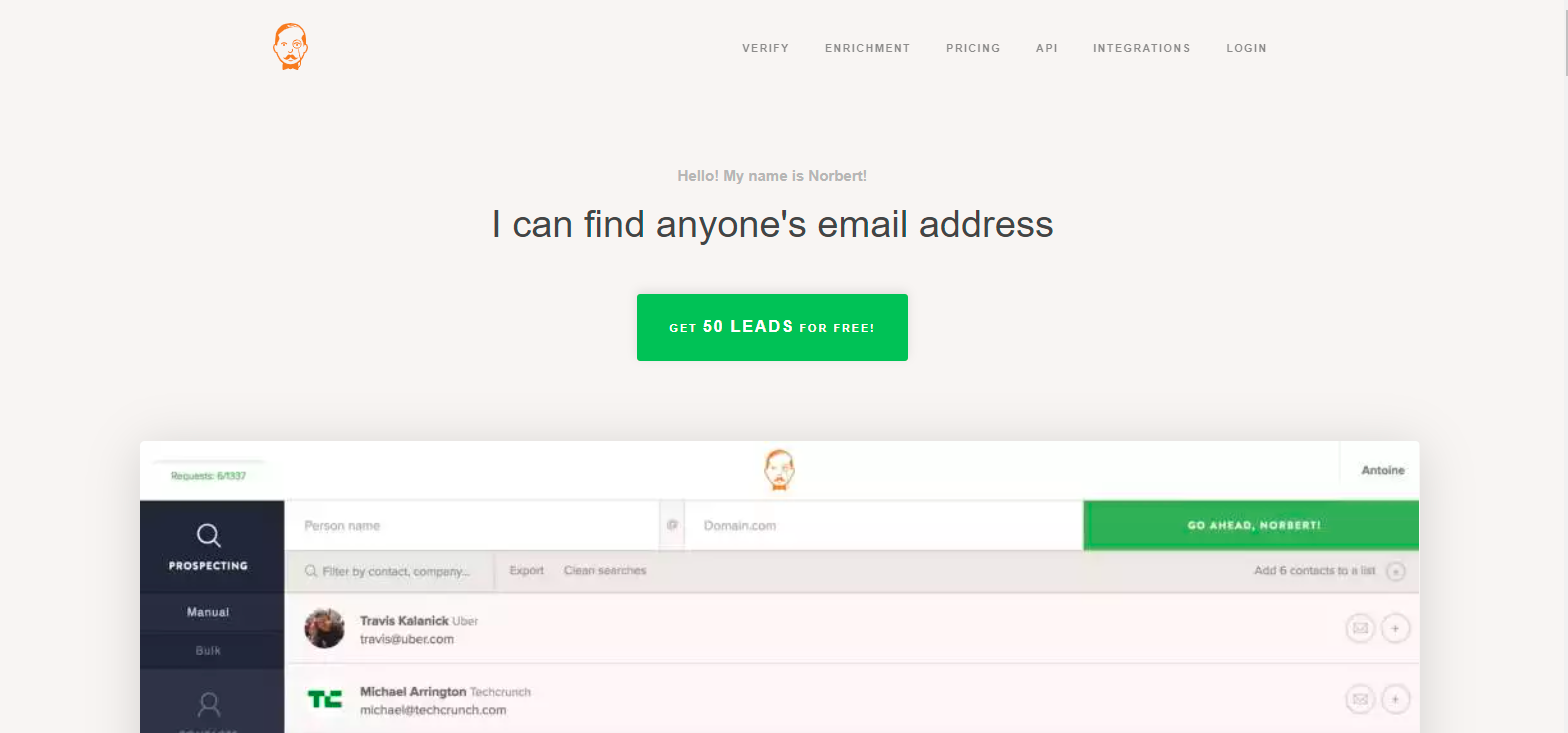 Voila Nobert is a robust email finder platform that helps you find and connect to your prospects, ensuring that your sales team stays on the same page.
Once you discover your targeted leads, you can directly drop them an email via Norbert. Additionally, you can keep track of it and see its progress. This makes it easy for marketers and helps them manage their outreach from a centralized location.
Email Outreach and Email Marketing Tools
Email outreach and email marketing tools are indispensable for any business that's looking to increase engagement with its leads. Through these tools, you can manually create and send several emails effortlessly. Additionally, it helps marketing teams develop and customize the emailing process and track the data thoroughly.
Try these tools to enhance your outreach efforts significantly:
Benchmark Email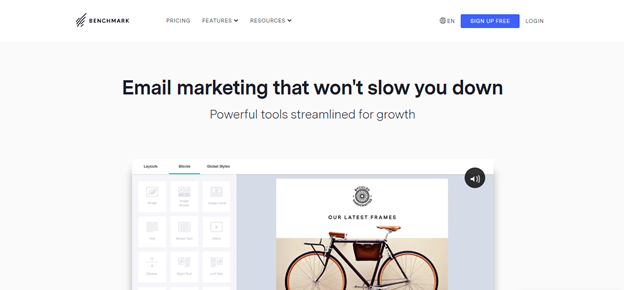 Benchmark Email is one of the robust email marketing tools out there that are incredibly easy to use. Companies looking for something simple yet powerful email marketing suite, Benchmark lets you send emails seamlessly.
It is a full-fledged email platform for your marketing needs that effectively enhances lead generation efforts for companies looking for easy-to-use and well-designed email marketing software.
All the things from their platform interface to their templates are designed beautifully and visually appealing and provide an unparalleled user experience. You can easily understand your data, and it lets you make a lasting impression on your contacts.
All in all, Benchmark is a comprehensive tool that is a simple, intuitive, and easy-to-use email marketing automation tool.
Mailshake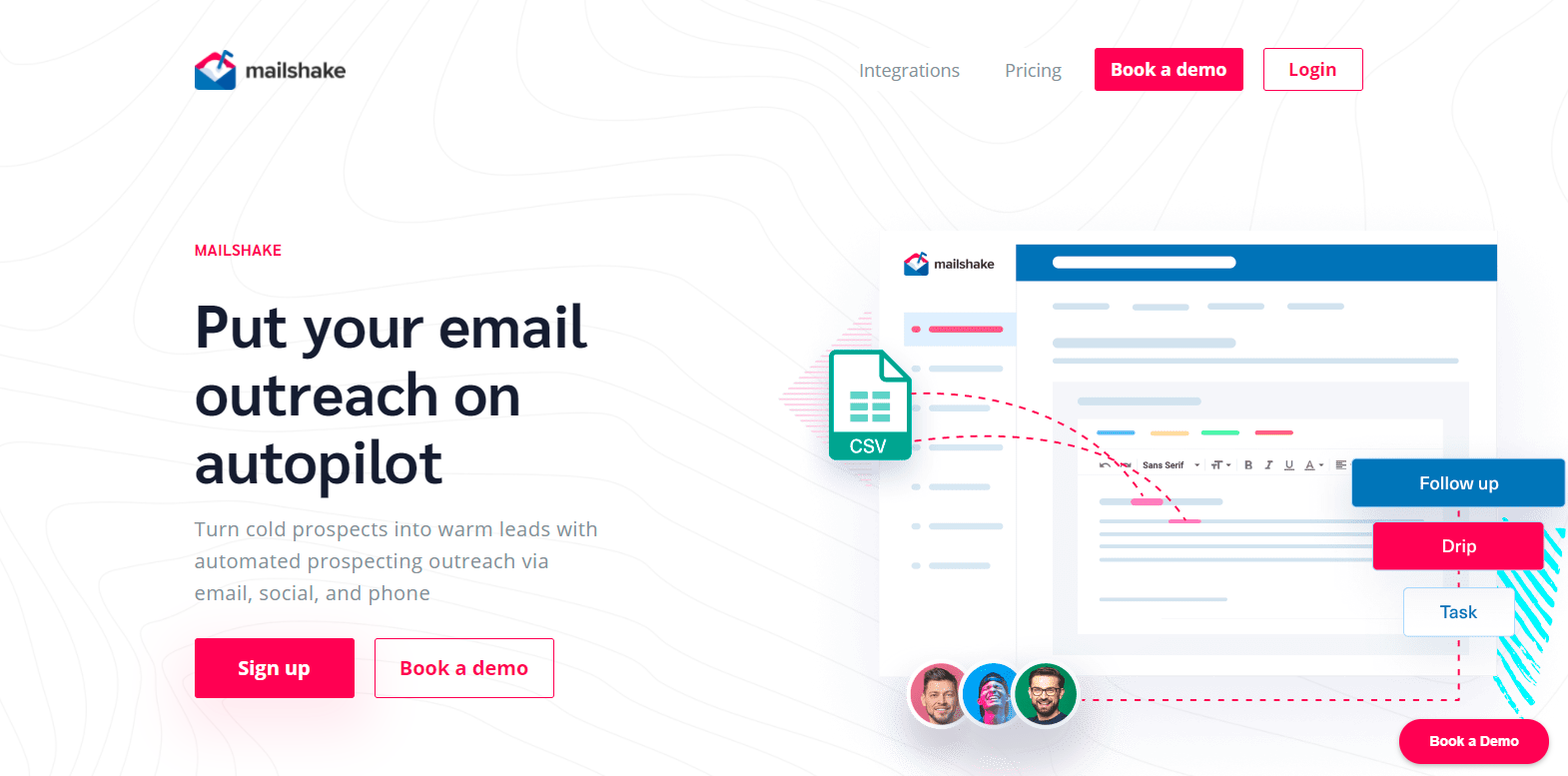 Mailshake, a sales engagement, and email outreach platform, helps sales teams create personalized outreach efforts using your email account, phone, and social. With Mailshake, you can easily upload a prospects' list with customized fields like phone numbers, name, social profiles and even create personalized paragraphs and sentences.
EasySendy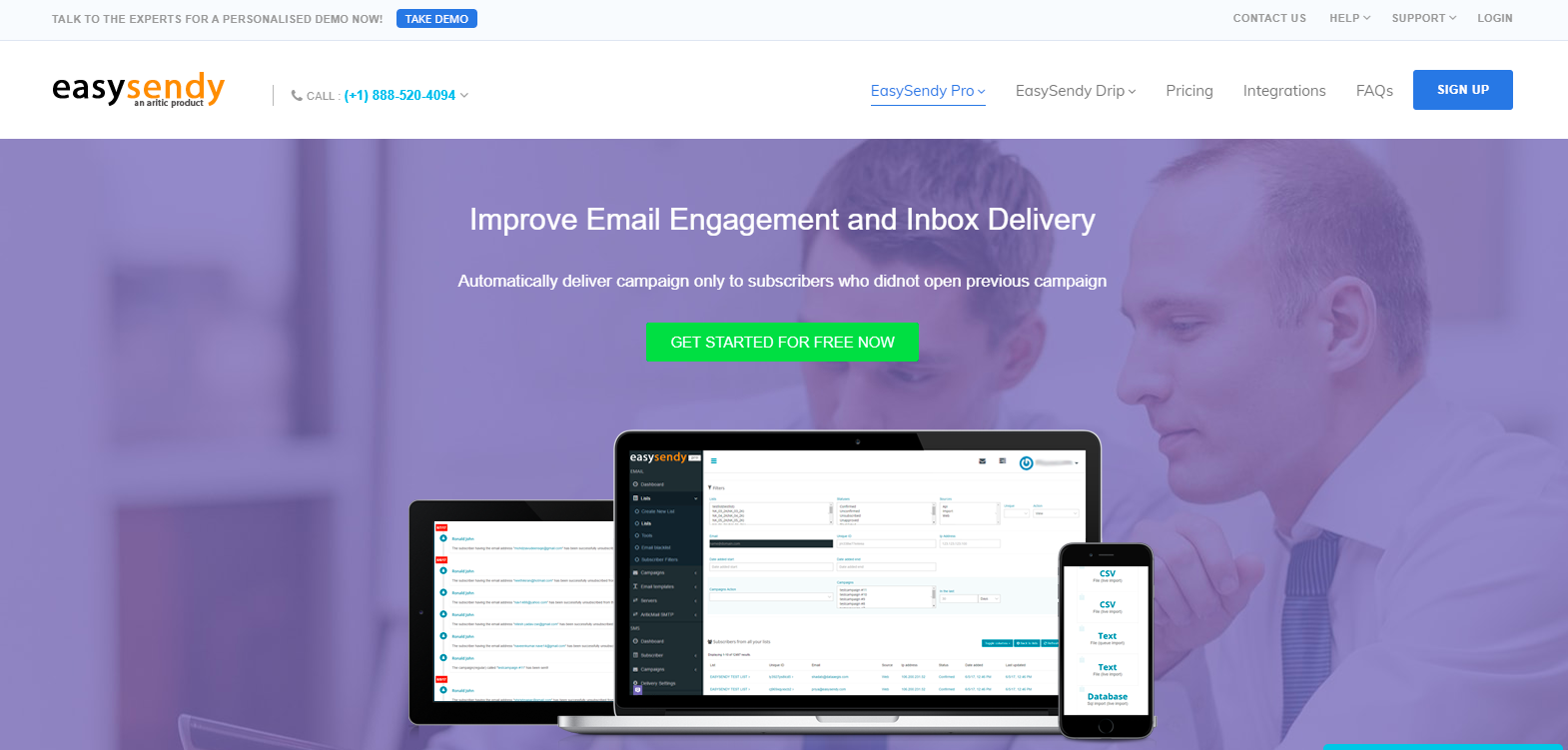 EasySendy is an email marketing platform that lets you launch different campaigns to engage and interact with your customers and subscribers via automated drip email campaigns and autoresponders. You can also easily manage your subscribers on Facebook messenger.
Build personalized subscriber pages, leverage email templates, build automated flows for drip email, filter subscriber segmentation, and do a lot more. EasySendy helps you achieve all of this with precision.
Lead Management Tools
A lead management tool helps you manage your prospect relations in your business. It makes the process of lead management less time-consuming and more straightforward. 
These are suitable lead management tools to streamline your business processes:
Salesmate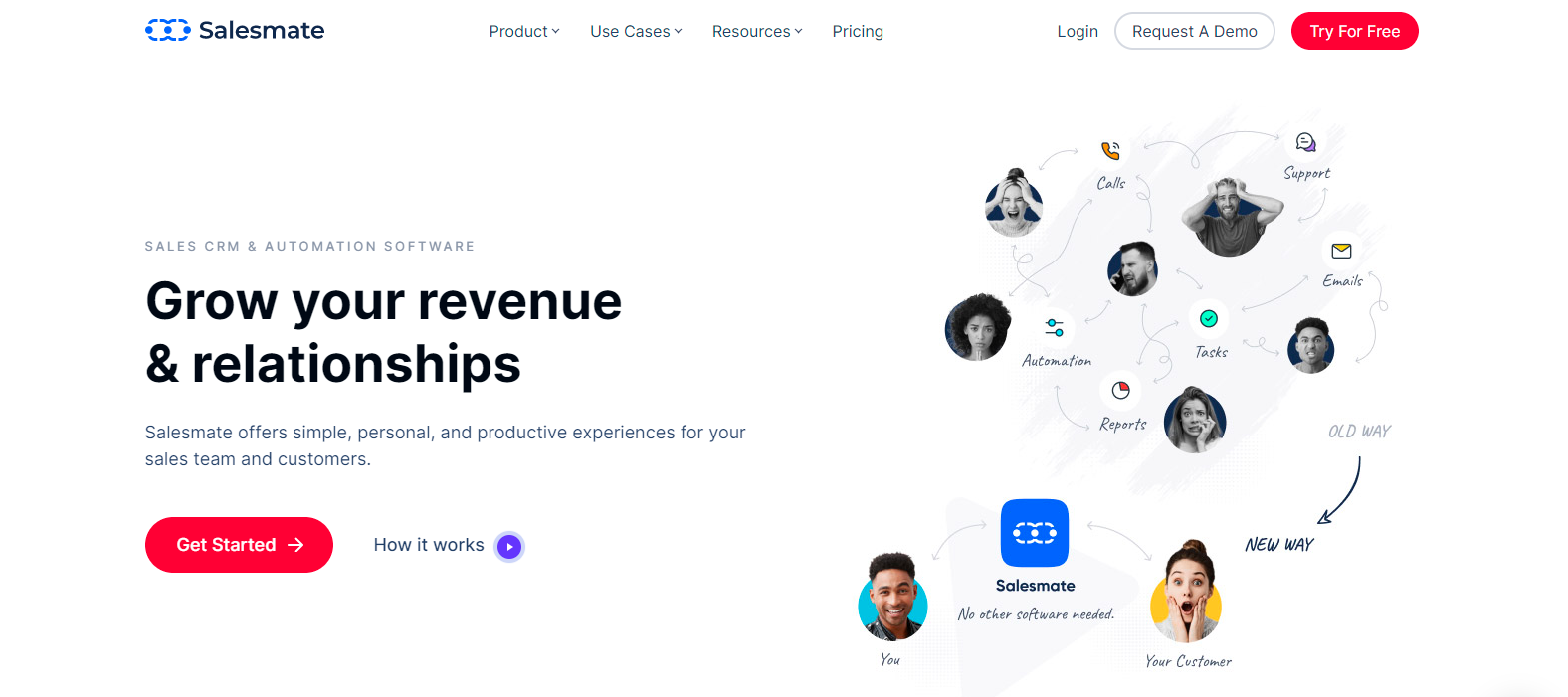 Salesmate is a contact management platform designed to automate your manual processes and streamline your salespeople's workflow. This smart sales customer relationship system offers various features such as sales automation, contact management, email tracking, sales reports, email templates, team inbox, etc.
Furthermore, Salesmate is a practical sales productivity tool for businesses, irrespective of their size. This tool is an excellent option with prompt customer support.
Salesflare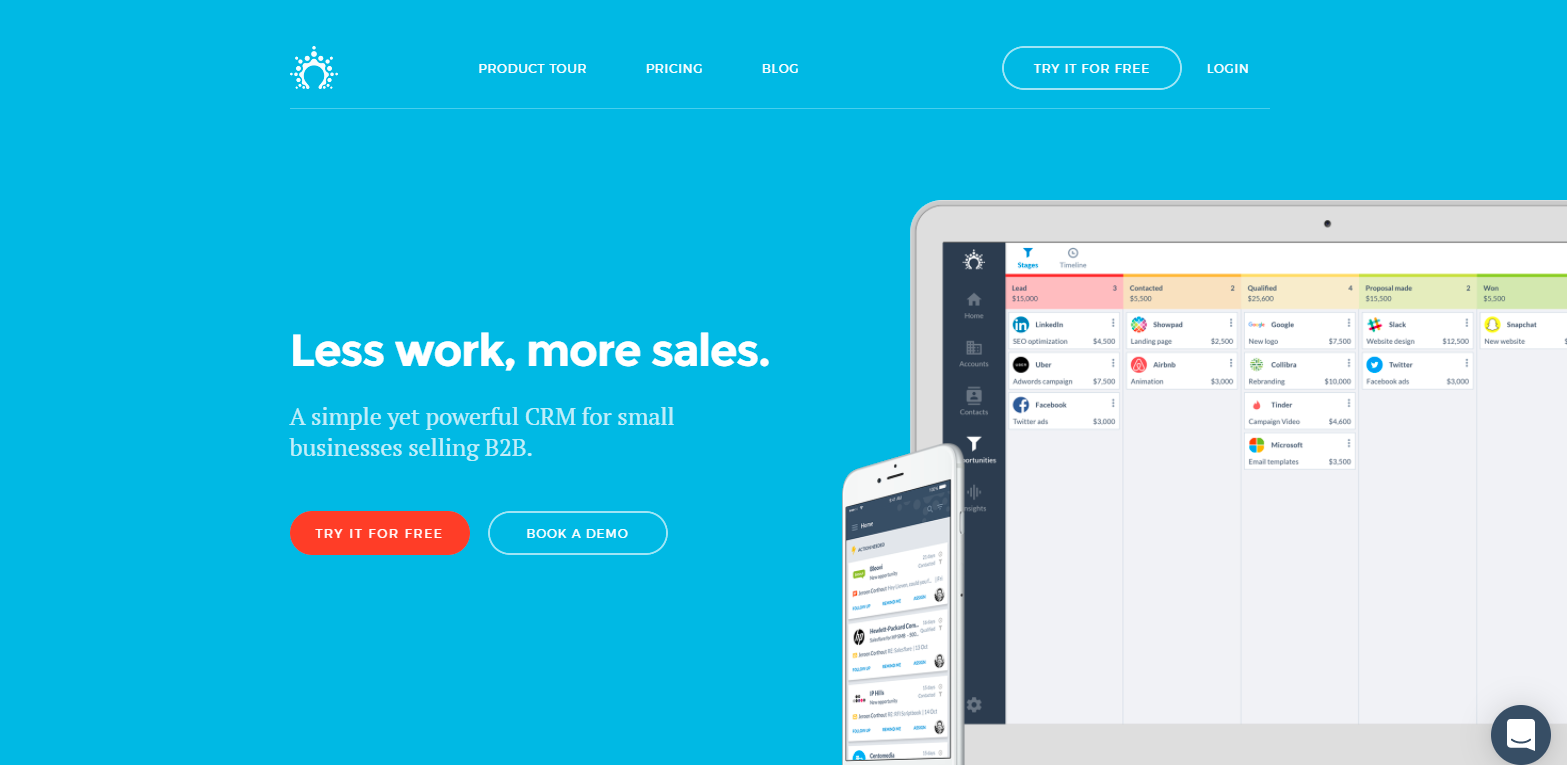 Salesflare is another lead management system that thinks and smartly works for its users. It eliminates the manual tasks from your sales pipeline, such as filling the address book, keeping track of your interactions with the leads, etc. 
Furthermore, it provides you frequent reminders about your leads and simplifies all the complex processes. Salesflare also gives you data-driven insights and visual pipelines to effectively control and manage your sales funnel.
BigContacts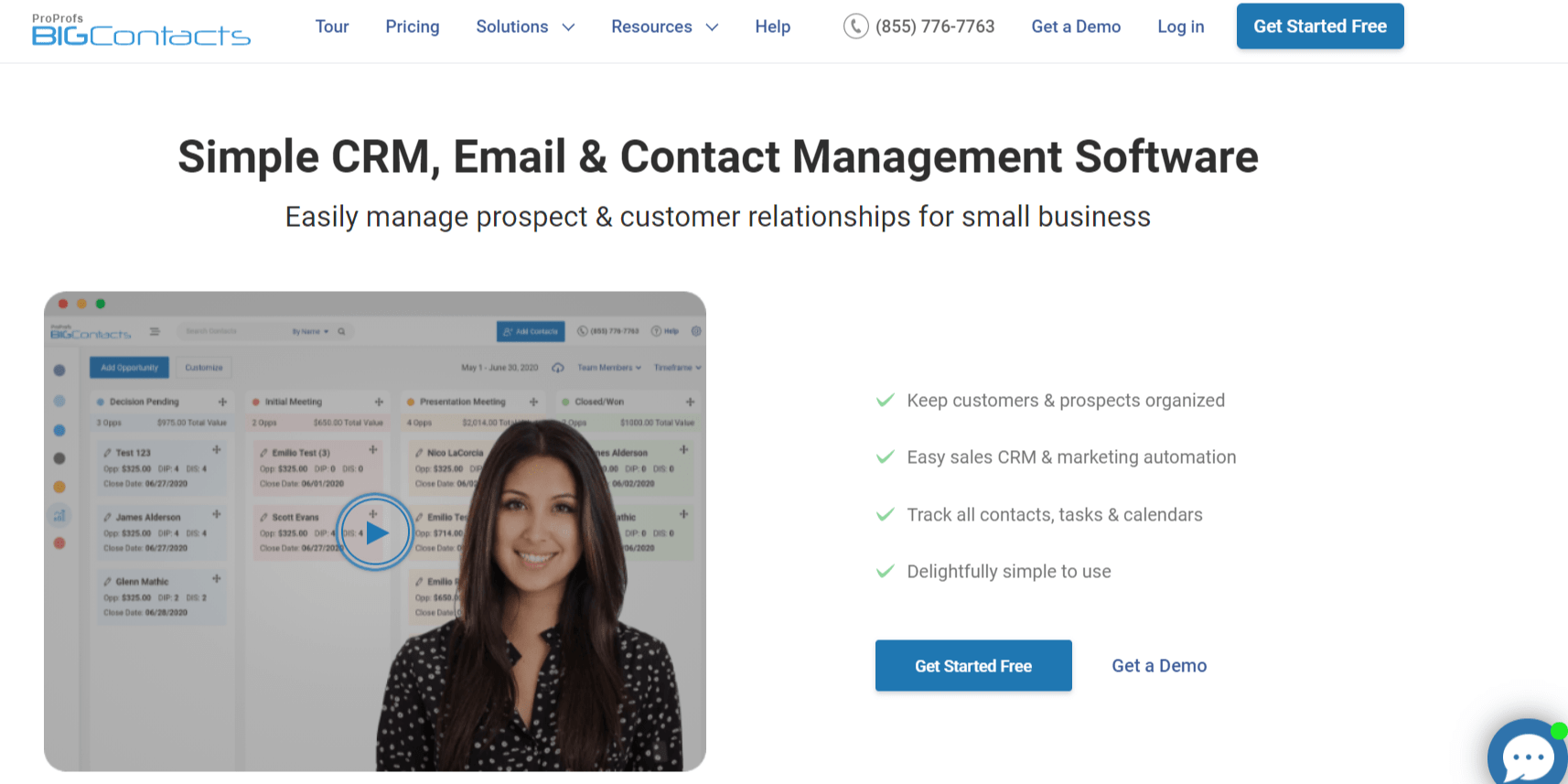 BigContacts is a simple contact management tool designed to help small businesses manage customer and prospect communication in one centralized location. This tool makes it easy for you to organize all your contacts and emails, calls, notes, and tasks, giving you a 360-degree view of every activity – all from a single dashboard. 
Some of its key features include task notifications, meeting reminders, email tracking, insightful sales reports, team calendar, social media bookmarks, and many more. BigContacts simplifies the work of your customer support and sales/marketing teams, helping them track, nurture, and convert leads quickly and collaboratively. 
Live Chat Tools
Live chat tools enable easy and flexible communication for customers and help marketers better connect, engage and deal with their prospective and current customers. 
Here are some tools that can help you improve and amplify your customer support and overall business performance:
Intercom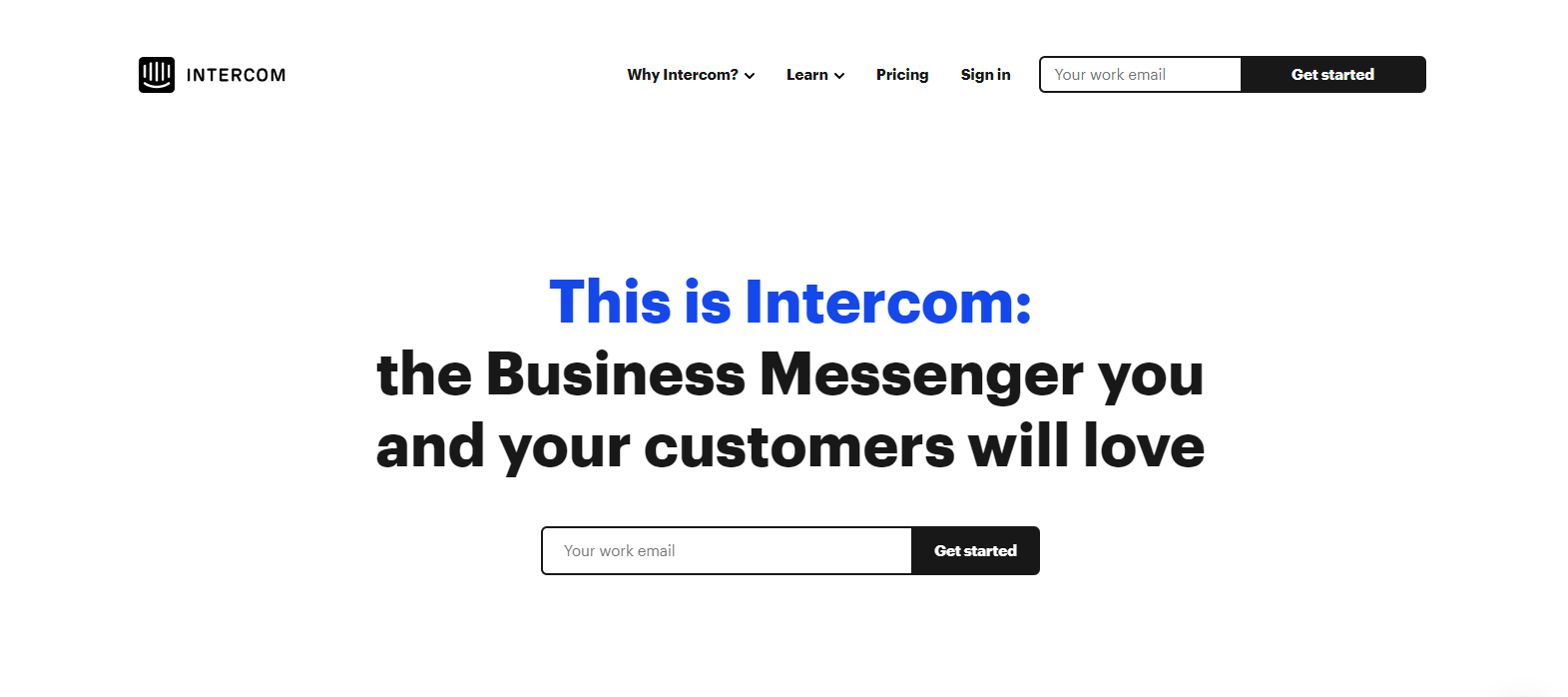 Intercom is a useful communication software tool that provides a broad spectrum of features. Essentially, it centers on the live chat feature, also known as the 'business messenger,' which offers digital functionalities. 
Furthermore, you can create your help center, custom chatbots, outbound, and inbound email, A/B testing and objectives, etc. With Intercom, you can enhance your customer support efforts and provide exceptional service to your end-users.
Messagely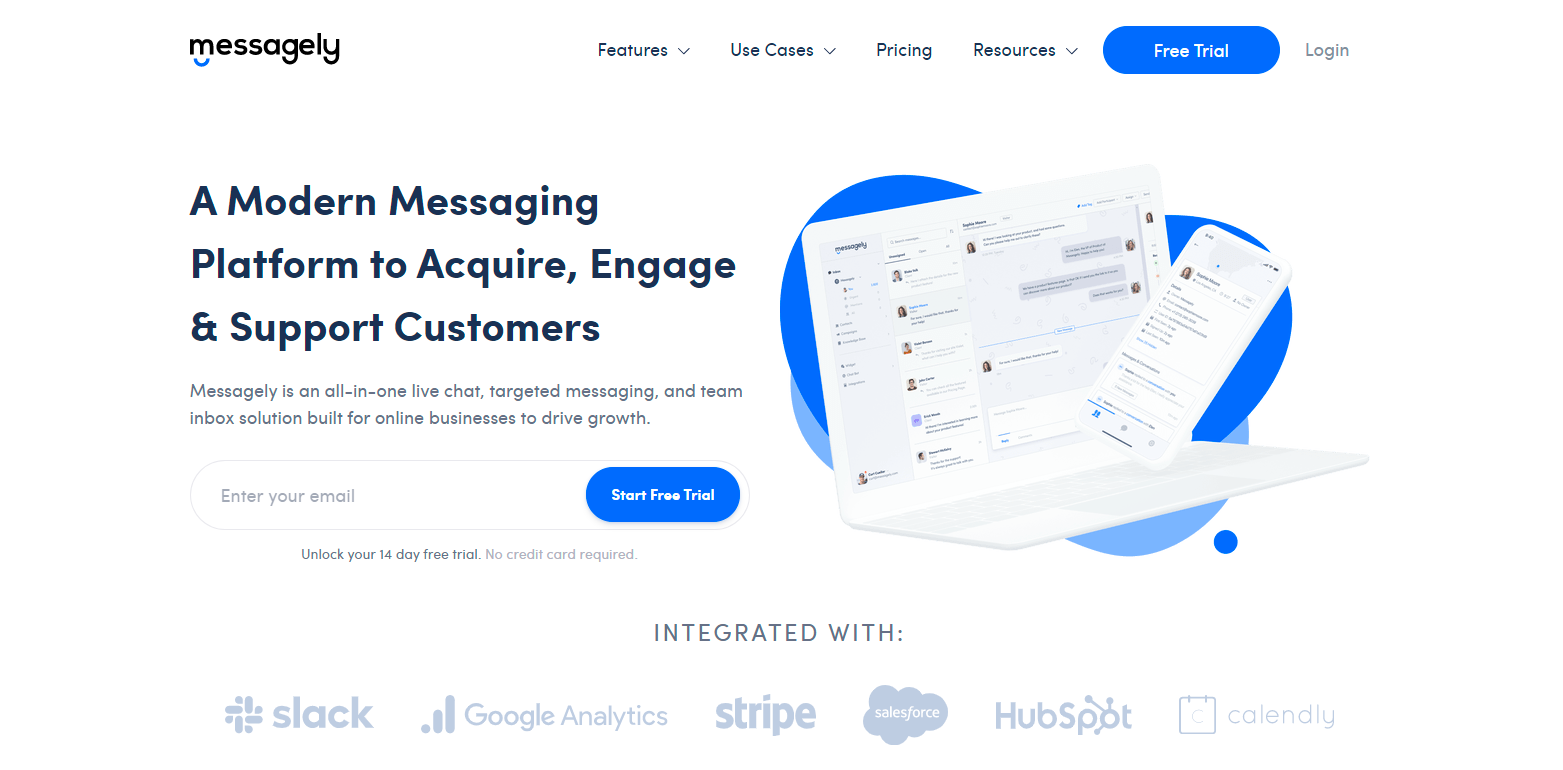 A robust all-in-one customer support and live chat tool, Messagely facilitates businesses effectively to communicate with your customers. It provides you with easy-to-use, comprehensive live chat features, streamlines the communication process, and makes it as efficient as possible.
Use it to access powerful chatbots that focus on your customers around the clock, irrespective of your work hours. The platform also supports various integrations, which enhances its functionality and performance.
Tidio Live Chat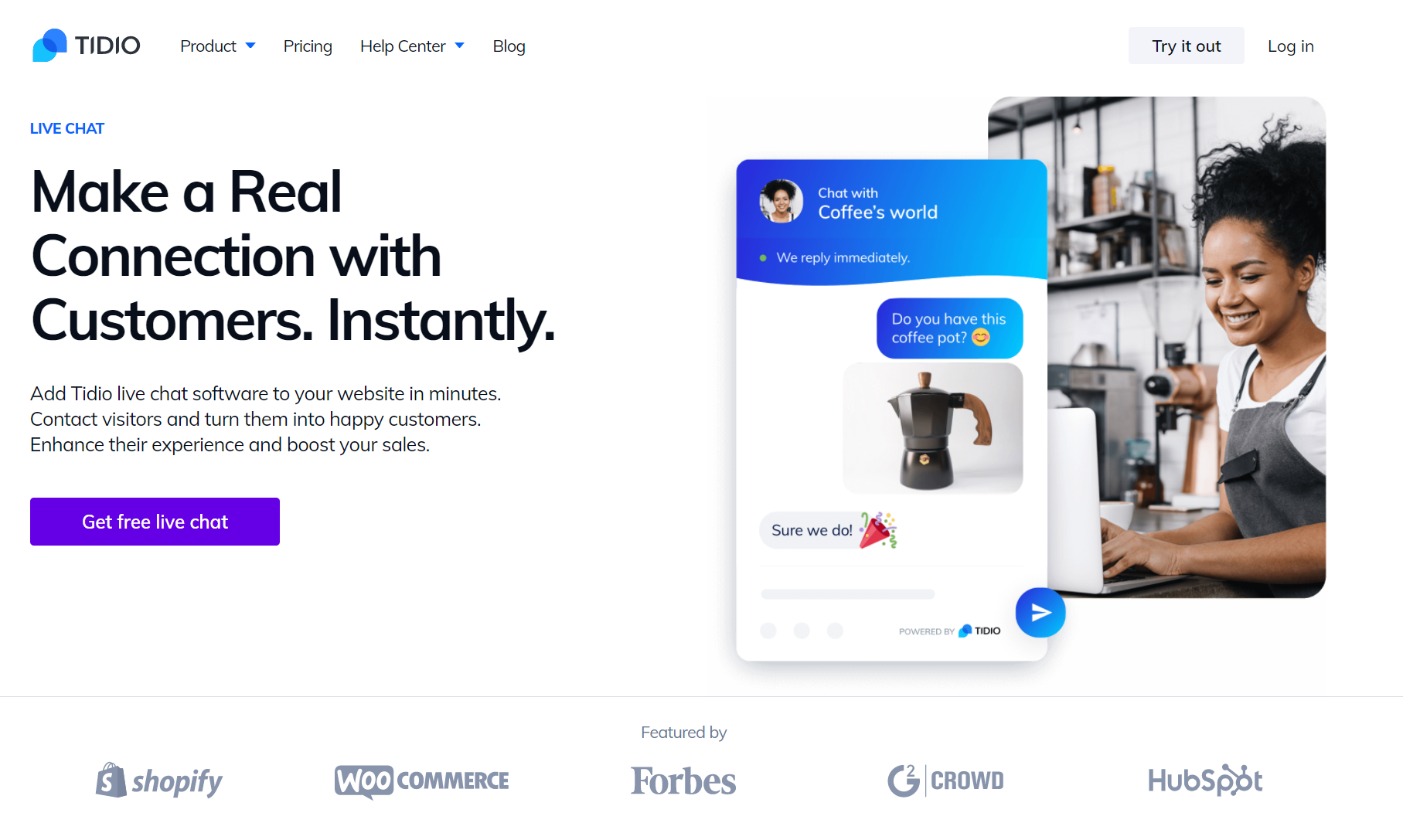 A top-rated chat boosted with chatbots, Tidio Live Chat is a solution for small and medium businesses that helps to build customer relationships instantly. Equipped with features such as live visitor lists, viewed pages, or free chatbots, Tidio makes it easy to automate customer support, lead generation, and sales.
With a simple setup, highly customizable widget, and affordable pricing, Tidio is one of the most popular solutions for turning website visitors into happy customers. The tool also integrates with a number of CRM, eCommerce, and email marketing platforms.
ProProfs Chat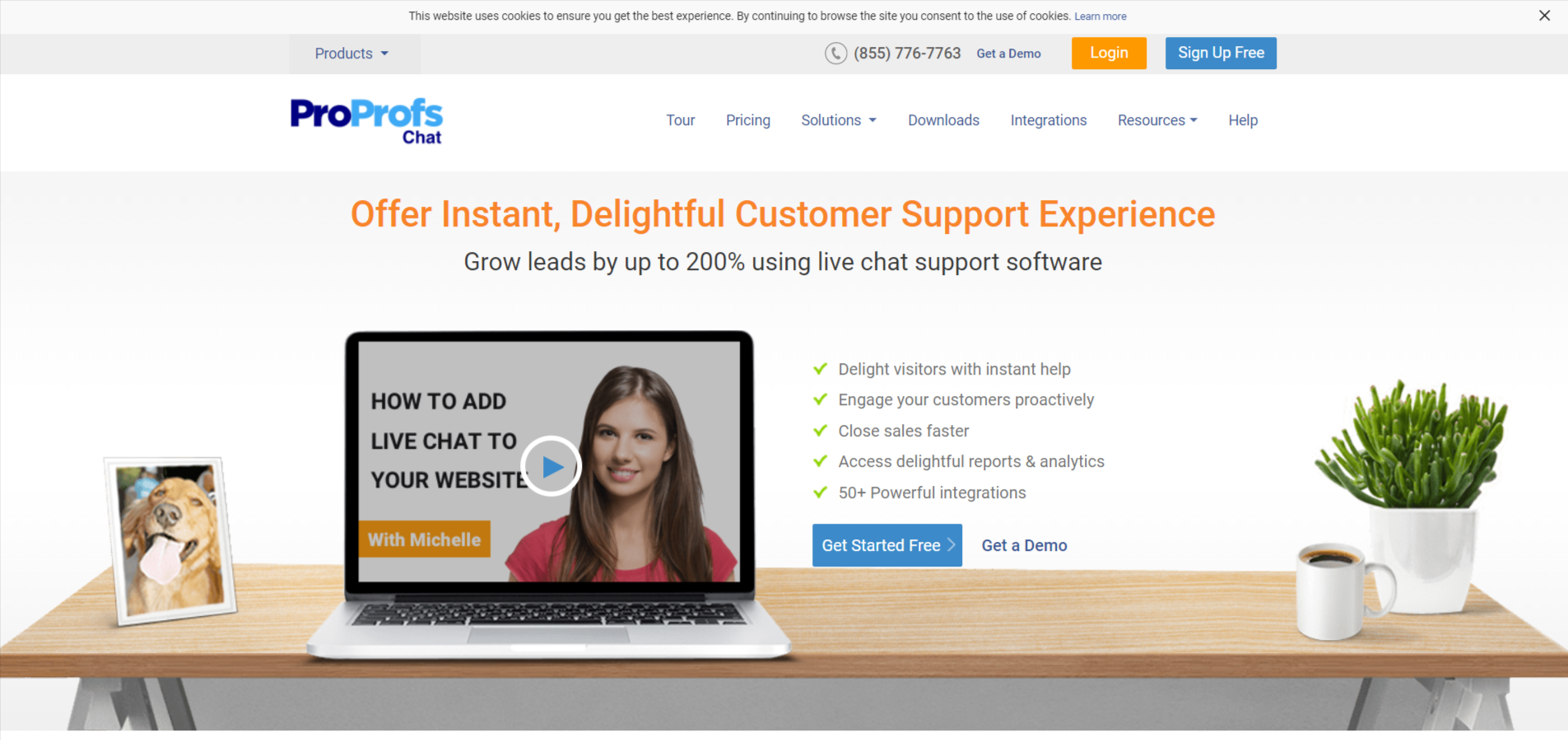 ProProfs Chat is yet another SaaS-based customer support tool that can help your business capture leads, manage multiple chats at the same time, and even boost sales. This live chat software offers you the option to track visitors in real-time and engage proactively with features like chat greetings. As a complete sales, support, and marketing solution, ProProfs Chat even enables you to automate each of these processes with the help of its ChatBot feature.
You can capture leads, book appointments, know your potential customers in detail and route them to the right department instantly. It's intuitive yet easy to set up a chat widget that is perfect at keeping your operators informed when a chat is added to the support queue. Besides this, its powerful integration options can help you create a support bundle for free as well.
Social Proof Tools
Social proof tools essentially help you leverage social influence for your business. These tools allow you to gauge the effectiveness of your efforts on social platforms and provides you with insightful information.
Check out these social proof tools to improve your lead generation efforts:
Trust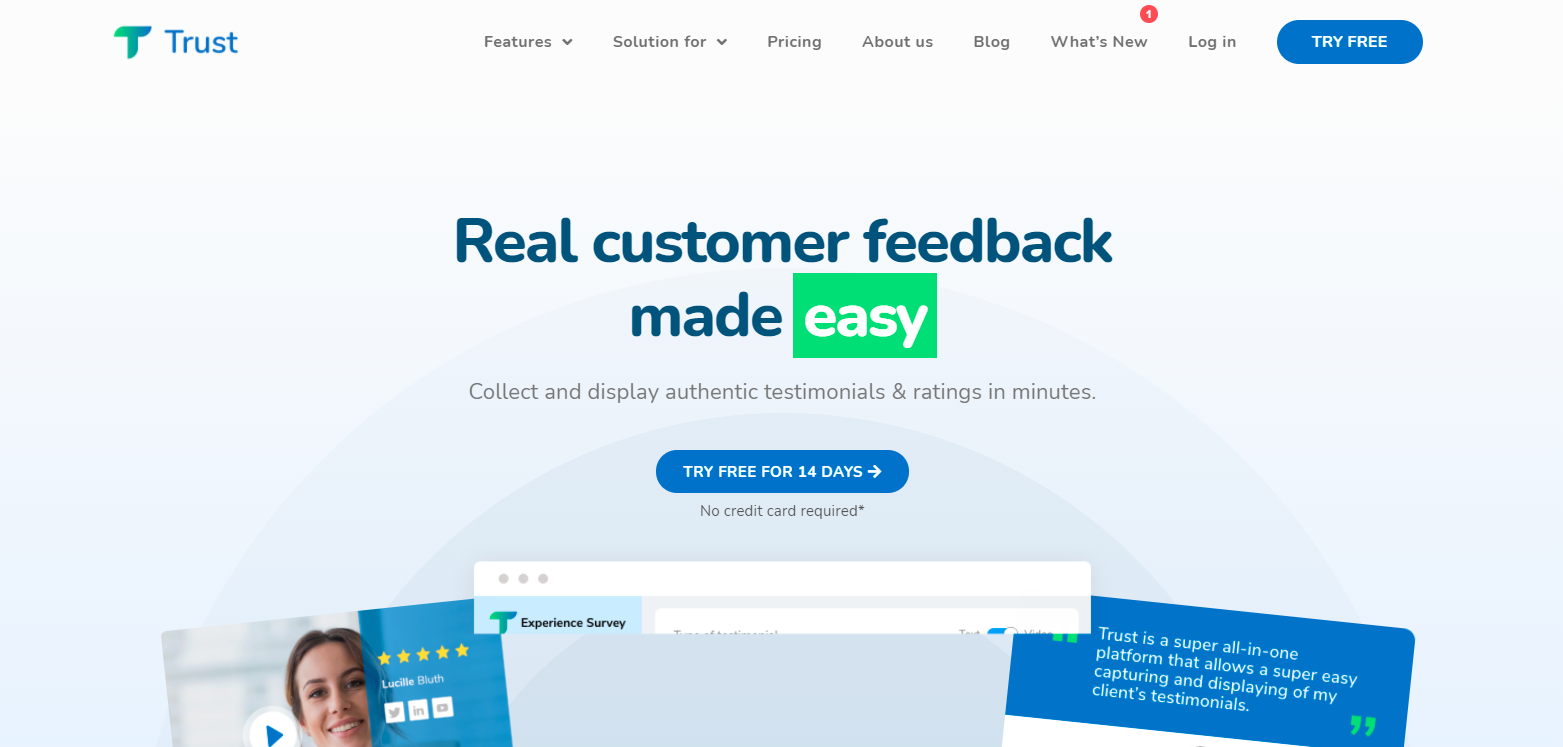 This one's an all-inclusive social proof tool that provides ratings and testimonials. It combines all other means, including video testimonials, text, conversions, visitors, to deliver indisputable social proof.
You can get video testimonials that let you manage your customers with precision. All in all, Trust enhances the customer experience and ultimately helps you drive conversions.
TrustPulse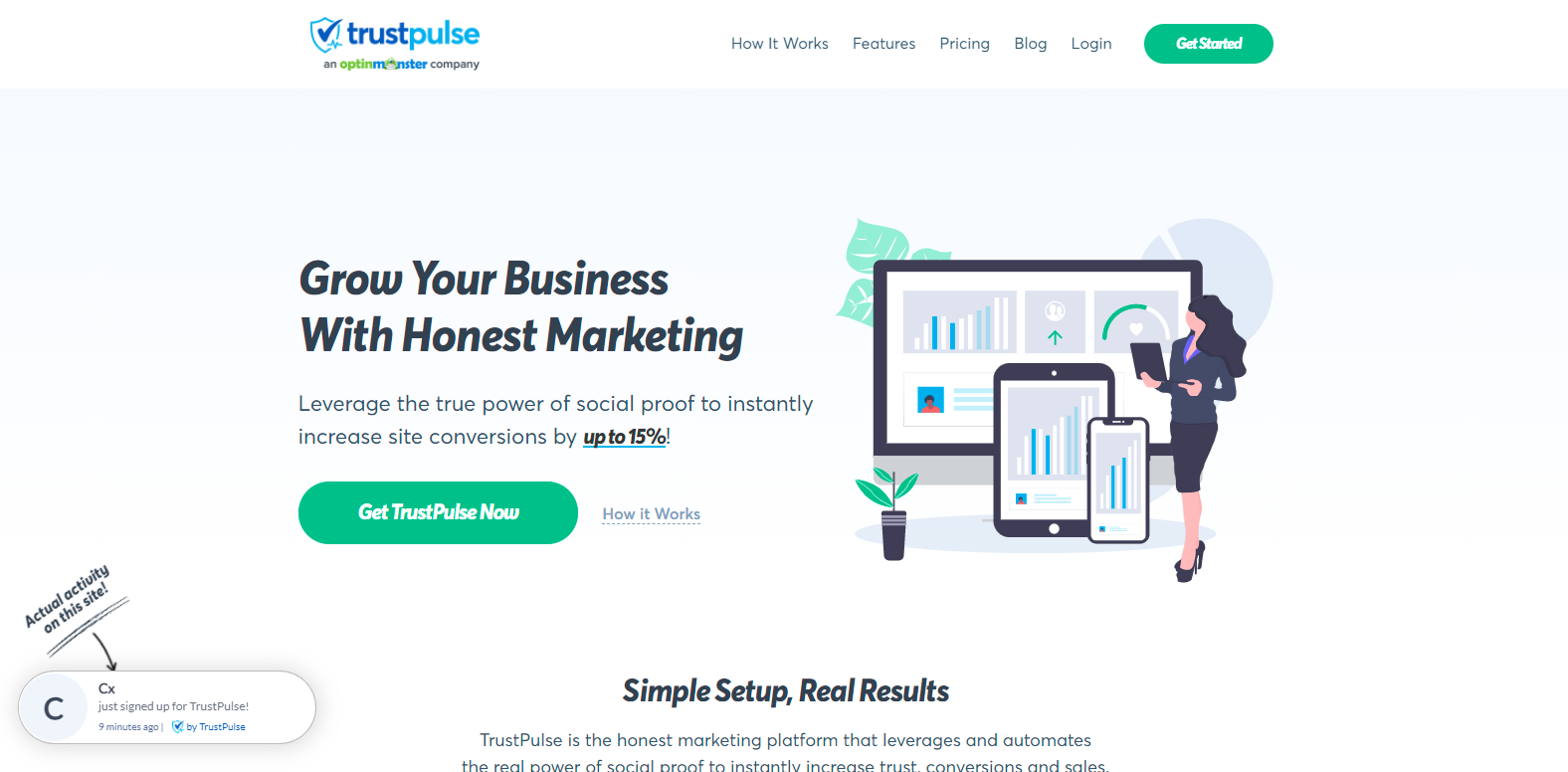 TrustPulse is a comprehensive social proof tool for marketers who want to build trust within their customer base and improve their conversion rate. With TrustPulse, you can showcase credible social proof notifications. The tool lets you choose where you would want the plugin to show the notification.
Furthermore, it allows you to track and monitor downloads, purchases, and registrations on your site. 
Webinar Software
A webinar software platform lets you instruct, educate, and sell to your audience base through a live demonstration/presentation. Generally, it includes video, slides, interaction, polls, offers, and chats.
Hosting webinars are an effective way for selling products or services, educating your audience, and providing valuable content to your viewers. Here are some of our top picks:
ClickMeeting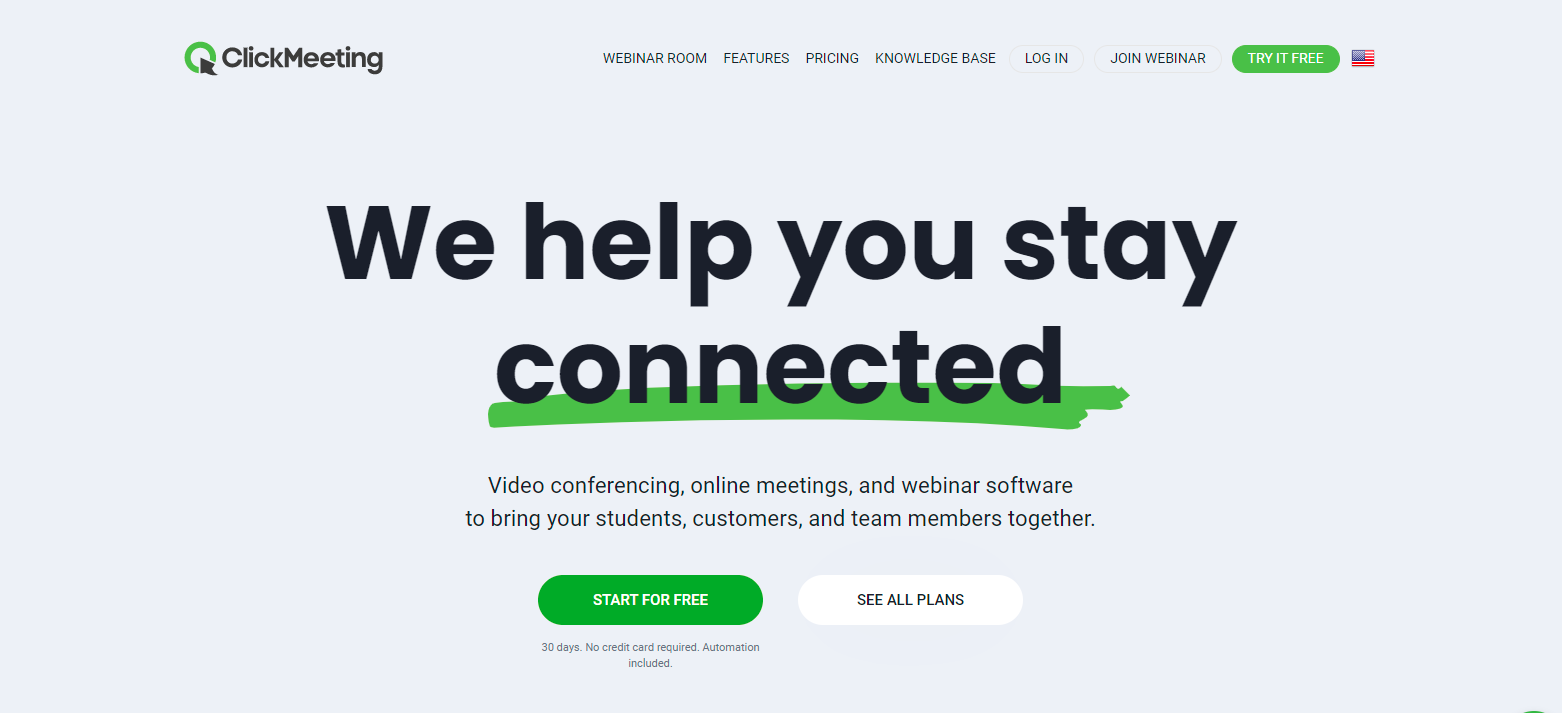 ClickMeeting is an all-in-one dedicated webinar software that offers various features. With it, you can easily record, download, and share webinars. It's an ideal tool for communication and collaboration for large enterprises, irrespective of the location. ClickMeeting's key features consist of webinar stats, one-click recording, meeting room rebranding, and desktop sharing.
WebinarJam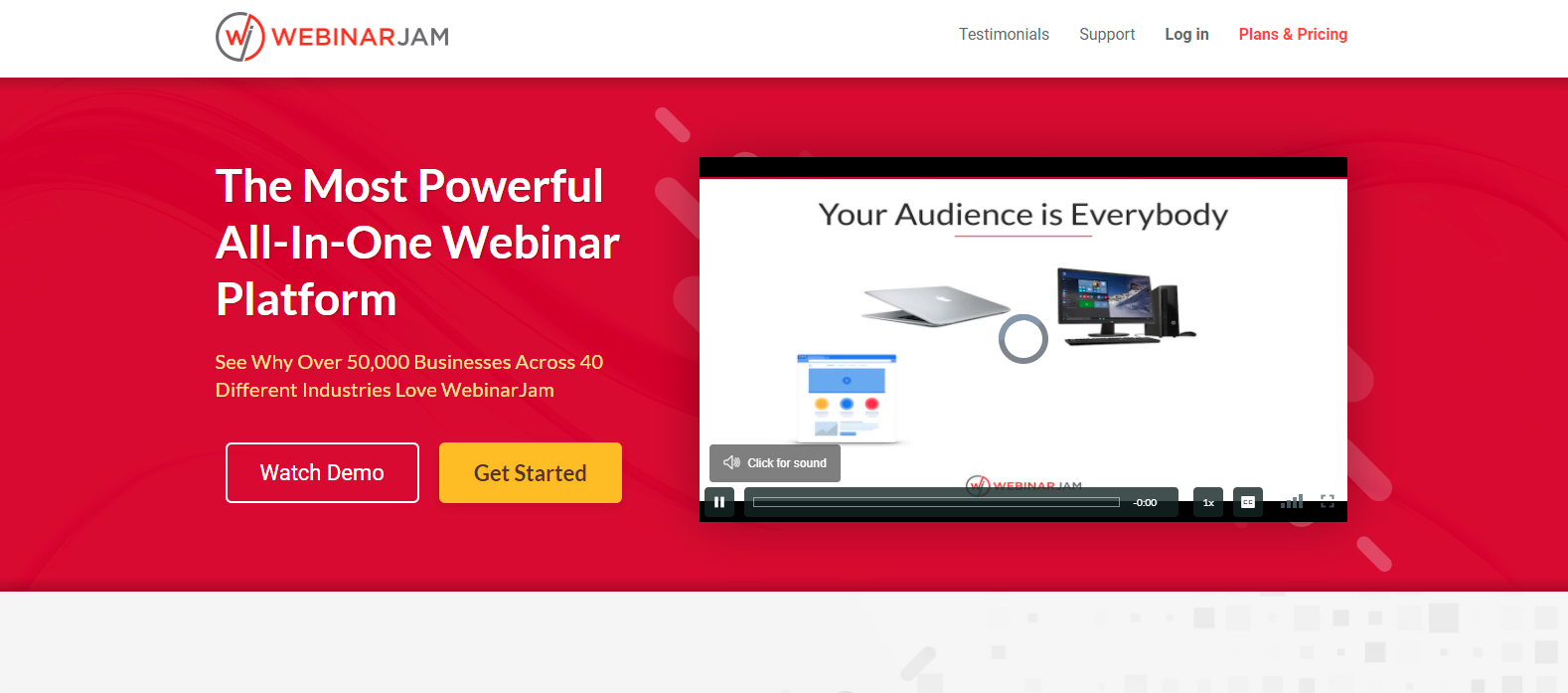 WebinarJam is another excellent platform that helps users with their webinar requirements. The platform can let you reach around 5,000 individuals at a go. 
You'll also find registration and scheduling options as well as the ability to customize them according to your requirements.
Social Selling Tools
Social selling tools help marketing and sales professionals incorporate social selling into their routine tasks and expand their potential and existing customer reach. 
There are various social selling tools out there, but some of those stand out amongst their counterparts in terms of effectiveness and usability. Here are the favorites:
LinkedIn Sales Navigator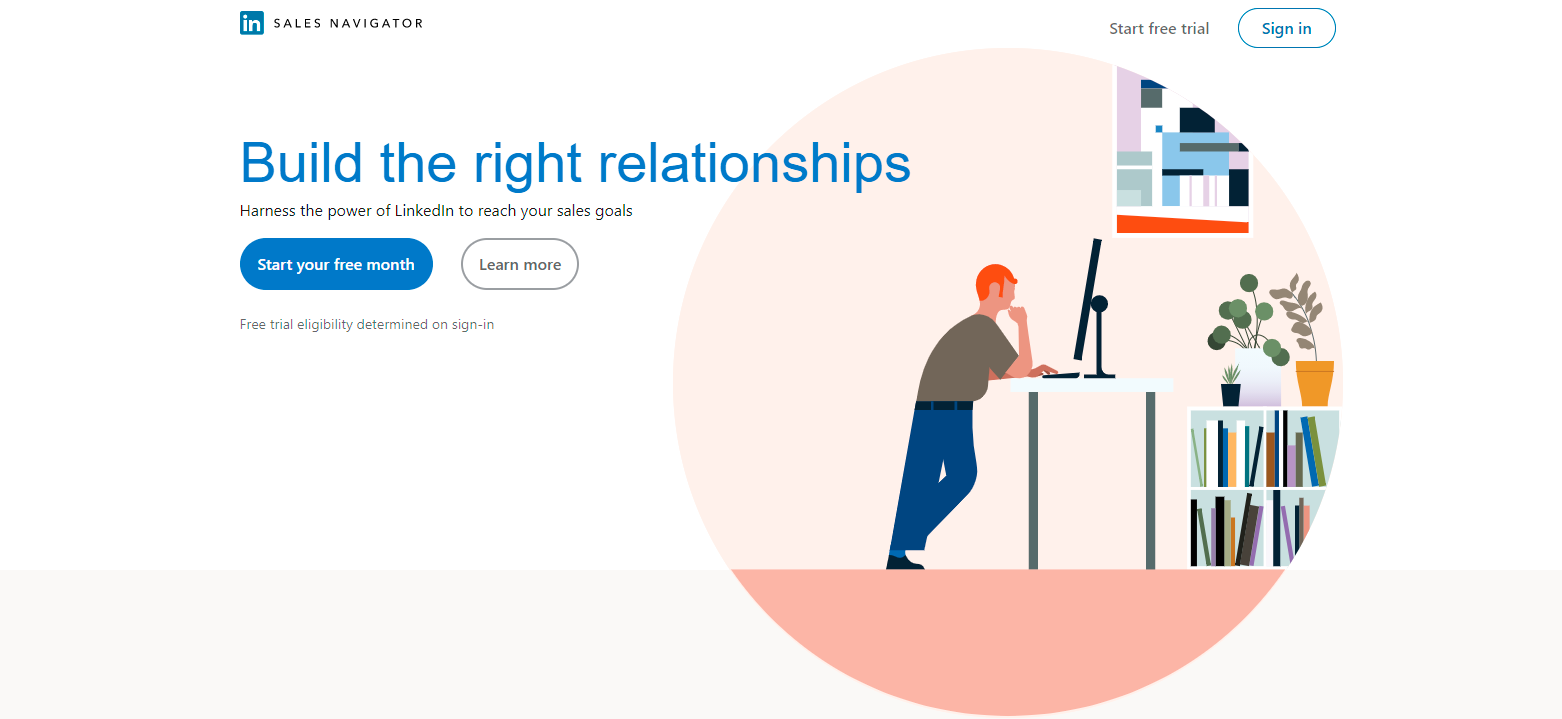 LinkedIn Sales Navigator is a social selling platform that offers increased visibility into networks and customized algorithms that help you get in touch with decision-makers. It's a feature-rich tool for sales professionals, enabling them to engage and connect with others. 
Dux-Soup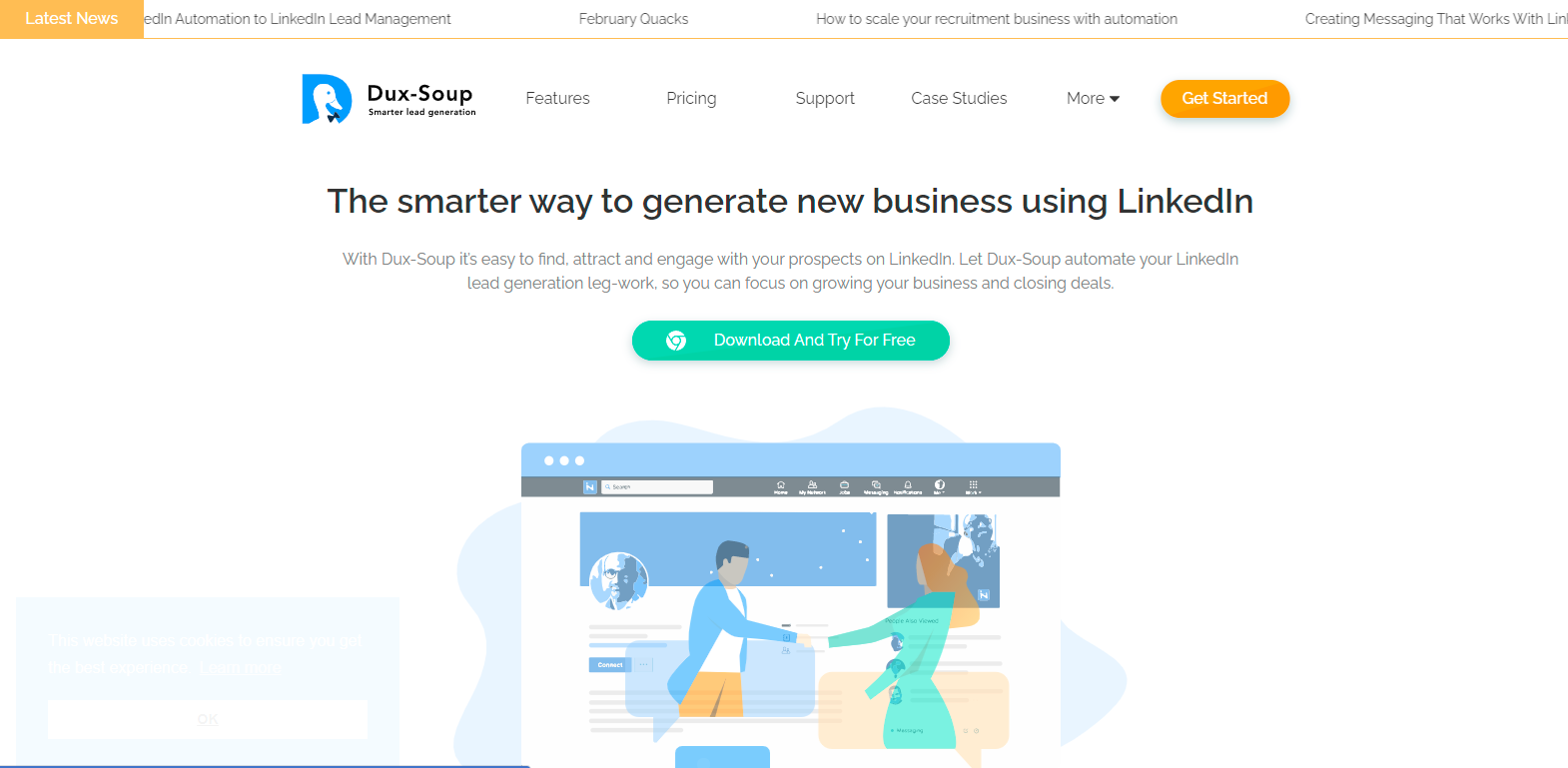 Dux-Soup is a well-known LinkedIn automation tool that helps marketers with their sales and prospecting efforts and lets them connect and interact with the right prospects. It's an easy-to-use tool that enables you to manage prospects, download their profiles, and facilitates automation and outreach efforts. All in all, Dux-Soup can essentially help you generate quality leads while ensuring accuracy.
Lead Analytics Tools
These act as a report card for your marketing, sales, and lead generation efforts, tracking lead performance for your business. This, in turn, helps you improve and strategize your plan and maximize the ROI.
Here are some simple, actionable, and useful lead analytics tools to help you effortlessly leverage data-driven insights.
Supermetrics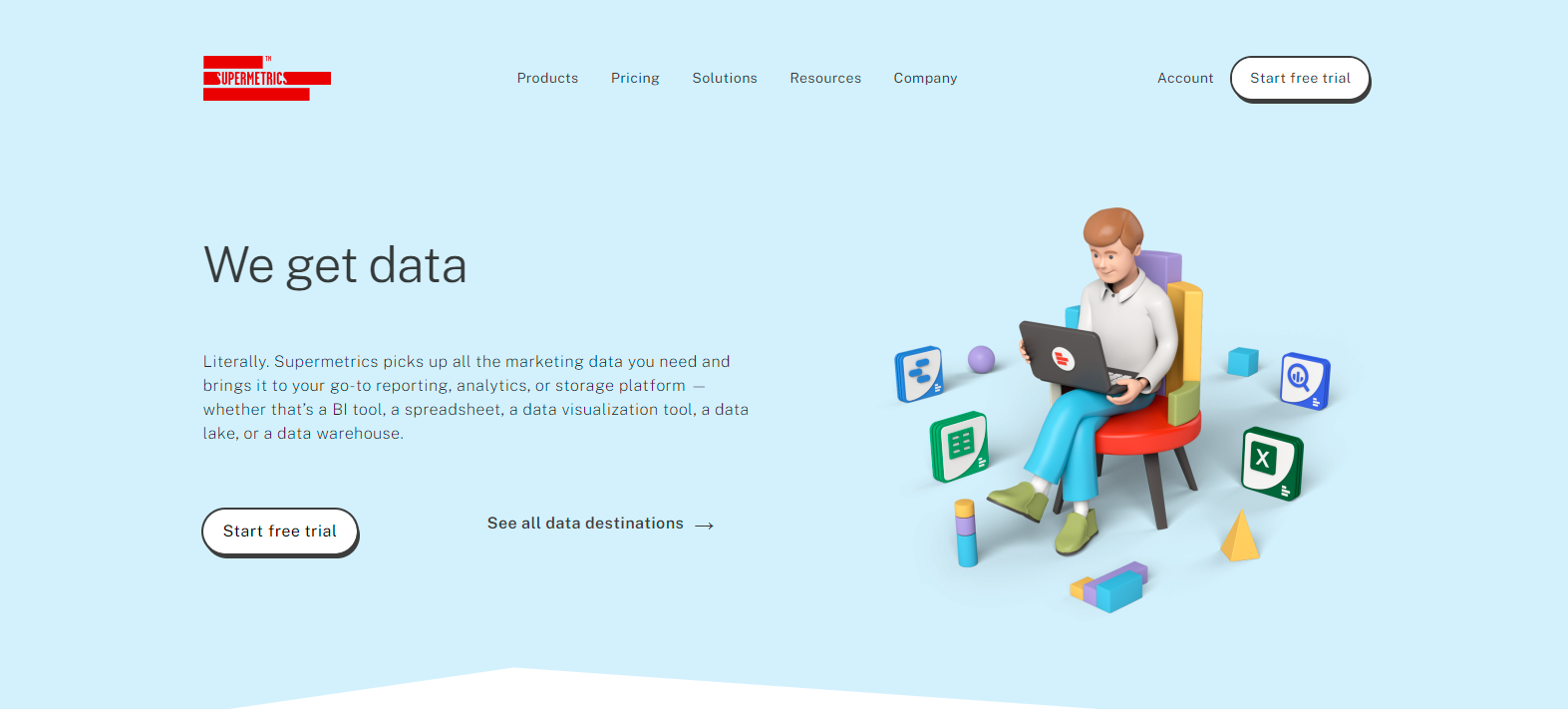 Supermetrics, a cloud-based lead analytical tool, unifies all metrics and performance indicators in a centralized location. It predominantly helps businesses streamline the data accessibility process via Google Analytics. 
With Supermetrics, you can enjoy a full-fledged reporting solution that integrates with other analytics engines and tools. On the whole, it helps you create a plan and execute online marketing, online analytics, and social media and get an exhaustive report of your prospective clients.
Finteza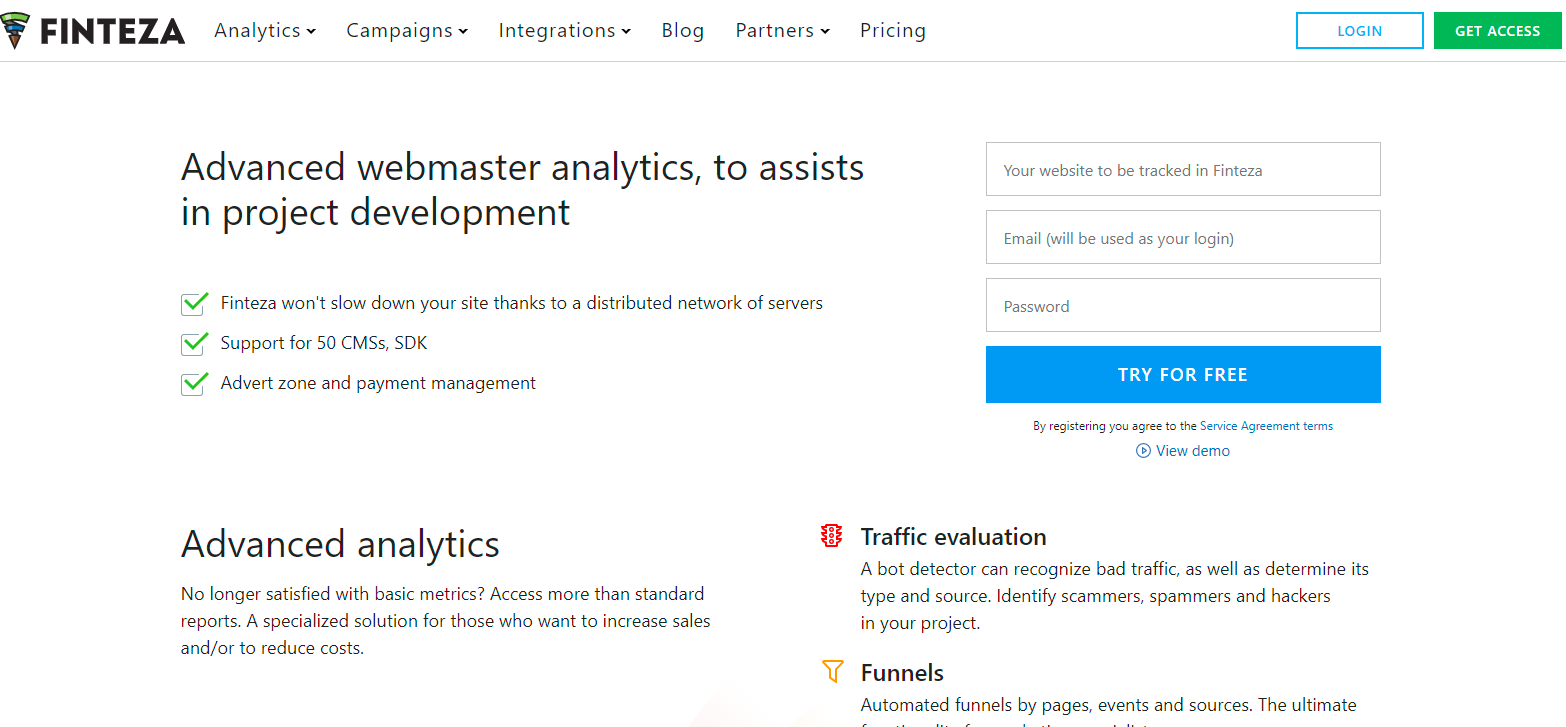 Finteza is a powerful analytical tool that helps users collect information about their website — traffic quality, weak spots, inefficient advertising channels, and user behavior. This, in turn, helps you manage your online campaigns, create banners, and set targeted ads all in just one platform.
Furthermore, you can access audience reports, deep and comprehensible sales funnels, reliable statistics, and more.
On-Page Lead Generation Tools 
On-page lead generation tools help you capture leads right from your website. These tools convert casual visitors into leads by analyzing their intent, tracking their activities, and nudging them at points when they are most likely to convert. 
These tools closely track your visitors from the time they land on your website till they leave. While visitors navigate through your website, the tools find the best opportunities where the chances of conversions are the highest.  
Here are the best on-page lead generation tools your business needs: 
Picreel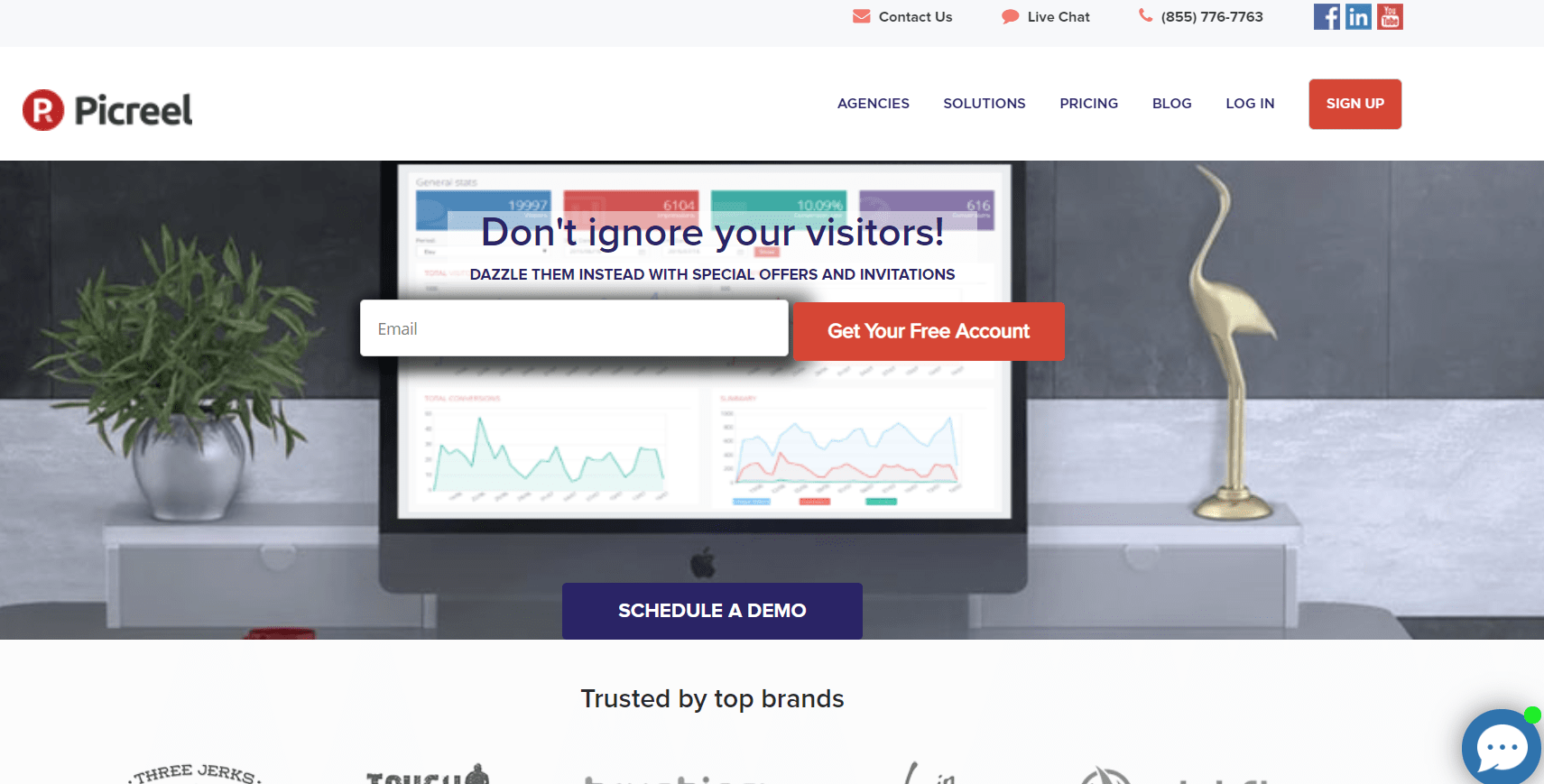 Picreel is an excellent tool to track the digital footprints and click behavior of your website visitors and present them with interactive popups. You can use it to present prospects with compelling and customized offers that they cannot refuse, collect valuable feedback from leaving visitors, and capture email leads to contact them later. 
The collected data can be smoothly moved to your CRM, helping your sales and marketing team reach out to prospects and boost your sales.
Qualaroo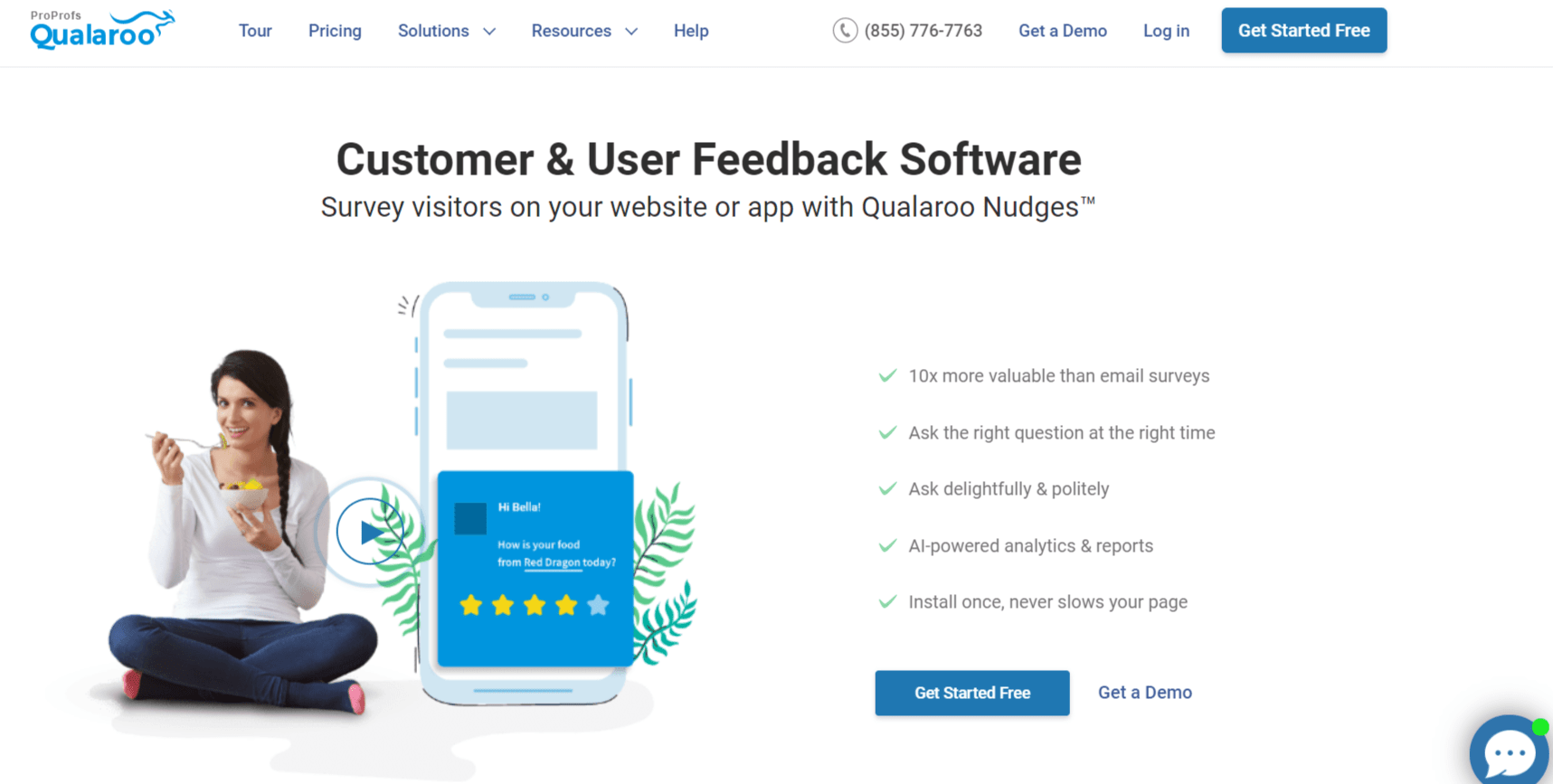 Qualaroo is a powerful customer feedback tool that helps you ask visitors the right questions at the right time in a way that doesn't feel intrusive. The insights gained from responses to Qualaroo Nudges can be up to 10x more powerful than email surveys. Qualaroo surveys visitors in real-time and targets them based on their actions, behavior, location, and many other factors. For example, a lead generation form can pop up when visitors show exit intent or when they are at the pricing page. 
Nudging visitors at the right time increases the chances of getting genuine responses. It helps you unlock valuable insights into what your visitors are looking for or what's stopping them from making a purchase. Even if they don't complete their purchase, you can try to get their contact details so that they can be added to your outreach list for future products or offers.
Wrapping Up
Businesses have different goals, skills, budgets, and requirements, but they want their business to thrive in the long term at the end of the day. With the right lead generation tool, you can create a steady stream of leads or prospects that you can tactfully turn into customers.
Author Bio
Will Cannon, the founder of UpLead and Signaturely, has considerable experience in lead generation, email marketing, customer acquisition, and retention. He provides actionable insights to marketers on customer relationship management and ways to drive higher business ROI.