Various observers see private employment stagnating
In the second quarter and beyond (see Debate here), perhaps signaling a recession in the second quarter. With the Business Employment Update released on Wednesday, we have the following measure of cumulative change since 2021M06:
figure 1: Cumulative change in private nonfarm payrolls, from BLS CES (blue), from ADP (tan), from employment covered by the Quarterly Census of Employment and Wages (green), from business employment dynamics (sky blue squares), from Philadelphia Fed preliminary Baseline (pink triangle), all 000, sa QCEW Employment adjusted using Census X-13, log transformed. Philly Fed Private NFP is calculated using Philadelphia Fed NFP estimates minus actual government employment. Sources; BLS, ADP via FRED, BLS QCEW, BLS bed, Federal Reserve Bank of Philadelphiaand the authors' calculations.
Note that QCEW and BED data share data, but QCEW covers the range of employees covered (at 11.3 million establishments, "C" stands for "census"), BED uses longitudinal data (at 8.9 million establishments), CES The sample is 670,000 companies each month.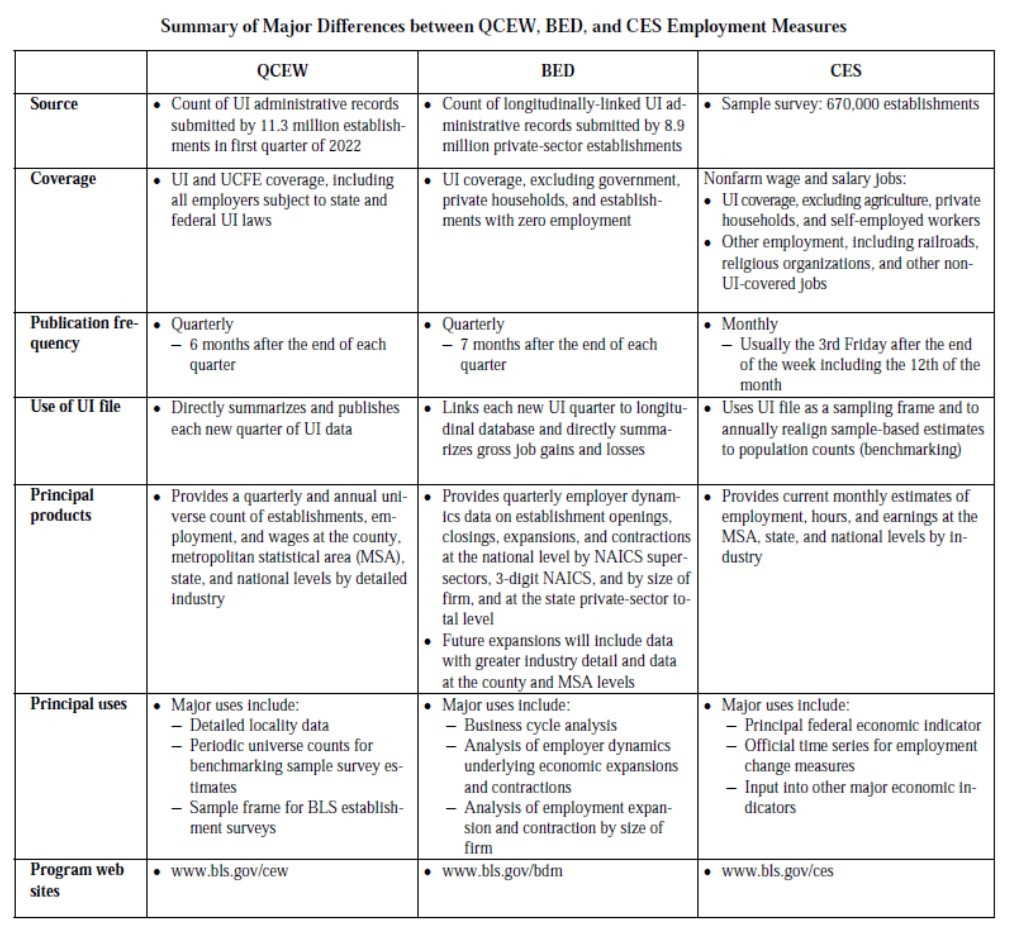 source: Bureau of Labor Statistics.
ADP relies on anonymous and aggregated data on 25 million employees (illustrated here).
At issue is whether the CES series overstated job growth. Seasonally adjusted QCEW private employment using X-13 was flat (despite a decline in June), while the Philadelphia Fed's earlier benchmark (based on QCEW data) subtracted reported government employment, while BED indicated a strong Q2 downward trend. The revised ADP series rose in the second quarter, providing another insight into employment trends.
Interestingly, the Philadelphia Fed series index resumed its rise in the third quarter. With the BLS and ADP series rising in the third quarter, this indicates continued employment growth.