This peanut butter jelly smoothie has become a new staple smoothie that my whole family (including my baby) loves! It is nutritious, rich in fillings, and tastes like a peanut butter and jelly sandwich in the form of a smoothie. This is delicious!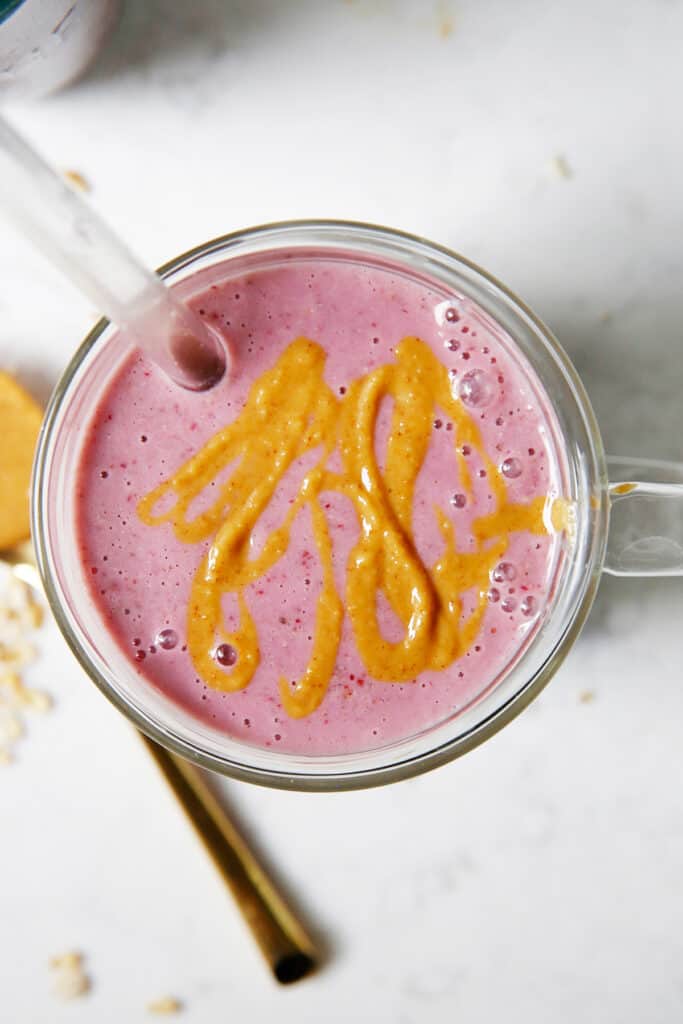 PBJ Smoothie
This smoothie is indeed a perfect combination of simple ingredients to create a healthy smoothie recipe that everyone will love. You can customize it as needed and put it together in a pinch, or make some freezer packs and hide them in the refrigerator so that you are ready at any time!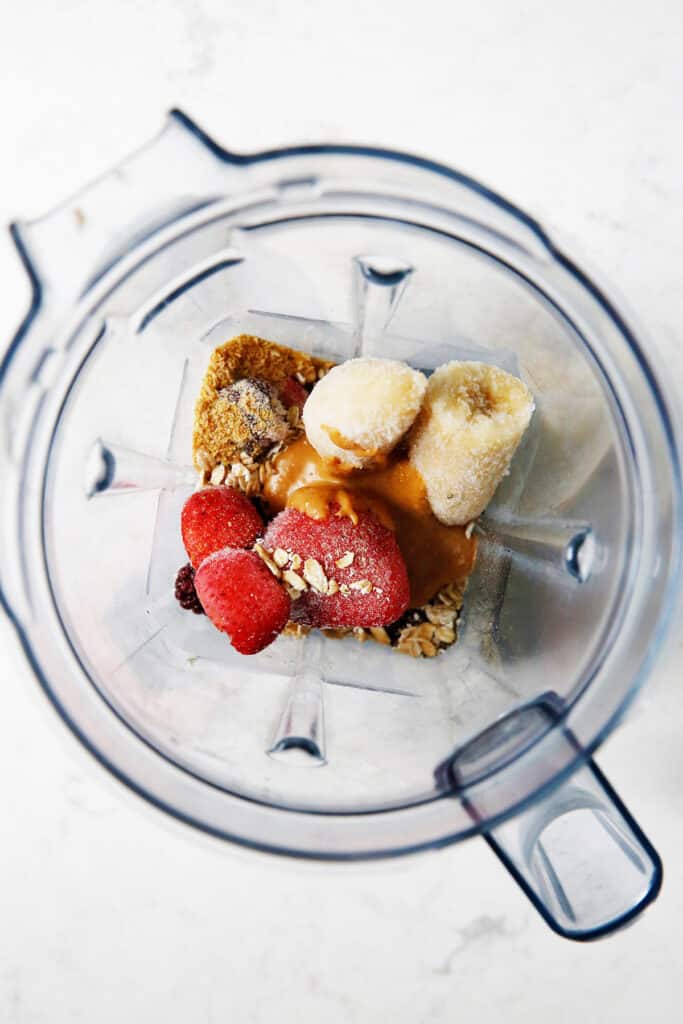 Peanut butter and jelly smoothie ingredients
Frozen mixed berries: A must-have for PB & J flavor! Something cool? You can buy frozen organic mixed berries in bags! They usually include: strawberries, blackberries, raspberries and blueberries! If you don't have this, you can use frozen strawberries! Think about your favorite jelly flavor!
Frozen bananas: Frozen bananas are the staple food in my refrigerator because they are the key to making creamy smoothies! So I always prepare a bag of frozen, unpeeled bananas, ready to eat this smoothie!
oatmeal: This adds nutrients, a lot of fiber, and makes this smoothie extra filling. I have been looking for glyphosate-free oats because oats are an oversprayed crop. If you need to be gluten-free, please don't forget to buy certified gluten-free.
peanut butter: A good peanut butter (anything you like!) is the key to the PB & J flavor of this smoothie. However, almond butter is also fine. I buy peanut butter without added oil or sugar, because nut butter can be a sneaky source of random ingredients.
Milk of choice: Any milk can work here!You may end up using more as needed to achieve the consistency you want, but start with a cup so you don't overuse and get a watery smoothie
Chia seeds: Adding chia seeds to smoothies will add extra nutrients. You don't taste them, they have added omega-3 fats, antioxidants and fiber. If you don't have chia seeds on hand, you can omit them in the smoothie.
Ground flax: Another type of nutritional fortification is optional, but adds a lot of nutrients, omega-3 fats and fiber. Can you omit ground flaxseed in your smoothie? Sure thing!
Optional: a scoop of protein powder: I like to add a scoop of unflavored collagen peptides, and my husband Mike likes a scoop of protein powder! If protein powder is added, just check the taste, because of course this can change the taste by a drop.
Need to make peanut butter and jelly smoothies without bananas?
You will often see a smoothie made with frozen bananas because it is the key to making a creamy smoothie with the right thickness and texture, and it adds sweetness without adding sweeteners. I know some people can't tolerate bananas, so if you need to replace it with one without bananas, you can add 1 cup of frozen cauliflower (no, you won't taste it!) and then add a tablespoon of maple syrup.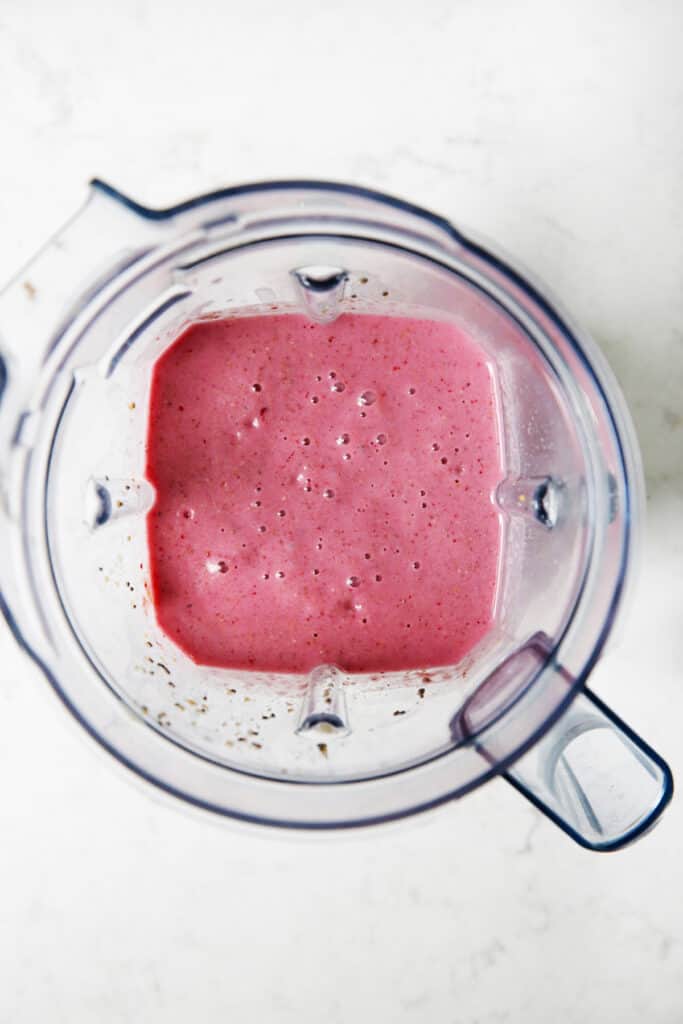 Make PBJ smoothies in advance
You may already know my love Smoothie bag!Put them in the refrigerator as a snack, breakfast or Freezing preparation To friends or before Baby's arrival! So yes, you can prepare these in advance, put all the ingredients in a freezer-safe bag or container, and freeze. However, don't mix smoothies in advance! Smoothies are best enjoyed immediately after mixing!
Tips for making and using a smoothie bag
Where should I go shopping? We recommend buying fruits at large stores that offer organic frozen fruits, such as Costco or BJ's, or places like Trader's Joes (this is where we buy some ingredients). Amazon Fresh also provides some good choices for bulk fruits.
How do I make a smoothie freezer pack? Just put all the specified ingredients except milk in a plastic bag (or better reusable bag) and freeze until ready for use, up to one month.
Can you freeze the smoothie for later use? We do not recommend mixing smoothies too long in advance. Smoothies are best eaten immediately.
Are there some leftover smoothies? We pour any remaining smoothies into popsicle molds and enjoy them as frozen foods. The kids love this! Although frozen smoothie soda is best consumed within a few days of making it.
Here are some of the things we like about smoothie bags:
Fresh fruit and frozen fruit
I always have frozen fruits on hand because they make the smoothies cold and add thickness! In addition, research has found that frozen berries contain the same nutrients as fresh berries, so buy and freeze them in season! Or take a bag of organic frozen berries, or the affordable organic berry mix I can see in almost every grocery store!
Best Smoothie Blender
Now you can use any blender, but after years of using various blenders, our team here has found that the high-speed blender is indeed the best blender and it is worth the investment. The high-speed mixer will last for a long time, and it will definitely perform better than the standard mixer. It can be made into the creamiest and best blended smoothies. However, this is an investment, and we realize that buying something that not everyone can or wants to invest in. Therefore, in addition to our favorite blender, we also shared some blenders that we have used and liked in the past with the team.
Respected: vitamin
I (Lexi) have used various blenders. The first two competitors I have used in the past 10 years are Blendtec and Vitamix.At this point, if you want to invest in a lifetime investment price mixer, go to vitamin. Of the two, it can stand the test of time.
Mid-range price options: Kitchenaid Diamond 5-speed blender
Our food editor Kelli uses this blender at home. Its price is moderate and the effect is relatively good. However, it is different from a high-speed mixer, especially when it comes to smoothies. This blender needs to add more liquid than a high-speed blender to completely mix the frozen smoothie ingredients.
Single portion blender options: Ninja Man Blender
Many people like to put a single-serve blender in their home or office to make smoothies. The advantage is that the pot you use for mixing can double as a cup!
The key to filling smoothies
The key to filling a smoothie is the nutritious ingredients you choose! So, although we wrote the basic recipe below the recipe, you can of course add other ingredients to really increase your smoothie.
I like to add something to the smoothie:
Frozen cauliflower
Nut Chips
Nut butter
oatmeal
Protein powder or collagen peptide
Coconut oil or MCT oil
Chia seeds
cocoa powder
Maca powder
Ground flaxseed
Hemp seeds
A pinch of Himalayan sea salt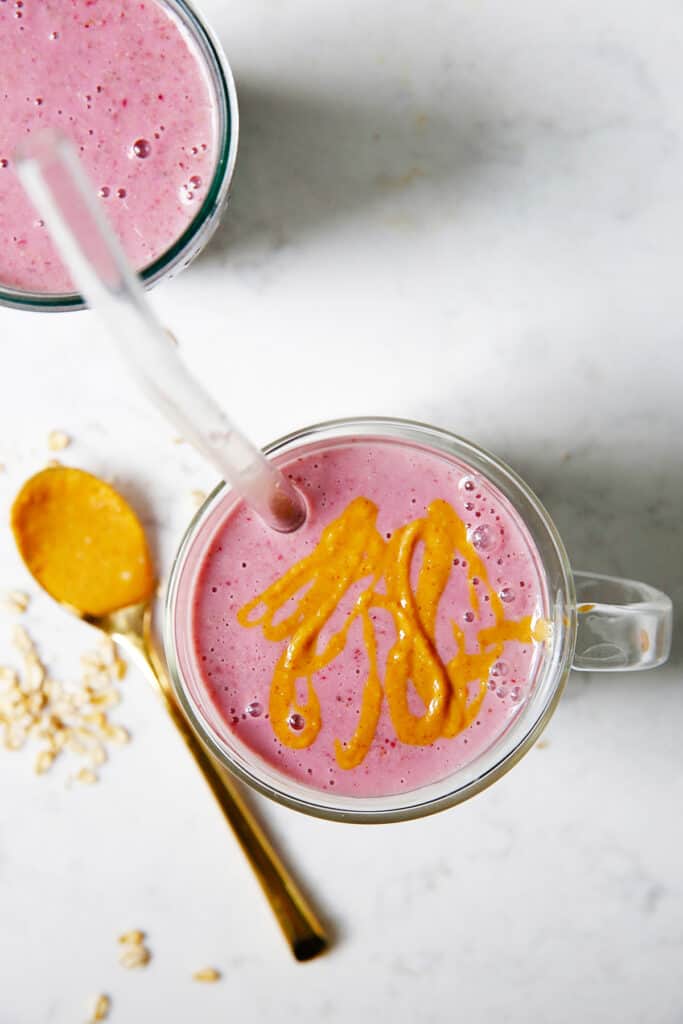 Like smoothies? Try these other smoothie recipes!
Peanut Butter and Jelly Smoothie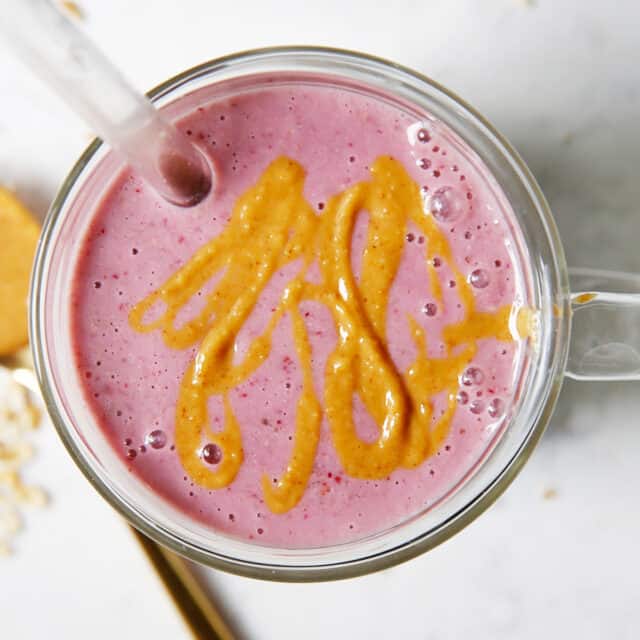 This simple, filling and nutritious smoothie tastes like a pb&j sandwich!
Author:
Preparation time:

00:05

Cooking time:

00:00

total time:

00:05

yield:

2

category:

Smoothie

method:

Blender
raw material
1 cup frozen mixed berries (see note)
1/2 frozen banana
1 tablespoon oatmeal
1 tablespoon peanut butter
1 teaspoon flax flour
1 teaspoon chia seeds
1 scoop of protein powder or collagen peptide (optional)
1 cup of selected milk, add more as needed to achieve the desired consistency
Put all the ingredients in a blender and blend until smooth and creamy.
If necessary, top with peanut butter!
notes
If you are gluten-free, be sure to buy oats labeled gluten-free!
You can buy frozen organic mixed berries in bags! They usually include: strawberries, blackberries, raspberries and blueberries! If you don't have this, you can use frozen strawberries! Think about your favorite jelly flavor!
Key words: Peanut Butter and Jelly Smoothie, PBJ Smoothie