Gadgeteer is supported by readers like you! If you purchase goods through links on our website, we may earn member commissions. Thanks! learn more.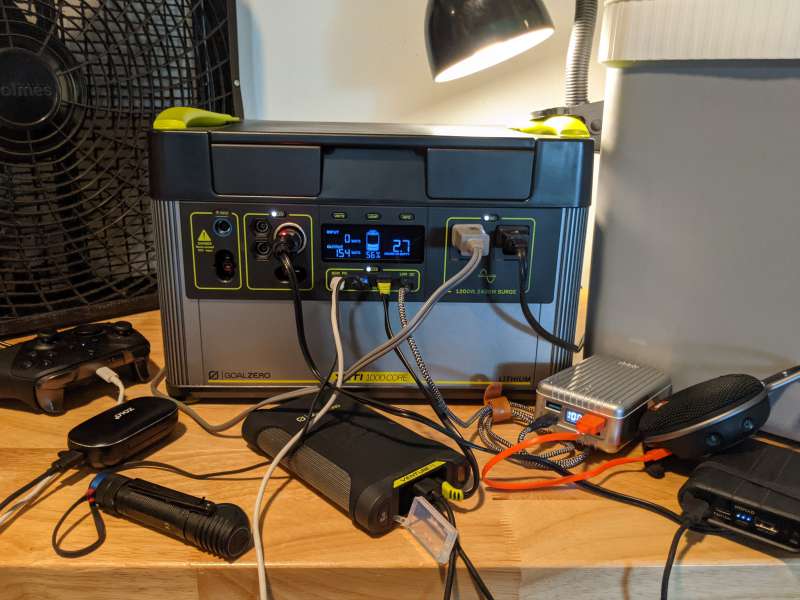 Review – In my never-ending pursuit to always be prepared for anything that may happen, I have accumulated quite a lot of portable power supply units. These large and small power packs are scattered in my apartment, stored in pockets and backpacks, or hidden in boxes, waiting patiently for the apocalypse. Although many of the battery packs I own cannot match the absolute power and functionality of the Goal Zero Yeti 1000 Core portable power station. The Yeti 1000 Core is a scaled-down version of its big brother Yeti 1000X, available through an exclusive partnership with Amazon. Due to the slightly reduced feature set, the Yeti 1000 Core is $300 lower than the 1000X at an excellent price of $999.95. By eliminating some of the bells and whistles that primarily appeal to expert users, Zero Goal creates an impressively affordable power station with mass appeal.
What is it?
The Goal Zero Yeti 1000 Core portable power station is a lithium-ion battery powered device that can power small appliances including refrigerators and air conditioners. Yeti 1000 Core can also charge almost all devices connected via USB-C, USB-A, 12V car charger, standard AC and other proprietary plugs.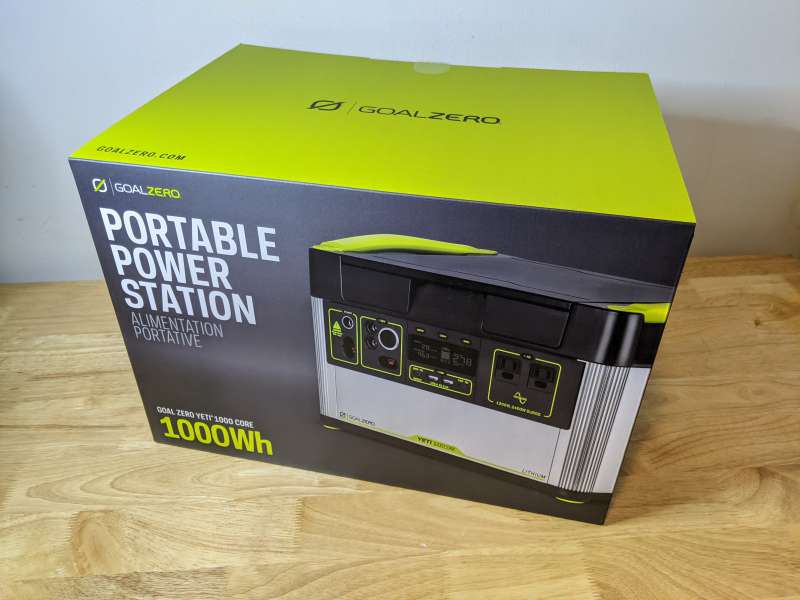 The Yeti 1000 Core is housed in a very sturdy and well-designed box. The box is filled with Goal Zero's iconic bright green color and details many specifications and functions of the power station.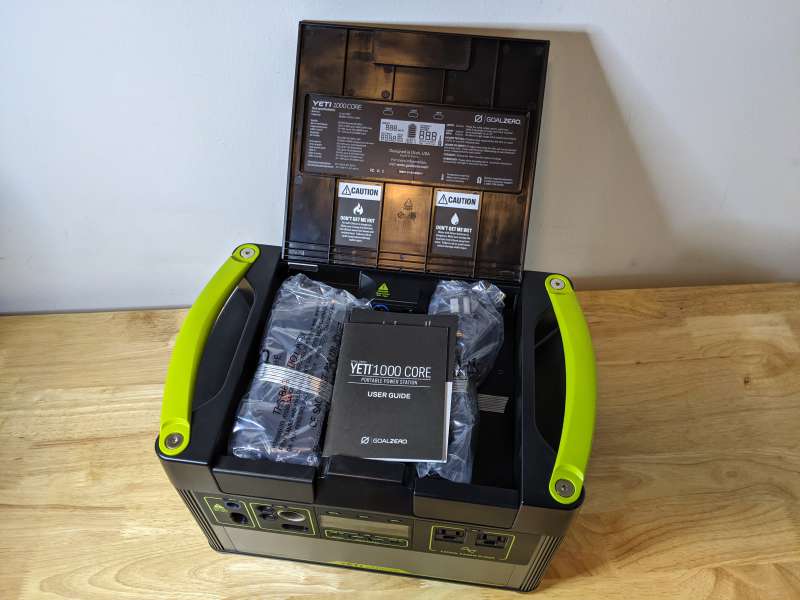 The accessories of the Yeti 1000 Core are safely shipped in the storage section of the device itself.
What's in the box?
Goal Zero Yeti 1000 core portable power station
power supply
power cable
User's Guide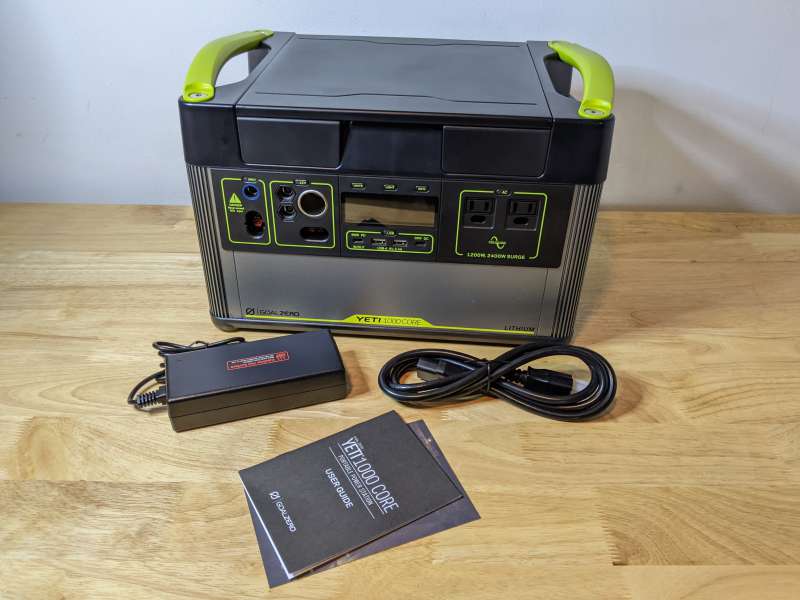 Hardware specifications
Battery type: Li-ion NMC (lithium ion nickel manganese cobalt)
Battery capacity: 983Wh (10.8V, 91Ah)
Equivalent capacity of a single battery: 273Ah @ 3.6V
Life cycle: 500 cycles to 80% capacity (discharge rate: 1C, fully charged/discharged, temperature: 25C)
Inverter size: 1200W, 2400W surge
Maximum input: 300 watts
Shelf life: charge once every 3-6 months
Power Management System: Maximum Power Point Tracking (MPPT) charge controller
Weight: 31.68 lbs (14.37 kg)
Dimensions: 15.25 x 10.23 x 9.86 inches (38.74 x 25.98 x 2504 cm)
Operating temperature: 32-104 F (0-40 C)
port:

2 USB-A ports (output): 5V, up to 2.4A (maximum 12W), regulated
1 USB-C port (output): 5-12V, up to 3.0A (maximum 18W), regulated
1 USB-C PD port (input/output): 5-20V, up to 3.0A (maximum 60W), regulated
Three 6mm ports (output, 6mm): 12V, maximum 10A (maximum 120W), voltage stabilization
1 12V vehicle port (output): 12V, maximum 15A (maximum 180W), voltage regulation
1 high power port (HPP) (output): 12V, up to 15A (maximum 180W), regulated
1 high power port (HPP) (input): 14-50V, up to 50A (maximum 300W)
Two 120V AC ports (output, pure sine wave): 120VAC 60Hz, 10A (1200W, 2400W surge)
2 charging ports (input, 8 mm): 14-50V, maximum 10A (maximum 150W)

Charge times:

Wall charger (120W): 9 hours
Car charger (120W): 9 hours
Goal Zero Boulder 50: 24-48 hours
Goal Zero Boulder 100: 12-24 hours
Goal Zero Boulder 200 Briefcase: 6-12 hours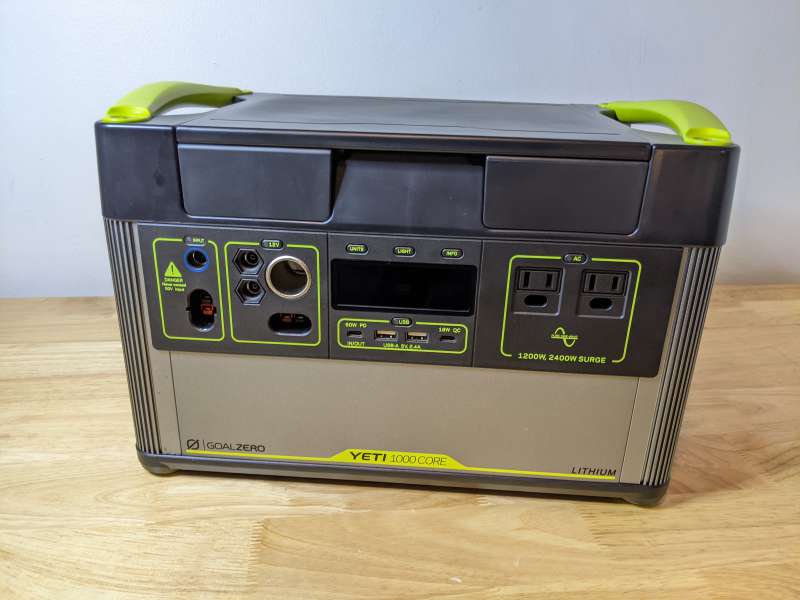 Design and features
The size and design of the Yeti 1000 Core is the same as the more powerful Yeti 1000X, but the features have been intentionally reduced to reduce the price to $999.95. Unlike the Yeti 1000X, which is priced at US$1299.95, the Yeti 1000 Core does not support Yeti Link, which allows battery expansion. The power of the AC inverter is slightly lower. The charging input power is 300W, while the 1000X is 600W. The 1000 Core is also not compatible with the Goal Zero Yeti application, which can be found on other high-end devices such as 1500x and 3000x. Except for the most die-hard users, none of these warnings should stop anyone from seeing how great this power station is.
Goal Zero wisely chose the adjustment to lower the price point of Yeti 1000 Core, only for those expert users who would choose Yeti 1000x, 1500x or 3000x's extended functions anyway. This is the case with Yeti 1000 Core. The device fulfills the core promise of portable power stations and can provide electricity efficiently and reliably without all the expensive high-end decorations required by professional users.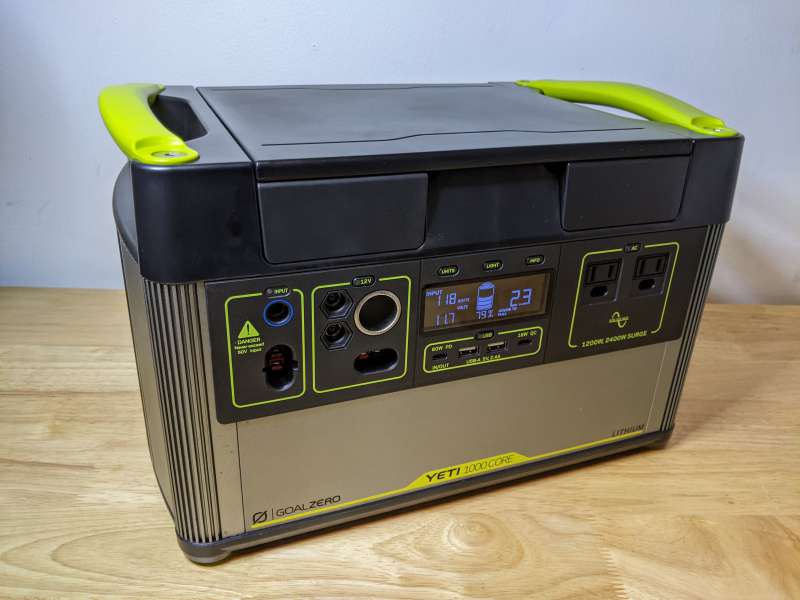 As for the construction of the Yeti 1000 Core, it is centered on the rugged aluminum body known for most zero-target devices.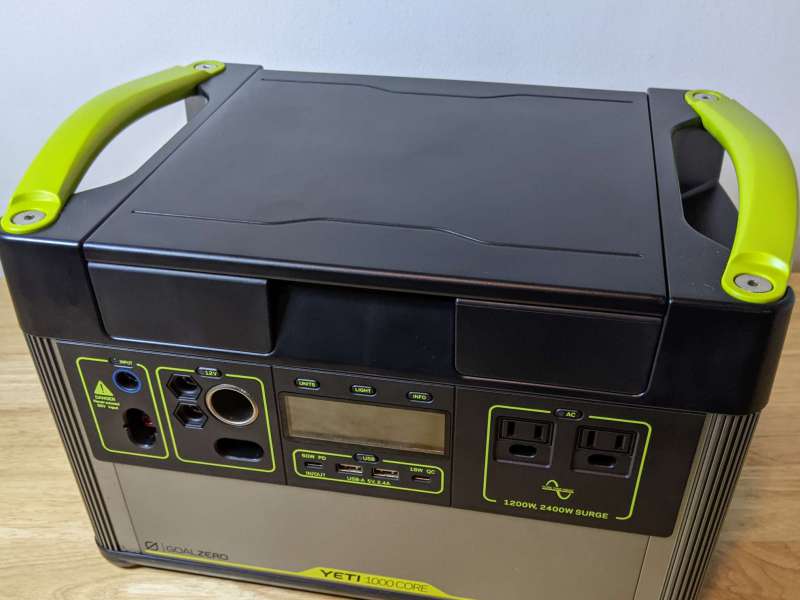 The top and front of the Yeti 1000 Core are made of black plastic. There are two iconic green handles on both sides, which are firmly fixed to the aluminum frame with bolts.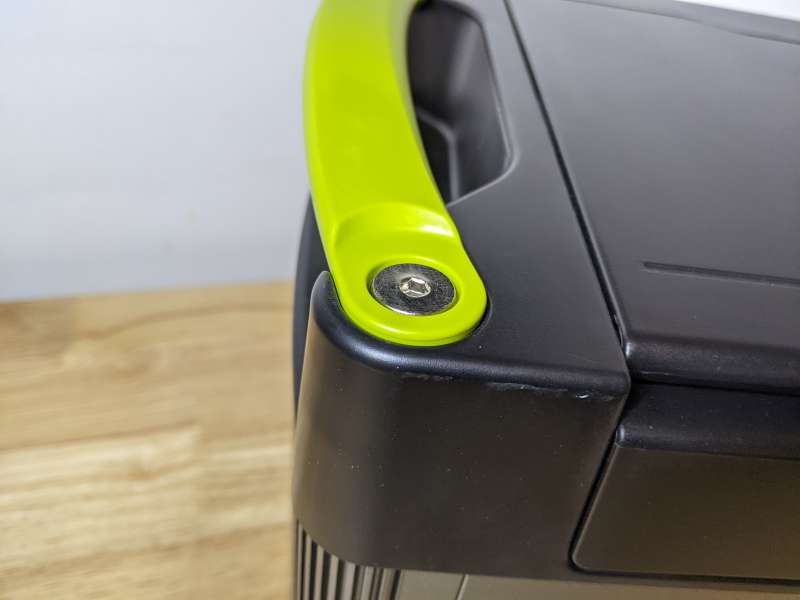 A major feature of all Goal Zero 1000 units is that the notches on the side handles correspond to the rubber feet on the bottom so that the power station can be stacked safely.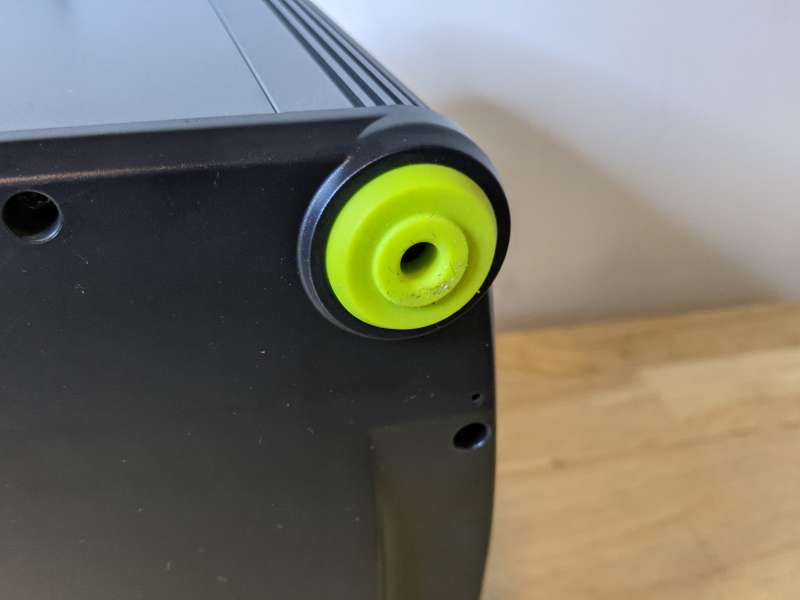 The corners of the Yeti 1000 Core are engraved with standard Goal Zero ribs on the aluminum frame to help dissipate heat.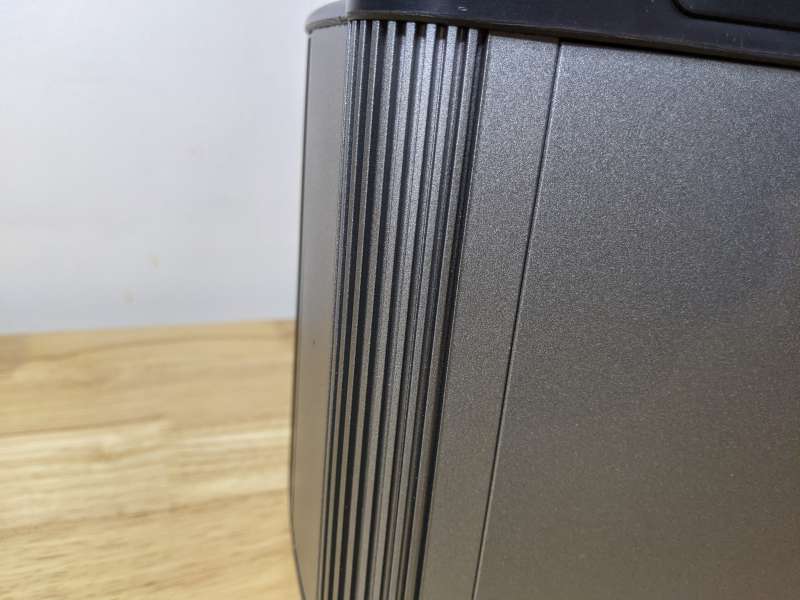 To further help prevent the device from overheating, two powerful fans are embedded behind the plastic vent on the side of the Yeti 1000 Core.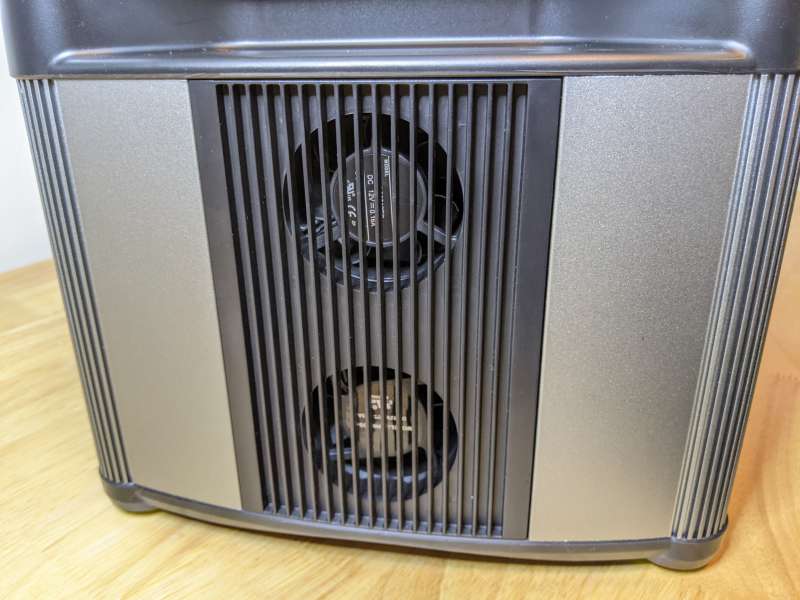 The back of the device is also black plastic and has a cutout to allow the power cord to pass through it when stored in the lid.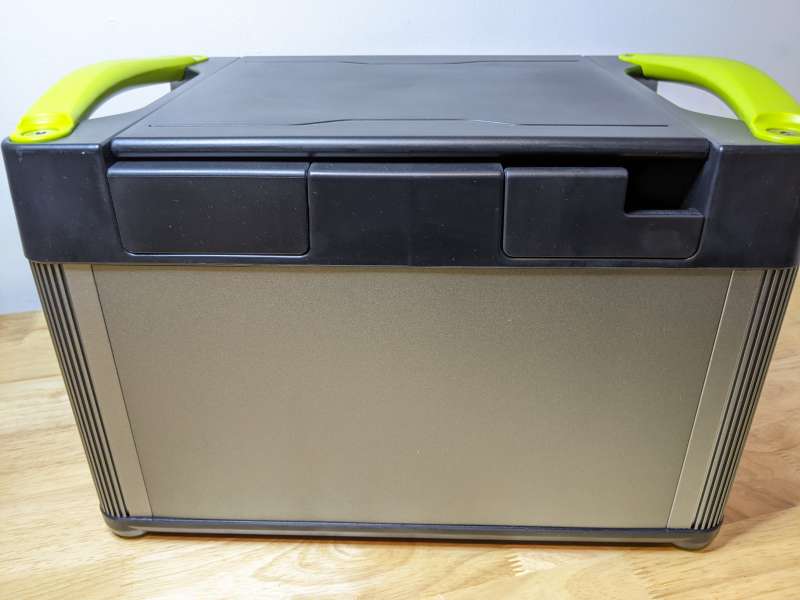 The storage space in the lid of the Yeti 1000 Core is another well-thought-out feature that really adds value and considers the needs of ordinary users.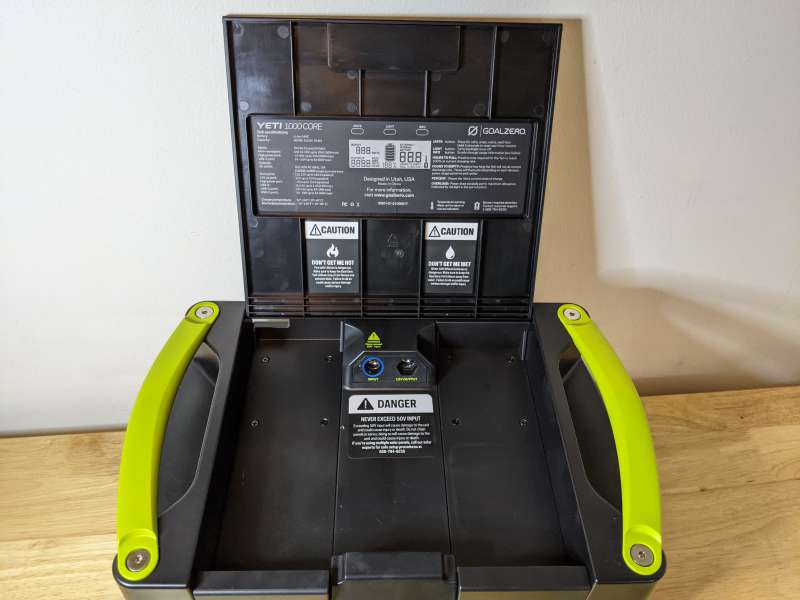 There is enough space to store the Yeti 1000 Core power supply and cables and any other charging cables or adapters that may be required.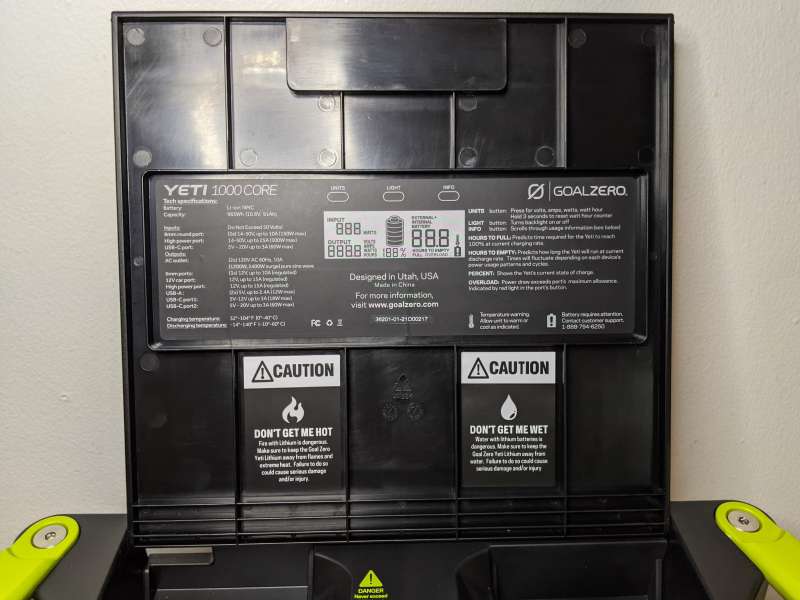 The basic instructions of Yeti 1000 Core are printed inside the cover, including how to read the front display, port specifications and usage warnings.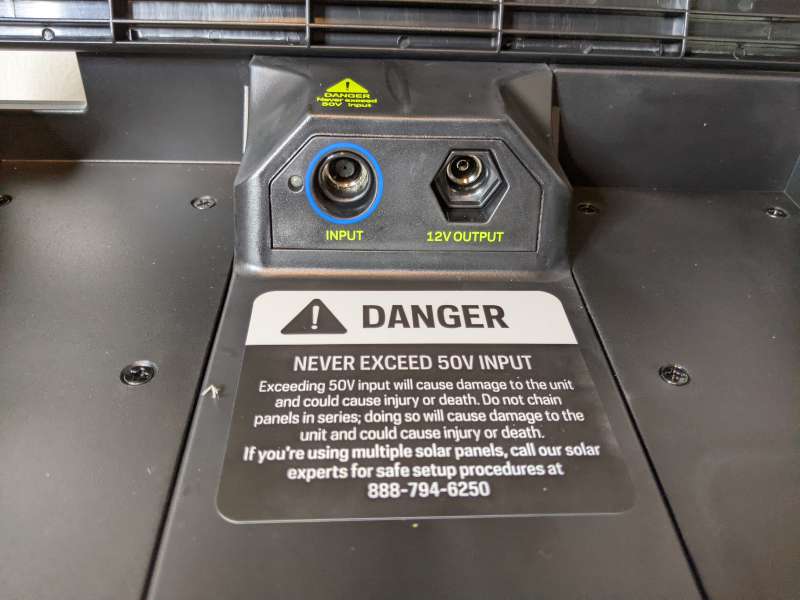 There are also two ports in the storage space, a charging input and a 6mm 12V output. Speaking of ports, the Yeti 1000 Core has many options, although I do hope there are more USB-A ports.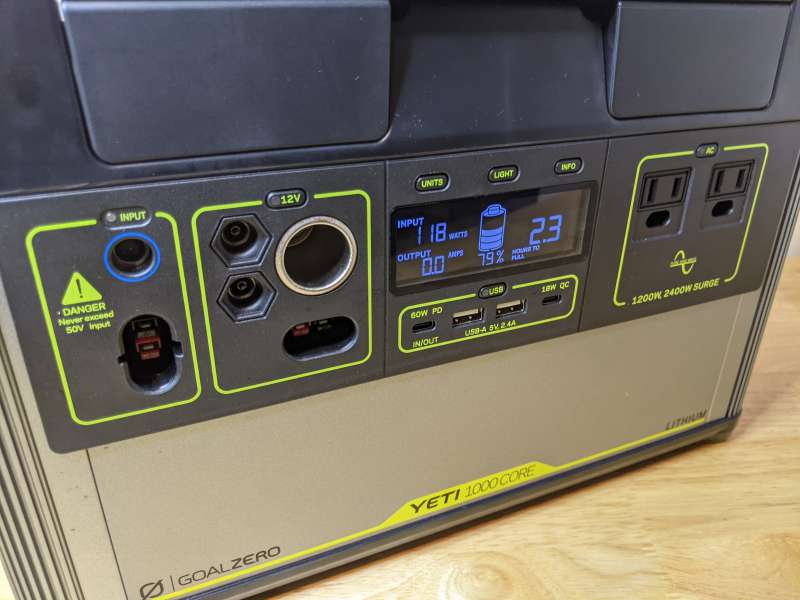 From left to right, in addition to one of the storage units, there is a main charging port on the front; there is a 12V part for car charger and 6mm plug; there is one with two USB-A ports and two USB-C In the USB part of the port, one of the ports can also be used as an input in case you need to charge the device with a USB-C laptop charger; of course, there are also two 120V AC ports for larger devices.
Since there are many open ports exposed on the front of the Yeti 1000 Core, I do find myself checking them frequently for dirt or debris. This is mainly a problem during outdoor use. I think the device can benefit from some basic plugs, at least covering larger ports such as 12V car chargers and HPP ports.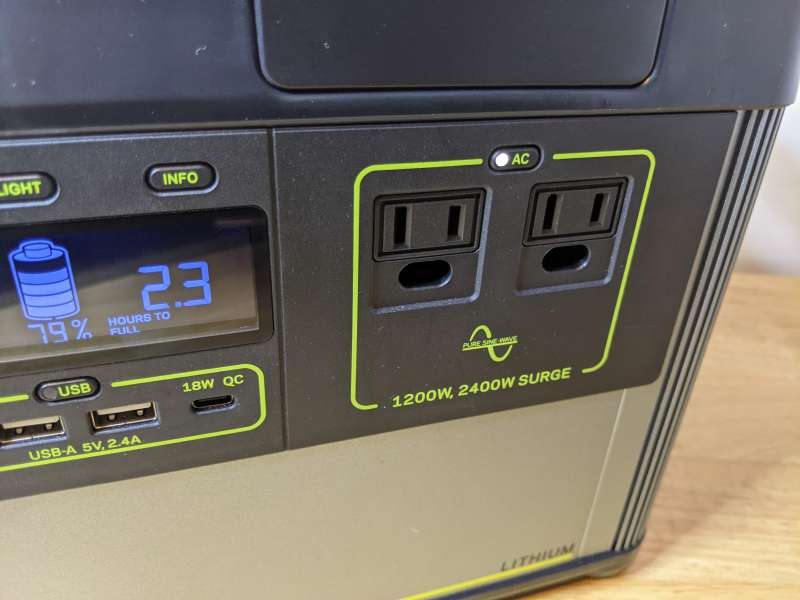 Each part of the port is activated by a small button above it, which will light up when the port is powered on. This is a good way to keep all devices connected to power, but only supply power to selected devices.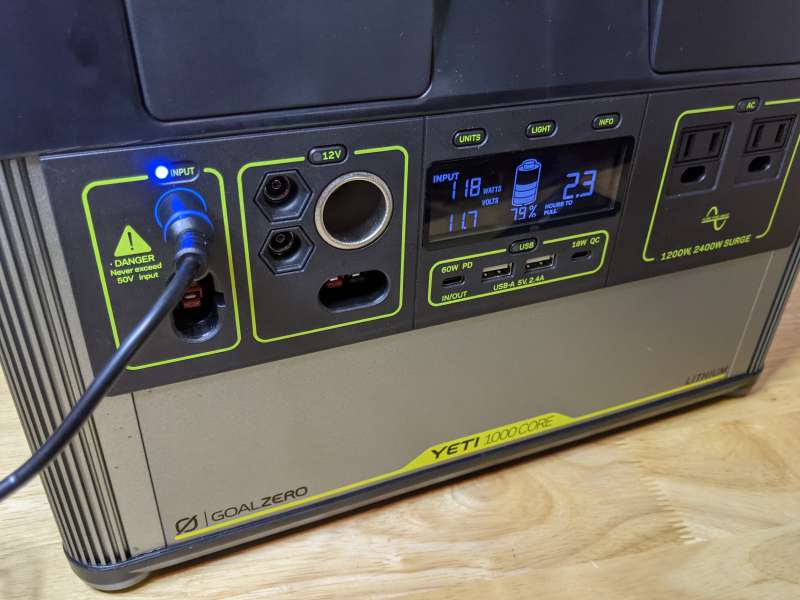 When the Yeti 1000 Core is charging, whether you are using the front power port or the power port inside the storage unit, the blue input LED will light up.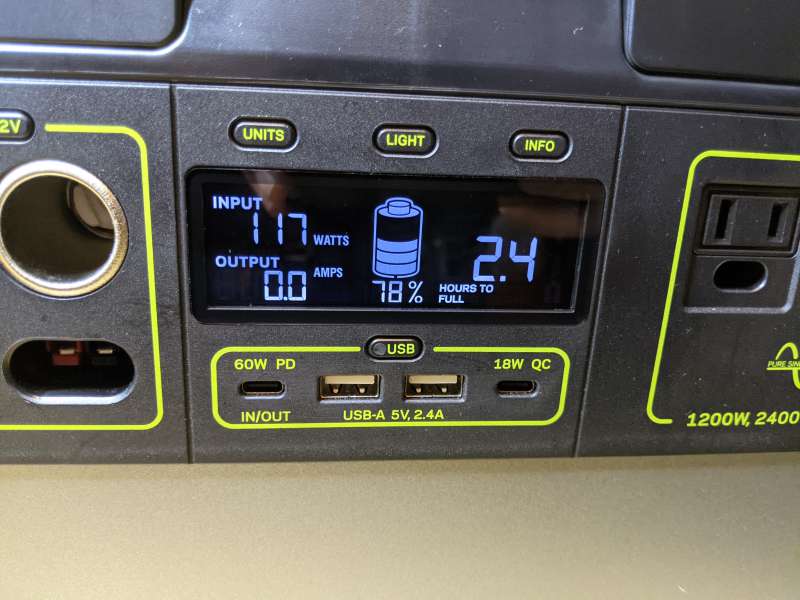 When charging, the front display will show the power input, the current battery status, and the estimated time required for the device to fully charge.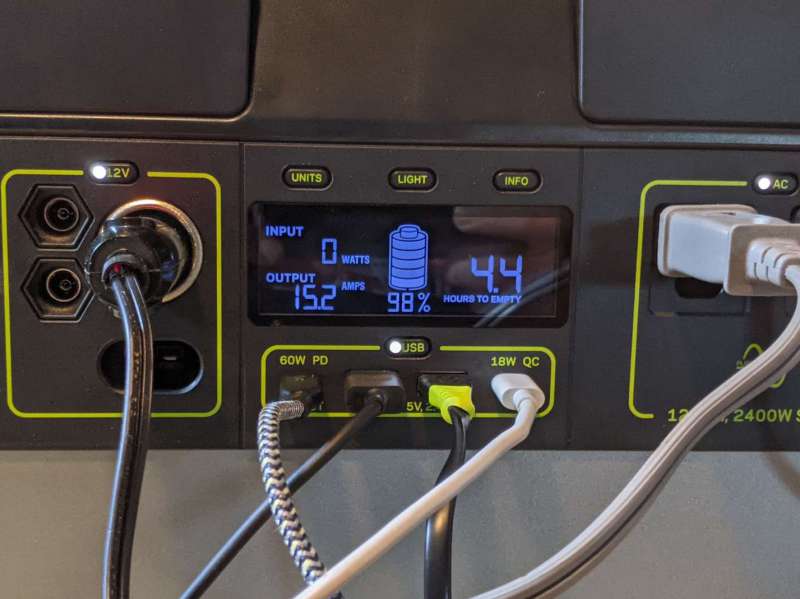 When discharging, the front display shows the same information, but includes the amount of power transferred to the connected device, and the estimated time to switch to battery exhaustion. By clicking the "Units" button, you can cycle through different power measurements, such as watts, watt hours, volts, and amperes. You can use the Light button to turn off the display at any time.
set up
As with most zero target power packs, the only setting required is to fully charge the Yeti 1000 Core before use. The battery level of my device was about 78% when it arrived, and it was fully charged not long before I was able to start the test. As I mentioned, the 1000 Core has two main charging ports, and I like to use the one located in the storage space to keep it cluttered because it lacks something that plugs into the front of the device.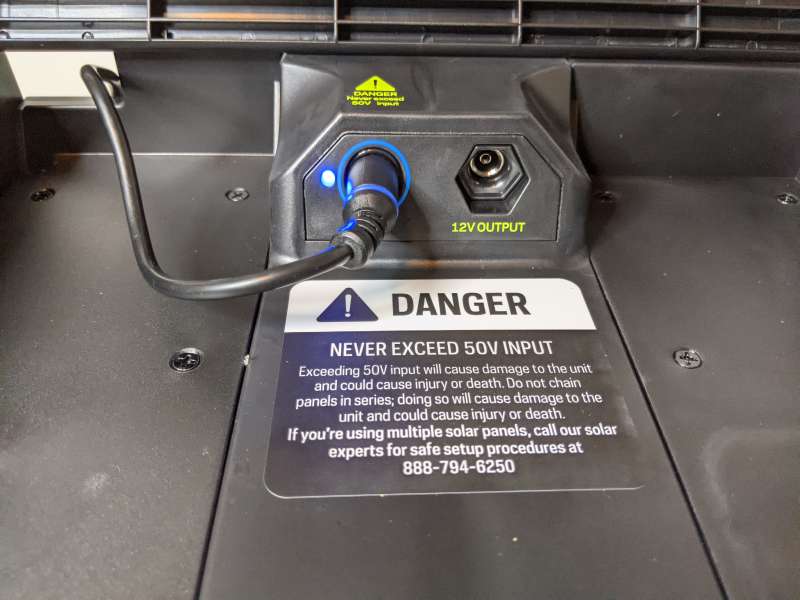 I used the included 120W wall charger to charge my device, but there are multiple ways to charge the Yeti 1000 Core, including Goal Zero's popular solar panels. A big advantage of these newer zero-target power stations (such as Yeti 1000 Core) is that they have a built-in maximum power point tracking (MPPT) charge controller, which ensures that the device gets the most efficient solar charging, usually increasing the efficiency by up to 40%. For power stations without integrated MPPT charge controller, it can be used as an external accessory.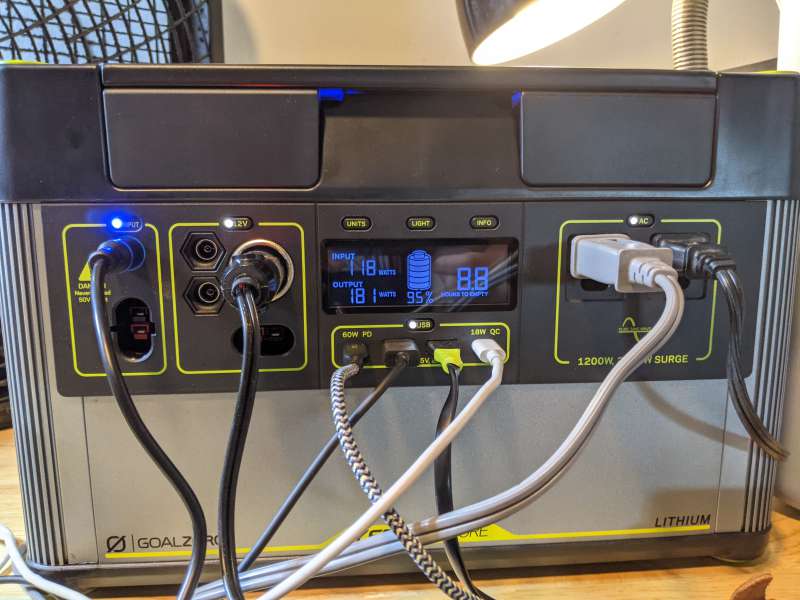 Performance
After the Yeti 1000 Core was fully charged, I began to plug in every power-consuming device around me. Everything seen in the image below is supported by Yeti 1000 Core. I started with a few devices, and then really piled it up to see how much 1000 Core can handle. I am trying to replicate the number and types of equipment that might be used in a trip where the Yeti 1000 Core will come in handy.
The biggest power consumption is large fans, reading lights and AstroAI electric cooler I look back in July.If you look closely, you will see some of the other devices I reviewed, such as Target zero risk 75 mobile power, this Zendure SuperTank portable charger, this Olight H2R Rising Star Flashlight, And my favorite device, Nomad Tile integrates PowerPack I reviewed this in April 2017 and I still carry it with me.
During this test, the Yeti 1000 Core was able to charge all the devices that needed electricity, while keeping the fan and electric cooler running for about 5 hours uninterrupted, which left a deep impression on me. Even more impressive is the accuracy of the monitor power estimation, which is accurate to a few minutes.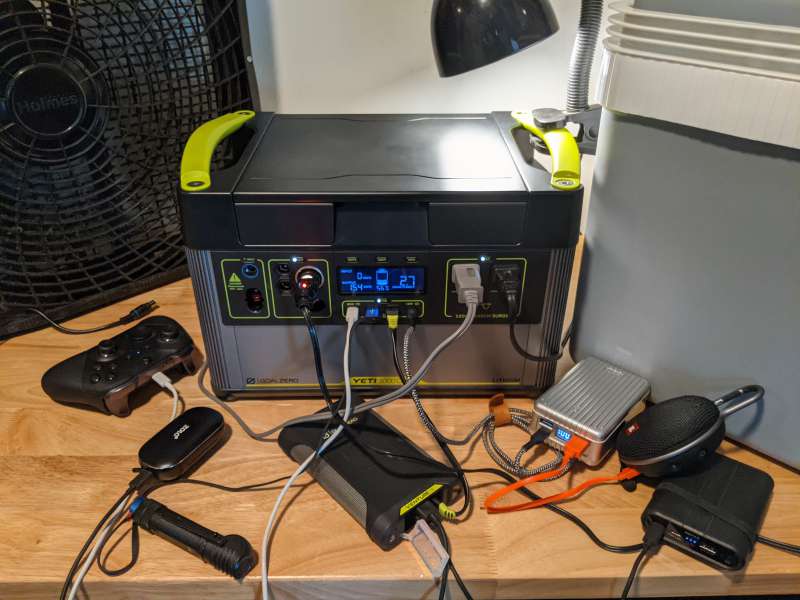 The Yeti 1000 Core stayed cool throughout the test period. During the month I put it behind my FJ, it used it for everything from portable air compressors to Wanqiao Portable Projector I conducted a review in 2018. I think what surprised me the most was the frequency with which I launched the Yeti 1000 Core, which explains why it makes sense to have a feature-rich power station at a reasonable price. I think at this price, more people will find the value of having something like Yeti 1000 Core, which can solve all the small emergencies in life, and these emergencies can be alleviated with a little portable power supply.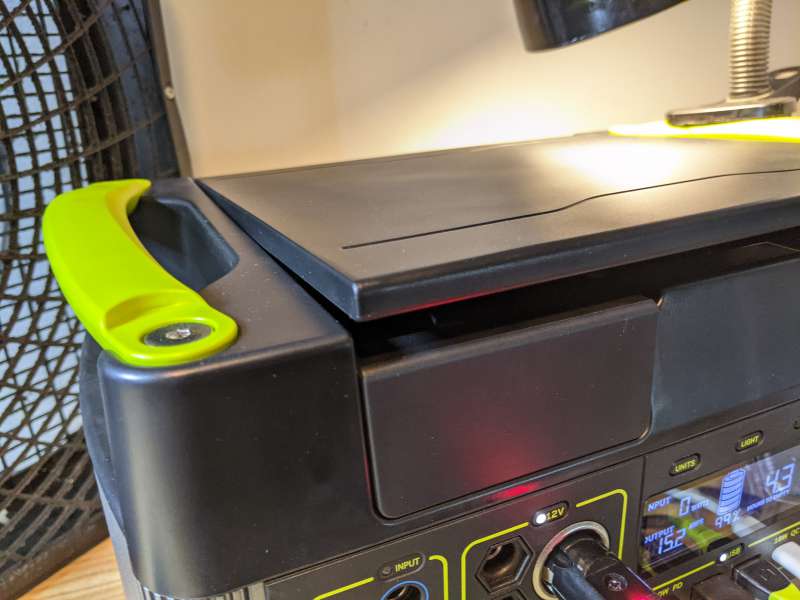 During the test, I was a little frustrated that the lid did not stay closed. It is usually fixed with embedded magnets, but even if I often don't have a lot of wires there, it keeps popping up. Stronger magnets or latches would be great here, but they are by no means a factor that disrupts the transaction.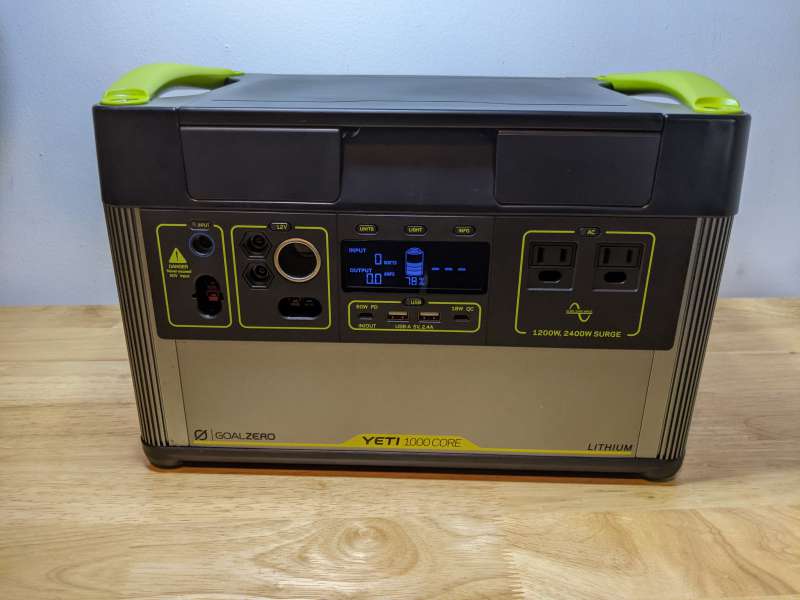 In general, it is really difficult for me to find the film of Yeti 1000 Core. Generally, for Goal Zero products, my main complaint is always that they overpriced the products you get, but for 1000 Core, this is impossible because it is priced exactly where it should be.
what do I like
Feature set discounted price
Excellent design and usability
Accurate power prediction
Areas for improvement
The lid should be better fixed
Need more USB-A ports
The larger port should have a plug
Final thoughts
Yeti 1000 Core is the first zero-target product without a price tag that I have ever seen, and it makes you feel as if you are paying a premium for the brand. This power station has all the excellent design and functional specifications that Goal Zero is famous for, but the price is as high as $999.95, which is in line with its closest competitor. By removing some extra features and reducing the specifications provided by its high-end devices, Goal Zero has indeed reached the best position of the device. The exclusive cooperation with Amazon's Yeti 1000 Core provides an impressive but reasonably priced power station, and most users will find that it exceeds their expectations.
Price: $999.95
Where to buy: Amazon (Use the Amazon coupon on the product page to save $100)
source: The sample of this product is made by Goal zero
Support gadgets
:
Gadgeteer is supported by readers like you! If you purchase goods through a link on our website, we may earn a small amount of affiliate commission. Thanks! learn more.