This is my last report from Kyoto in 2023. I will be returning to work in Kyoto in 2024 and there is still a lot to report. As I learn more, I seem to discover more, which is always a good thing. Regardless, our bikes are back in storage, our suitcases are packed, and when it comes out, I'll be heading back south with mixed emotions. But life must go on. Stay tuned for the Kyoto Report 2024 series – which will begin sometime next year.

Zhengcheng Garden
A few days ago, I rode my bicycle to the main station in Kyoto after get off work and decided to call in and visit the famous – Zhengcheng Garden – can be traced back to – Edo period (1603-1868).
The garden was built on land ceded in 1653 after the abbot of Higashi Honganji Temple retired.
This is a magical place.
As you walk through the gate you'll see a rather strange but beautiful wall made of various rocks, including ancient millstones.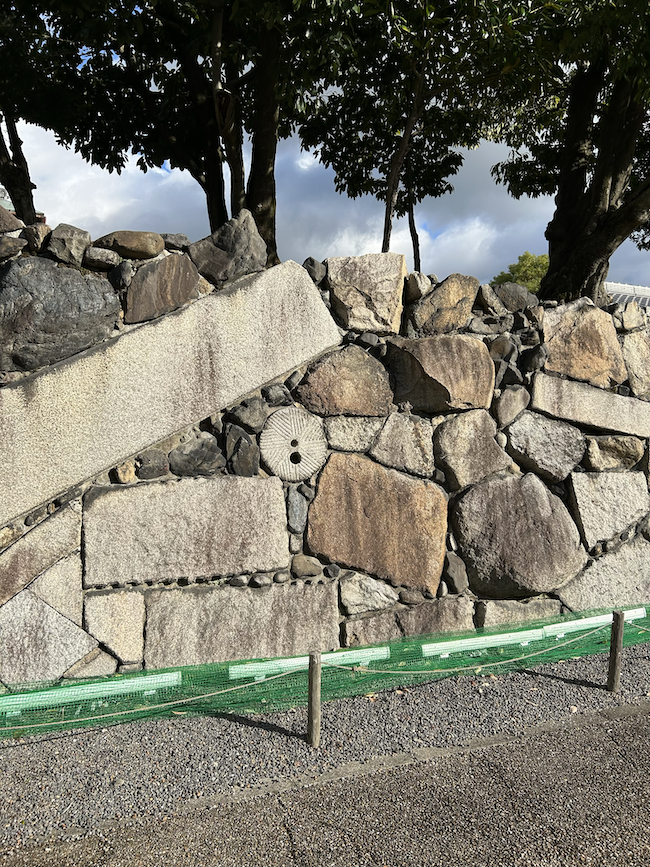 It immediately creates the expectation that this is a special place worth visiting.
The gardens are great.
This wooden bridge takes a stroller across the pond and the woodwork is very interesting.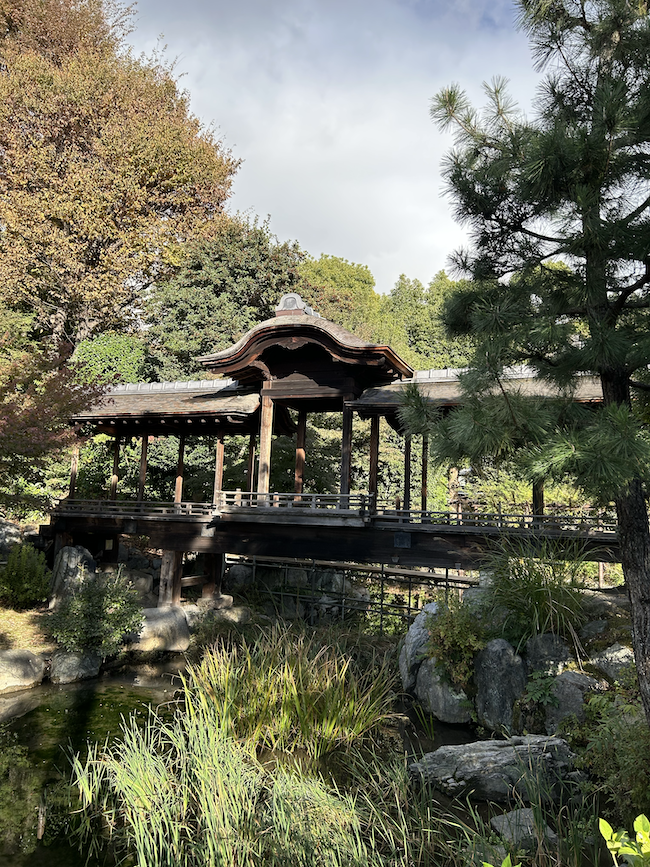 This is the outline of the roof, with layers of birch forming the main cladding.
Anyway, from my perspective, it's pretty amazing.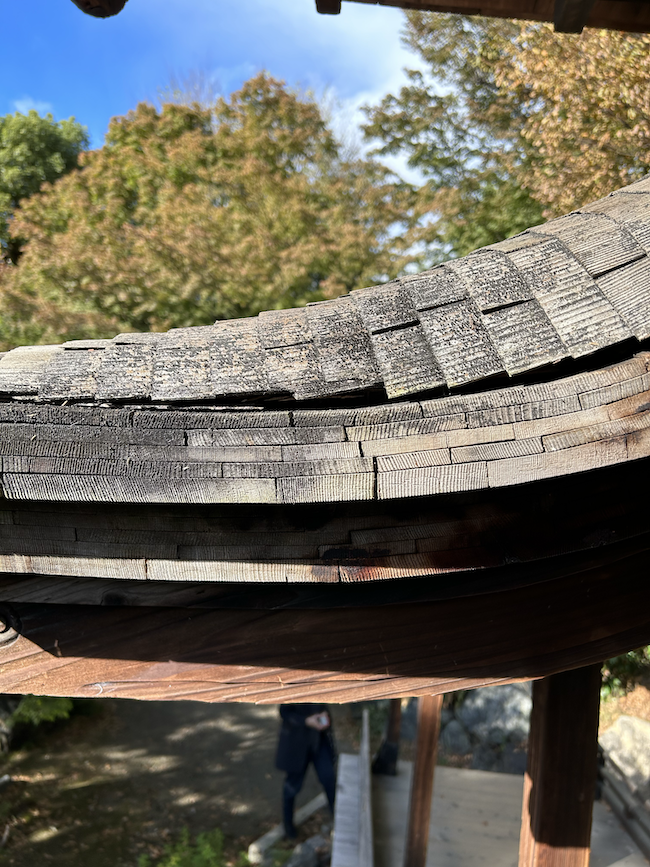 It was late afternoon, and as the sun went down, the dappled light filtered through the trees, and the scenery was beautiful.
Various shades.
After that, I rode to Kamogawa and passed a shop that produced brass tea cans. This shop was very special.
The long journey north along the river back home concluded a great adventure.
Special bento lunch
I also had a great lunch with a friend in Kyoto last week and she went through a lot of trouble to make a special one in a beautiful old おベnto box (obento-bako or obento lunch) The vegetarian > オbento (Obento or lunch box) comes from her grandmother.
The look of it is a work of art, and that's before we even taste the food.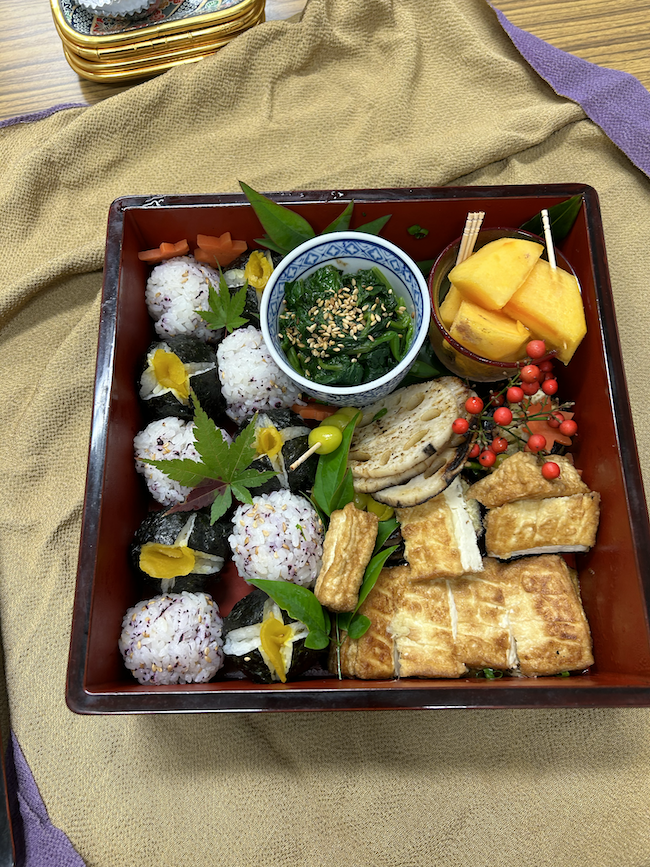 Rice is a must, and she mixes some purple Japanese basil into the rice balls, which makes it "oishi" (delicious).
There was a bowl of spinach, some eggplant, fried lotus root, and a lot of tofu.
Finally, there are the persimmons.
It was a great lunch and we discussed modern monetary theory, progressive politics in Japan, the state of the education system, and more.
What a great day.
autumn leaves
The leaves are falling now in Kyoto – albeit quite late in the season due to the record-breaking heat Japan has experienced over the past few months.
It wasn't until last week that the cold set in and we switched overnight from shorts to coats, scarves and gloves.
This is the entrance to the university building where I hold meetings and attend/conduct seminars (Research Building 19).
Unfortunately, I left before all the colors and foliage on the mountain were revealed.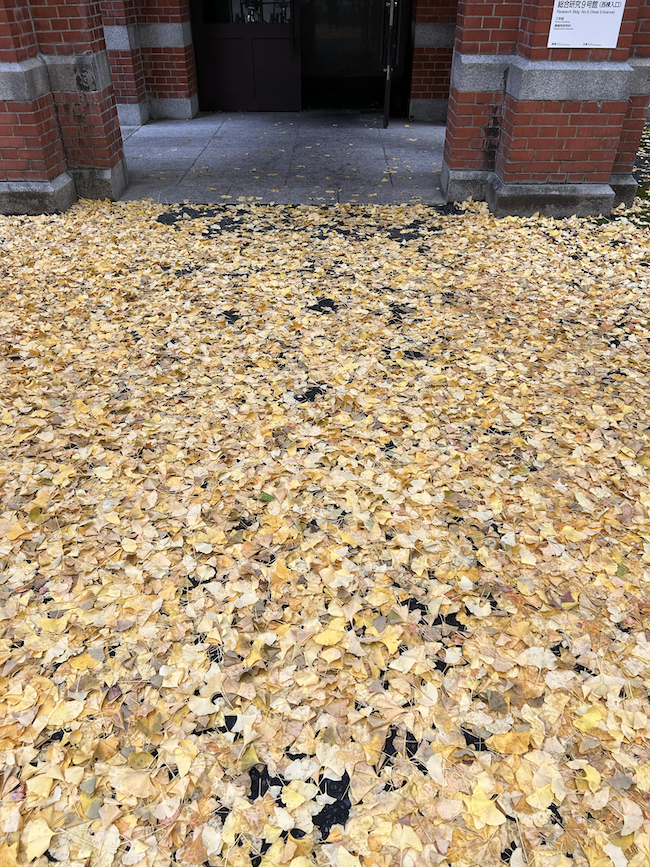 Find a garden
Yes, I often stop on my bike and gaze into the garden for some inspiration – pingting – We are creating a courtyard garden in our house in Victoria.
The suburbs of Kyoto have a lot of variety and beautiful ideas.
I was riding across town one day to store next year's bike in the college storage room and found this.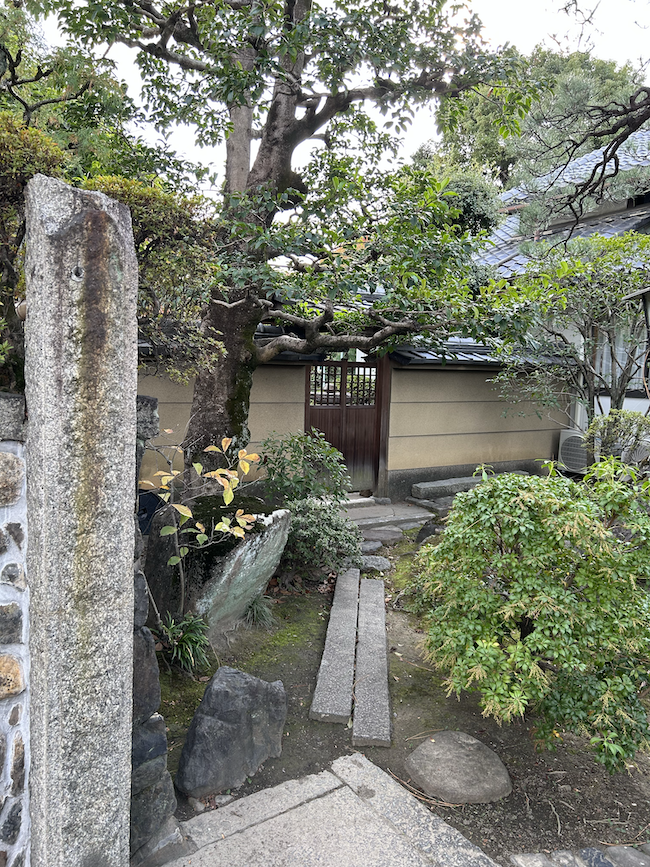 Tokyo
Then came to Tokyo.
I'm in Tokyo for a few days, where last Friday we launched my latest book, Fiscal Policy in an Era of Inflation – co-authored with Professor Satoshi Fujii.
The event in central Tokyo attracted a large crowd and we subsequently signed copies for almost everyone (approximately 185 people).
After a while, the signature starts to look like a straight horizontal line with some dots at the top.
Anyway, it was a good event.
Over the weekend, I went to the famous—— Shinjuku Gyoen National Garden – This is a large park and traditional Japanese garden just before you reach Shinjuku area.
Comparison between parks and parks—— Shinjuku City – Very large area.
There is an annual chrysanthemum festival in the garden which is fantastic.
Various types and arrangements.
Each arrangement comes with an instruction board – detailing how the gardener can coax the plants and stems one way or another.
Below are just some of the arrangements.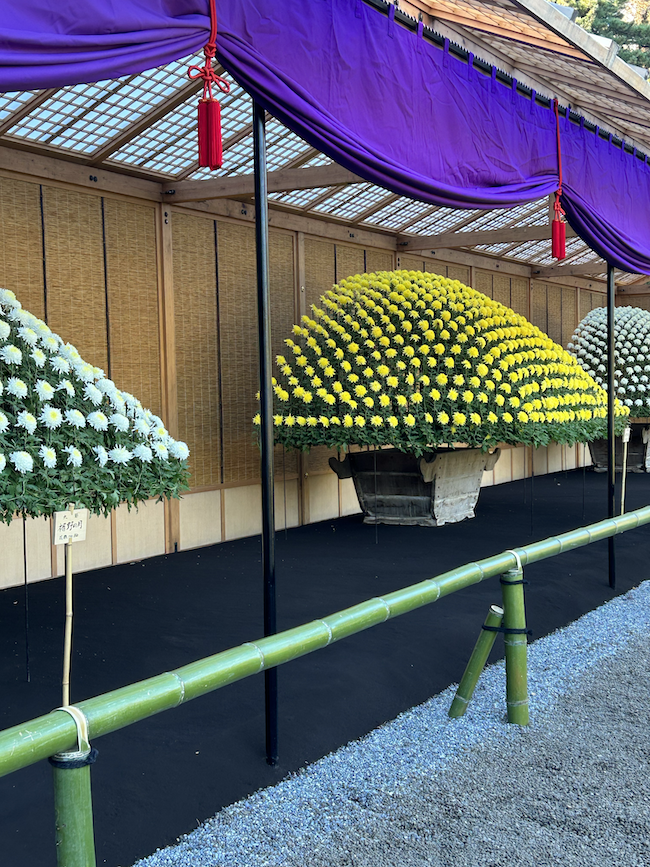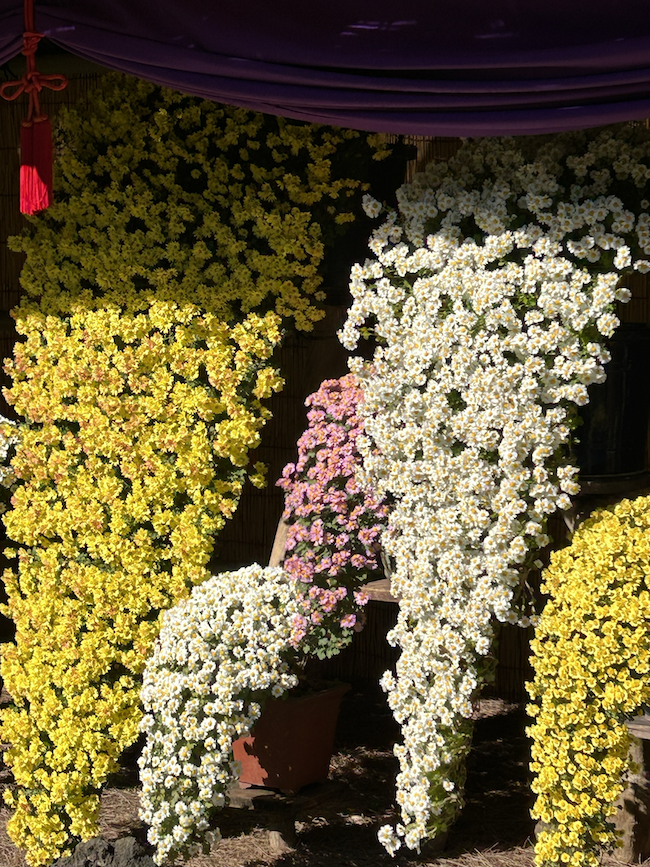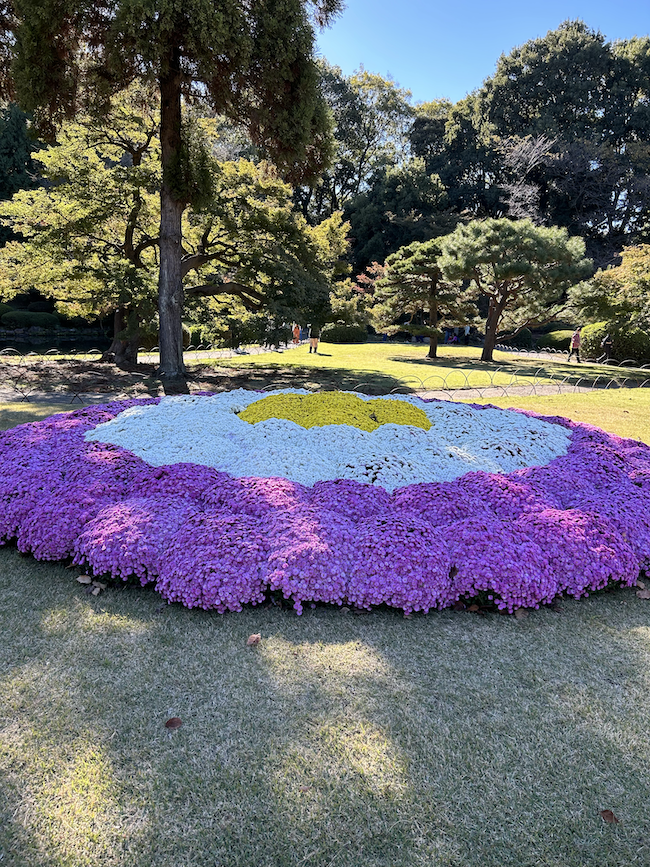 Also, I love traditional Japanese lanterns and this magnificent example caught my eye, guarding or illuminating the south pond in the garden.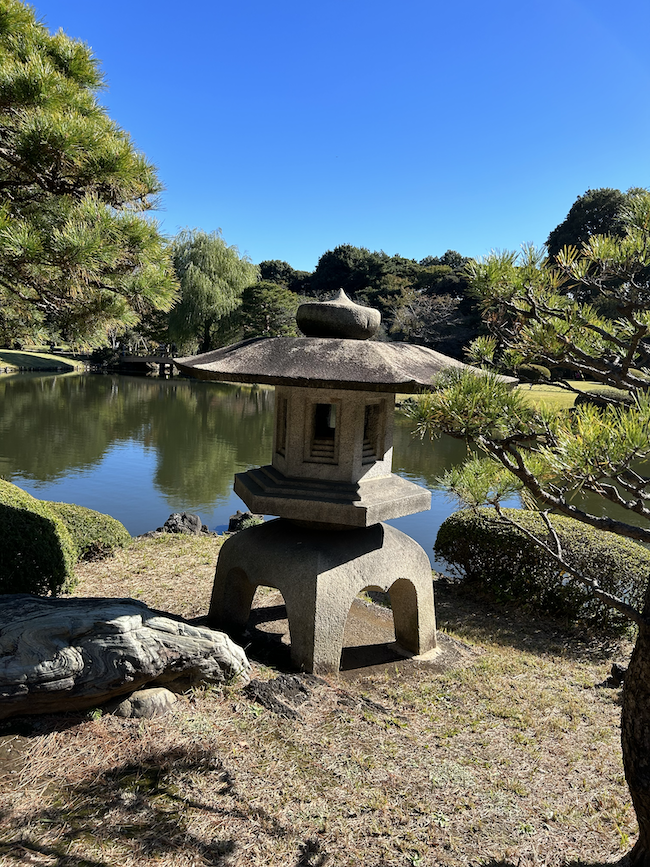 Afterwards, I walked to the shopping district of Shinjuku district, just because I wanted to visit Memory Lane, which are several very narrow alleys filled with food stores.
I went there because of the wonderful Japanese drama – midnight dinner – although shot in a studio, it's still set in the area.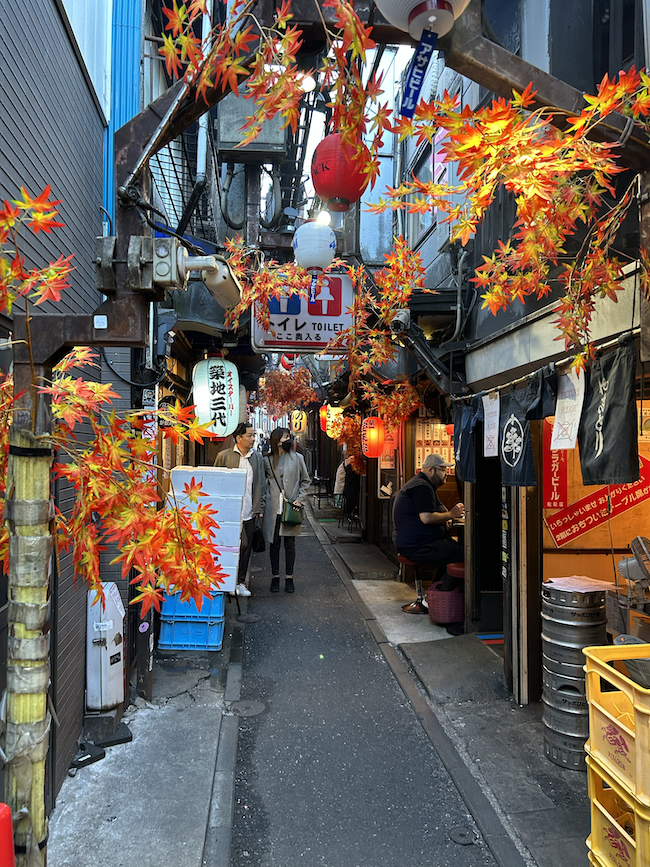 But not a place for vegetarians!
Even "vegetarian" ramen is questionable as they tend to use meat ingredients or put bonito in the broth.
I have a keen eye for this sort of thing.
If you are a vegetarian, then to be safe in Japan you should always choose the vegan option – if you can find one.
In Kyoto, you have a better chance of making such a discovery than elsewhere due to the Buddhist tradition there.
By the way, my favorite vegetarian cafe is called Nihorikawa, located on the west side of the Royal Garden (Address: Horikawa Shita Machiya Street, No. 1, Masutani-cho, Kamigyo-ku, Kyoto City).
We often cycle there for lunch (it closes at 19:00).
Anyway, my last day in Tokyo, I went for a long run in the morning, had a very relaxing time in the garden, and then took a long walk.
Believe it or not, central Tokyo is a great place for a morning run.
The ring road around the Forbidden City is about 5 kilometers long, and there is a long uphill road behind the palace to test your feelings.
From where I live, I could easily turn this into a 10km run, and the surface and scenery were great.
There is a real community of runners out there.
At one point, when you get to the city side (Marunouchi business district), you run across the moat and go through two very large gates, which is a feature in itself.
Every time I'm in Tokyo, I head here in my running shoes.
That's it for 2023.
Every year I learn more about Japanese history and culture, which helps me understand various things that I might normally miss, especially their economic policy choices.
Unfortunately, they were heavily influenced by American economists, to their detriment.
But having said that, they still came up with a unique hybrid that defies the logic adopted by the rest of the world.
My Japanese is improving and I hope to read fluently next year.
Before I could say "Ōkini," the local dialect for expressing gratitude.
In fact, I am now learning and using Kansai Benz (Kansai dialect) in addition to standard Japanese, which makes me happy.
For example, I started using Honma rather than Hontou very much.
Also, Ee always replaces Ii.
There are more – almost locals.
That's enough for today!
(c) Copyright 2023 William Mitchell. all rights reserved.