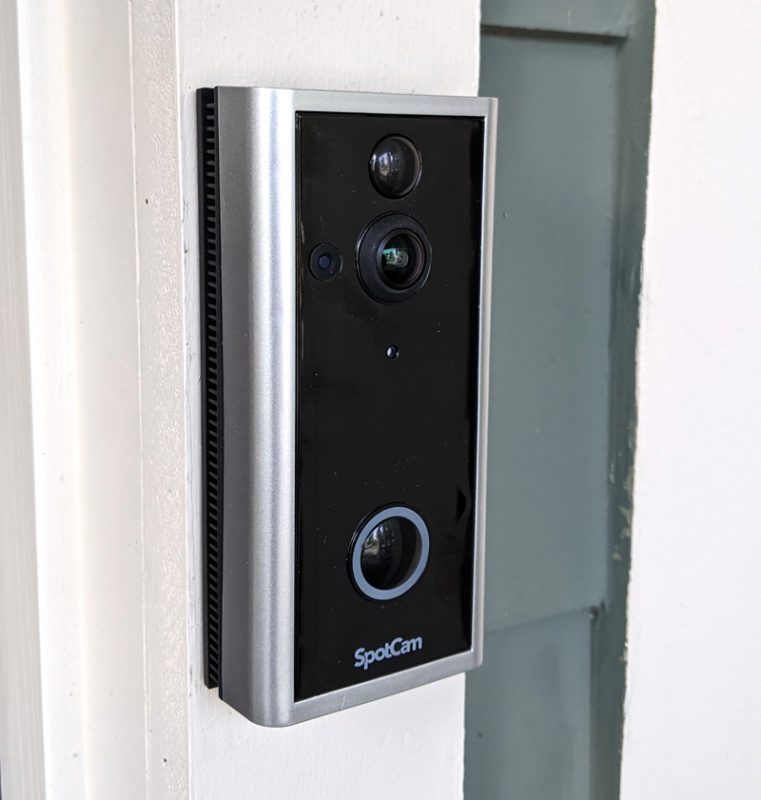 REVIEW – If you drive down the street in my neighborhood at night you'll see those little round blue glowing circles from all the video doorbells on just about every house. It seems like everyone has one. In fact, I felt a little sorry for myself because I didn't have one.  I have reviewed so many gadgets over the years from many different manufacturers and I never collected enough of anything from one company to set up a cohesive system in my house that worked easily with each other. But I had reviewed several video cams from Spotcam and enjoyed the app that went with them, so when Spotcam rolled out their second generation video doorbell, I was eager to finally get a video doorbell!  Let's see how it went.
What is it?
A wireless video doorbell camera.
What's in the box?
The Spotcam video doorbell
A mounting bracket, with screws and weather stripping
Power adapter with USB cable
User manual
Separate plug-in chime box
And here are the specifications:
Size: 5.5 by 2.7 by 1.0 inches
Power: 24VAC or DC5V2A wire/ rechargeable Lithium battery
Video resolution: 1080P full HD
Viewing Angle: 180 degrees
Storage:  Cloud and micro SD
Wifi connection:  2.4 GHz
Integration: Google Assistant, Alexa, IFTTT
Night vision
2-way audio
IP65 weather resistant
iOS and Android compatible
Installation
Installing the Video Doorbell was pretty easy. You simply use the Spotcam app to add the new Video Doorbell and it walks you through the steps, which initially uses the Bluetooth connection in your cellphone to connect to it. During the setup process you select the wifi connection you want to connect to. My house is what you call a 'shotgun' house, so it is about 38 ft wide and 136 ft long.  And my wifi connection is set up in the back of the house, at the opposite end of the house from the front door. So initially I connected the Video Doorbell to the main wifi signal in the house, and I got spotty performance with regularly dropped signals. So I reinstalled it and connected to the boosted wifi gadget I have in the front of the house with a different SSID. I now have much stronger performance and fewer issues. But I gave up one feature, which I'll talk about shortly.  The final thing I should mention about the installation is that I had to do the installation a couple different times.  For some reason the doorbell worked for about a week and then I just couldn't connect to it. I have no idea why, but I had to reinstall it through the app and it started working again.  As I said, installation was pretty easy to do, but it was annoying.  I have a very strong feeling that my boosted wifi gadget in the front of the house that I am connecting the doorbell to is becoming unreliable and dropping signals, but I don't know for sure.  That gadget is on my list to replace.
Features and Performance
The first thing you'll notice about the Spotcam Video Doorbell is that it's fairly larger than other video doorbells.  I was actually surprised by this when I opened the box. Maybe I am being a little discriminatory toward Spotcam, but it seems that gadgets these days are getting thinner and sleeker, but this thing is pretty big. On the front you'll find the camera, microphone, speaker, PIR sensor, and the round doorbell button that lights up around the edges of it, depending on your settings in the app.  On the back you'll see a rubberized flap that seals up the connections to protect them from weather.  Behind the flap is a slot to place a micro SD card to store video recordings inside the doorbell. You get 7-days of free cloud storage for your files, and the SD card is limited to a max of 128 GB. In the app you can do remote playback of your recordings, remote export and sharing of your videos and upload them to YouTube and Facebook.
Also behind the rubberized flap you'll find the 'reset' button (used during setup) and the USB power port.  Above the flap you'll see 2 very small metal nubs that enable the Video Doorbell to connect to the power connection on the mounting bracket that you attach to the surface where you are placing the doorbell.  So most people will use the Video Doorbell in place of an old school doorbell, which is what I did. So when you remove the old doorbell from the wall, you take the 2 electrical wires and thread them through the hole in the mounting bracket and attach to the screw plates on the bracket. Then when you place the Video Doorbell on the mounting bracket and the small metal nubs on the doorbell make contact with the metal plates on the mounting bracket.  It is best seen on these 2 photos: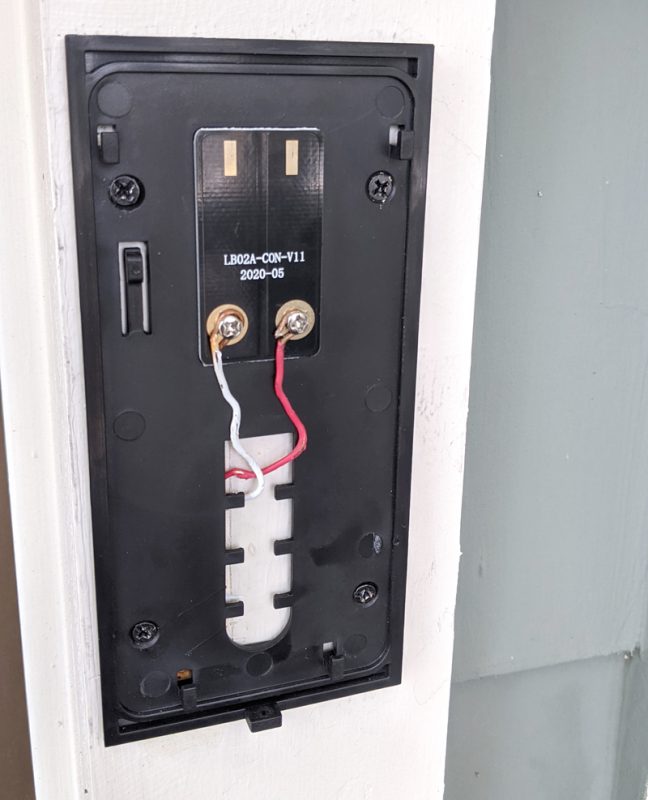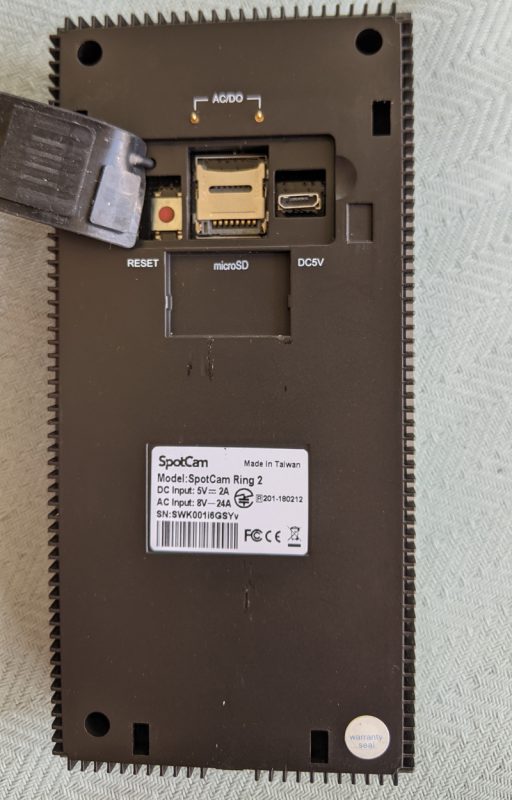 Which brings me to my first downside for the Spotcam Video Doorbell. It can easily be removed from the bracket, so it isn't locked down.  Which means that anyone can remove it and walk off with it. I suppose it depends on what your neighborhood is like if that is going to be an issue for you or not. For me, that's not really an issue.  But this also brings up another potential issue for someone. I was able to use the existing doorbell electrical wires to power my Spotcam Video Doorbell. (NOTE: I had to do some troubleshooting with my existing doorbell to remove some hardware in the house to enable power to make it through to the Spotcam Video Doorbell, but I eventually got the power to work!).  If you don't have the option of getting power to the Spotcam Video Doorbell then you'll have to remove the doorbell to take it inside the house to charge it when the battery dies, so you'll be without the doorbell for several hours. The internal battery isn't removable so means you will be completely down while you charge it.
The Spotcam Video Doorbell performs similar to other video doorbells. When someone presses the button on the doorbell the app on your phone will pop up a notification where you get to ignore it or connect to the doorbell to see who is there. It is similar to a phone call notification on your phone. Here is what you see when the button is pressed: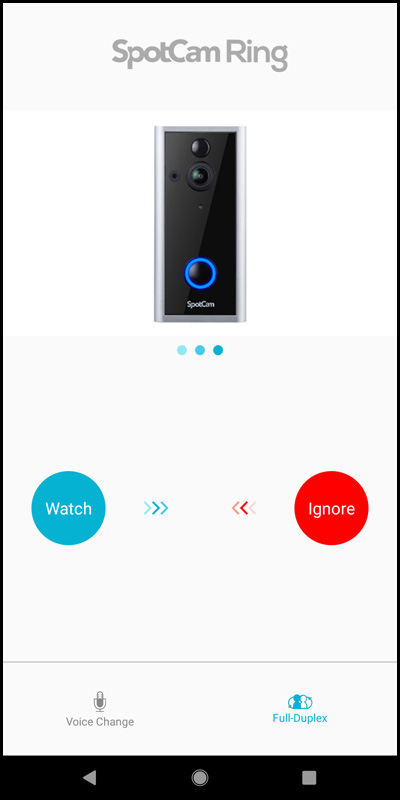 And then this is what you see when you choose to answer the call.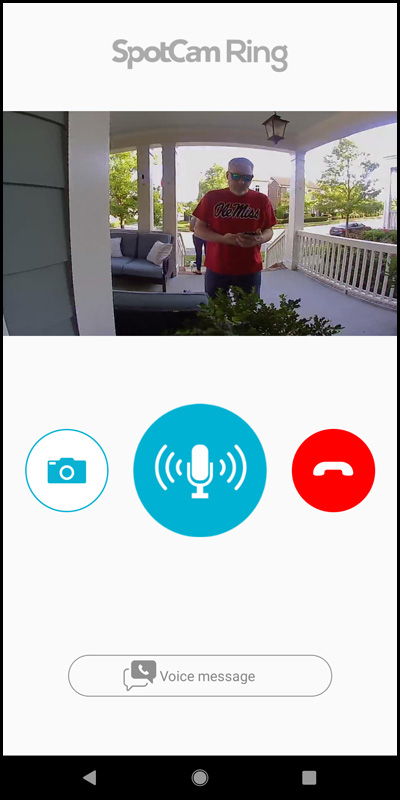 The microphone on your phone is immediately activated and you just talk to them. But you can also press the microphone button to turn it off and then press the "Voice message" button below it to play pre-recorded messages to the visitor.  For example, you could have a recording that says "Hi, we'll be right with you." or whatever. You can also press the picture button to take a still photo of who is standing there and it saves the picture to your phone.
Other features of note are numerous, so let me mention some of them.  The Spotcam Video Doorbell has a bunch of notification options. The built-in PIR sensor on the front can detect motion in various sensitivities and you can get notified about them. My wife has a bunch of plants on the front porch, and we have a flag on a pole. And all that stuff moves constantly with the wind, which blows pretty much all day every day at my house. And my house is very close to the street so foot traffic and cars are going up and down the street constantly as well. So the motion detection and notifications were going off all day and it was driving me crazy.  I even used the Motion Mask feature, which allows you to specific parts of the camera image as "off limits" so they are ignored. But the motion mask only has 6 blocks of image to choose from and it didn't work really well for me.  So I eventually gave up on the motion detection and I just get notified if someone rings the bell. Here is a screenshot of the motion mask screen with 3 of the 6 blocks highlighted.
It has great black and white night vision so you can see what's going on in the dark. You can get email alerts as well as popup notifications. You can turn the little round glowing status light off on the front if you want, but I like to keep it on so that would-be bad boys see it and stay away. You can swap the image 180 degrees in the event you are forced to mount it upside down. There is also a timeline on the LIVE video feed screen so that you can use your figure to scrub back and forth in time to view previous triggered events.  The two-way audio works as it should, but to me the speaker isn't that great.  More than once I had a visitor say back to me "What did you say?".  The audio works, which I suppose is the whole point, but the audio sounds static-y to me and the quality could be better.  I have used Ring doorbells at many people's homes, and the audio always sounds great on those doorbells.  But then again, those are also priced way more than the Spotcam Video Doorbell 2, so I suppose that's one tradeoff.
It comes with free 7-day cloud storage for your recordings, and they say it is free for life, so that's nice. If you want more storage in the cloud you can pay about $30 a year for 30 days of storage. I have a micro SD card in my doorbell plus the free 7-day storage, so I don't really feel like I need it, but if I do it is there, so that's nice.  It also comes with integration with Google Assistant, Alexa, and IFTTT.  We use Google Home products, so when I initially connected the doorbell to our main wifi signal, the devices were on the same network so I was able to add the Video Doorbell to my Google Home app and I was able to ask my Google Home device in the kitchen to show me the LIVE stream from the doorbell, and it worked!  Pretty nifty in the event that you are elbow deep into a batch of cookies and can't use your phone.  But as I mentioned before, I got spotty performance from the doorbell when connected to that wifi signal because of the distance, so now the doorbell is connected to the boosted wifi signal at the front of the house with a different SSID, so I don't have this ability anymore since the doorbell is on a different wifi signal than the Google Home. But I am willing to lose that feature for better doorbell performance.
Another nice feature with this product that I really like is that it comes with a smaller plug-in chime box whose chime can be changed among a ton of different sounds simply by pressing the buttons on the front of it. All you do is plug it in somewhere in the house that is within Bluetooth range of the doorbell and when the doorbell is pressed, the sound plays.  That way, you still have a doorbell in the house that anyone can hear. It is about the size of a power brick. And you can purchase additional ones on Amazon for about $27 and put them all over the house.
I would also like to make one final point about the features. This Video Doorbell has some amazing premium features for Video AI that you can pay extra for, between $4 and $10 per month. If you pay for it, the camera can detect missing objects, falls, pets, vehicles, face recognition, setting up virtual fences, etc. And you can bundle some of those features together as service packs to make it a little more affordable.  For me, the motion detection options that come with the camera, regardless of the sensitivity that I chose, were not very useful. I would have to pay extra to get some of the features I would need to weed out false positive triggers, and I don't want to do that. Honestly, I don't think I need them either.  But if I had a business to protect, I would consider it.
A word about the battery
Before I connected it directly to power, I had some issues with battery drain on the Spotcam Video Doorbell. So I wanted to share what happened so that you can avoid the troubleshooting later!  The SpotCam Video Doorbell is equipped with what they call 2-stage motion detection.  So when a motion is detected by the PIR sensor, it will be triggered first. Then the second stage kicks in which is the VMD (Video Motion Detection) feature which will then analyze the video and tell if there's a real motion event (with a person, animal, car, etc) or not. And if it determines that the motion is valid, you get notified about it (if you choose to have notifications set up on the app).
As I mentioned earlier in the review, there is so much movement on my front porch with wind, plants, flags, traffic, people walking by, etc, that I just turned off the notifications.  And the battery was dying in less than a week, so I thought that all the notifications was the reason it was dying so quick. What I discovered from tech support after reaching out to them was that the reason the battery was dying so quickly was because I still had the PIR sensor turned on and it was getting triggered about 400 times per day due to all the movement in front of my house. So once I turned off the PIR sensor in the app (look for "Active Motion Wake-up" option), no more battery problems. And a final comment about this: as I mentioned, I experienced this battery drain issue when I was operating the doorbell solely on battery.  But now that my camera is hard-wired to power, I turned the PIR back on because I don't have to worry about battery drain, which is another reason to connect it to power if you can.
What I like
Doorbell can be connected to power or run on battery
Free 7-day cloud storage and large micro SD card local storage
You can download the videos to your phone with a few clicks, or upload to YouTube/Facebook
Works with Google Assistant, Alexa, and IFTTT
Compatible with iOS and Android
Affordable
What I would change
A removable/replaceable internal battery so that you could have a spare one to swap out when the battery runs low
Better quality speaker so visitors could hear my comments more clearly
Doorbell could be easily removed and stolen
Doesn't work with Apple HomeKit
You have to pay extra to get any useful motion detection services
Final thoughts
Because I have settled on using Spotcam webcams to protect my home, it makes sense for me to go with the Spotcam Video Doorbell 2 because it shows up in the app along with all my other Spotcam cameras and both my wife and I can use the app even though she has an iPhone and I use a Google phone. It is much cheaper than the more popular Ring doorbells for sure, so that is a plus. I have personally used other video doorbells from other manufactures and I think that the video and audio quality are a little better with those other devices, but the Spotcam is much cheaper in most cases when you compare, so I don't mind. The motion detection notifications turned out to be a hassle to me because of how my front porch is situated and how sensitive the PIR sensor is, and I am not going to pay for the extra Video AI features. So that is a bit of a bummer. But again, I will live with it and have a peace of mind that at least I am capturing the events in my 7-day free cloud storage and on my micro SD card.
In short, I find the entire suite of Spotcam products pretty decent products for what you pay compared to competitors, but I would certainly consider this a 'budget' suite of products so you have to keep that in mind when you buy it. I have used Spotcam products to protect my house for a couple of years now and have been generally pleased with the cameras and the app, and I am happy that I now have my video doorbell so I can keep up with the Joneses. There's just something satisfying about that little glowing circle!
Price: $99
Where to buy: Amazon
Source: The sample of this product was provided by Spotcam.
Support The Gadgeteer
:
We may earn a small affiliate commission from purchases made from buying through links on our site. As an Amazon Associate I earn from qualifying purchases. Learn more.