Disclosure: This content is reader-supported, which means if you click on some of our links that we may earn a commission.
After the hosting and the domain name, the most important part of starting your website is the theme that helps you build it. We combed through tons of WordPress themes to find the best of the best. After much consideration and researching features, pricing, and usage, we found the best WordPress theme for most people to be Divi, because of how versatile and customizable it is for a variety of website needs. 
The Best WordPress Themes for Most
Divi makes website building fun because of how versatile and easy to use it can be. It lets you see your website changes in real time, and comes with plenty of CTA templates, website slider features, form templates, and even a beautiful gallery layout for your images. 
Websites in the tech, events, beauty, service, or health niches will appreciate how ultra-customizable this theme is, with more design options than you'll ever be able to use in one go. We dive deeper into its features below. 
The Best WordPress Theme Options to Consider
When It Makes Sense to Invest In the Best WordPress Theme
If you're starting a WordPress site, you want to give your site the best chances of success—whether that comes in the form of a highly customizable theme, a theme geared for ecommerce, or a theme that's lightweight and SEO friendly. This is especially true if you're starting a website with plans to monetize it or if it's an extension to an already existing business. 
Another time you'd want to consider investing in a great WordPress theme is when you're rebranding, pivoting your services, or upgrading your site from a DIY/beginner mode to a more advanced level. In any of these cases, a better theme can help you improve your current site–or create a solid new one.
Finally, if your old theme just isn't working for you, especially when it comes to functionality or ease of use, investing in a theme that's known to be good quality will go a long way toward solving your problems. 
We've installed plenty of themes and started our fair share of websites, so we know a thing or two about the subject. Below is a list of the themes we've deemed to be some of the best in the game for you to choose from. Let's dive in. 
#1 – Divi — The Best for Most
If you've been looking for a reliable WordPress theme, chances are you've come across Divi by Elegant Themes before. It's everywhere—and for good reason.
It empowers you to create beautiful websites with plenty of customizable options. The intuitive visual controls enable you to see the changes you make to your website in real time so you know exactly how your changes are coming together.
Have custom site designs you want to keep for future reference? Divi lets you conveniently save and store them for later. If you don't want to start from scratch, you can choose from its over 800+ pre-made designs. Divi also comes with inline text editing features, responsive editing, custom CSS controls, and an intuitive drag-and-drop builder. 
Known as "the most popular WordPress theme in the world," Divi is the type of WordPress theme that's versatile enough to be useful to anyone regardless of the type of website they're trying to build. Freelancers, bloggers, agencies, designers, and marketers alike can get plenty out of everything Divi offers. Its pricing isn't too bad either. 
With Divi, you can either choose to go with its Yearly Access tier or you can opt for the one-time fee for lifetime access. Assuming you're planning on keeping your site up and running long-term, we recommend the Lifetime Access tier.
Yearly Access – $89 a year
Lifetime Access – $249 one-time fee
Though that amount may seem high, you'll eventually pay that much anyway with the Yearly Access option. Through either tier, you get access to hundreds of website packs, premium support, and unlimited website usage. That's a pretty sweet deal in our book.
Get started with Divi by Elegant Themes here.
#2 – Astra — The Best for Performance and Speed
Astra is an SEO-friendly lightweight and customizable theme built for performance and speed. If you're a blogger or plan on publishing lots of long-form content on your website, Astra can be a solid option worth considering. 
Just like other premium themes, it comes with highly customizable features that let you design limitless branded website layouts. This means countless integration options, fonts, colors, page and archive layout options, and more.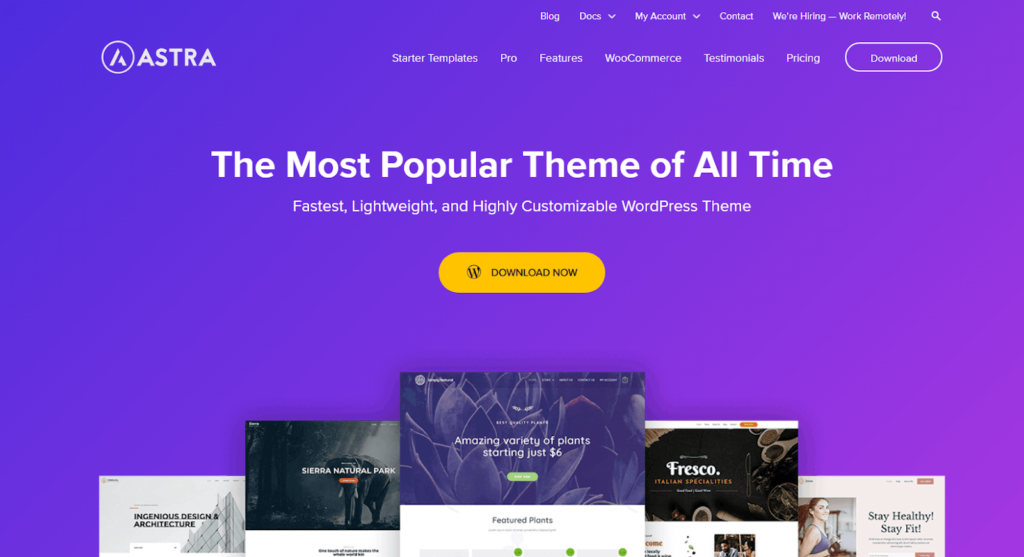 As far as performance and speed go, Astra loads in half a second and is built without JQuery, which can slow your site down significantly if you aren't careful. It also needs less than 50 KBs of resources to function properly and is built following strict coding standards so that it's as optimized as possible. 
A speedy theme like Astra has much better potential to rank in search engine results pages than other, more bloated themes that might not load as quickly. 
Now, here's how its pricing breaks down:
Astra Pro – $47
Essential Bundle – $169
Growth Bundle – $249
Hands down, if you want to get the most out of your Astra theme, we'd have to recommend its Growth Bundle. It gives you access to over 150+ theme templates so you don't have to start your website from scratch, one-to-one support, extensive training, unlimited website usage, and even extra add-ons you can use to build your site with Elementor. 
#3 – Shopkeeper — The Best for Ecommerce Sites
If you're in the process of creating an ecommerce site, you'll want to pay closer attention to Shopkeeper, a WordPress theme with a 4.6 star rating and over 32,000 sales. 
It's geared to be easy to use for both beginners and experienced sellers alike. It brings the power of WordPress and Woocommerce together to help you create product pages that sell your goods with a responsive layout that you can customize without needing to know any code.
For instance, if you're selling apparel, you can upload several high-resolution images to each product page and easily customize the buy button to optimize for sales. Its drag-and-drop page builder lets you create custom headers or page layouts from scratch. Though if you don't want to do that, no problem, Shopkeeper comes with plenty of pre-built layouts you can tweak until you're happy with the results. 
If you get stuck anywhere along the way, you can easily submit a support ticket to get your theme questions answered rather quickly. 
If you want to start using Shopkeeper you're looking at a $59 price point for a regular license. Want to extend its support features to 12 months? You'll have to pay an additional $17.63.
All in all, Shopkeeper is a solid ecommerce theme option and it doesn't cost you an arm and a leg either.
#4 – Foodie Pro — The Best for Image-Rich Sites
Food bloggers often need extra website support because of the image-rich recipe content they publish. And while Foodie Pro is primarily designed for food bloggers, it will work well for any site where high-quality images are the most important components. 
FoodiePro is the #1 selling Genesis child theme and comes with plenty of customizable features to the tune of widgetized home and recipe pages, strategic ad space, a mobile responsive design, and a digital strategy bundle to help you ensure your website gets off to a great start. 
Through its Feast Plugin, you're able to easily submit support tickets in case its user tutorials and extensive documentation don't answer your questions. 
If you're interested in the Foodie Pro Theme, you can get it for only $75. Compared to other theme deals that are more robust, this one can be a steal if you're specifically looking for a solid image-focused theme that does the job. 
#5 – OceanWP — The Best for Use with WordPress Page Builders
Though you might think OceanWP is a theme for marine biologists, it's actually a versatile theme that's super flexible and compatible with just about every WordPress page builder.  
Put together OceanWP and a WordPress builder like Elementor, and you can pretty much build the website of your dreams with ease. Once you sign up with OceanWP, you can one-click import any of its 130+ demos ranging from the lifestyle niche to business, coaching, ecommerce, tech, corporate, or even photography. 
It's compatible with Thrive Architect, Elementor, Beaver Builder, Gutenberg, SiteOrigin, Brizi, Divi, and WPBakery Page Builder. You probably won't need all those different page builders, but having the flexibility to choose the one you like best is a major plus for OceanWP. 
OceanWP's pricing plans are pretty clear-cut. If you're looking for a personal website you'll want to go with the Personal plan. Though it only lets you create one website, it is only $39.
Personal – $39 for 1 site
Business – $79 for 3 sites
Agency – $129 – 25 sites
An agency or freelance web designer is better off going with the Agency plan, at $129 for 25 sites. 
Learn more or get started with OceanWP here. 
Methodology for Choosing the Best WordPress Themes
In the middle of a huge sea of WordPress themes, how in the world are you supposed to choose the best one for you? Admittedly, it's not the easiest decision to make. Too many choices can sometimes lead to not being able to make a choice at all.
Still, there are a few criteria you can think through to help you weed out the themes that aren't for you. Besides considering how much you're willing to budget for a theme, here are a few pointers worth thinking through that'll help point you in the right direction.
Theme Support
Especially if you're a first-time site owner, dedicated theme support that's highly responsive can be a lifesaver when things go south. Some of the best theme support features allow you to easily submit help tickets if something goes wrong with your site that's too technical for you to figure out on your own.
Some theme creators even provide help with light CSS customization if you want to make changes to the actual look of your site. When considering whether to go with one theme or another, theme support is definitely a feature you want to check for that should be at the top of your list.
Looking through theme reviews and comments can be a great way to gauge how well a theme's creator manages theme support. In short, ensuring your theme of choice is backed by a solid support team will save you a handful of headaches in the long run. 
Speed and Mobile Responsive Features
By this point, most website builders know the importance of creating mobile responsive themes as standard practice. Still, it's worth checking that the theme of your choice is built for mobile responsiveness. 
This is especially true as Google ramps up its algorithm updates and mobile responsive theme features become increasingly important for SEO reasons. This also includes speed. Any theme that's built with speed in mind is worth considering. 
Though some themes might look visually appealing, if they aren't technically sound and optimized for speed this could be an issue that's a drag on your SEO efforts. If you're planning on keeping and growing your site long-term, speed and mobile-friendly features are important factors to consider. 
However, if you're simply creating a website for fun, speed isn't something you'll have to worry too much about. 
Customization
How simple, intricate, or customizable you want your theme to be is a choice that's ultimately determined by your overall site goals. How much customization you need or don't need can also depend on your site's branding. 
If you need a theme you know will evolve over time as trends change you might be better off going with a theme that's highly customizable. If you're looking for a minimalist theme that takes care of the basics and isn't complex then you can often go with a free or standard theme and be good to go. 
The secret, when you're thinking about how customizable your theme should be, is thinking about the long-term life of your site. Will it need more customization in the future? Or is design and layout not a fundamentally important part of your site design plan? 
Keep in mind that if you aren't technically knowledgeable, you'll have a harder time customizing your theme with HTML and CSS if it isn't designed to work with a theme builder or to be changed with custom options. Going with a basic theme might also mean spending more money in the form of hiring a developer or completely switching themes if you do decide you want a more flexible option in the future. 
Summary
Phew, we've gone through quite the list here. To refresh your memory, here's a quick recap of each one:
Divi – Best theme for most users
Astra – Best for performance and speed
Shopkeeper – Best for ecommerce sites
Foodie Pro – Best for image-rich sites
OceanWP – Best for use with WordPress page builders
Deciding on a theme can come down to how flexible or niche you want your theme to be. If you're a food blogger you can either choose to go with a highly customizable theme builder like Divi, or you can choose to go with a more niche theme like Foodie Pro. And if you're looking for a theme that's built for performance and speed, we'd recommend Astra for best results.